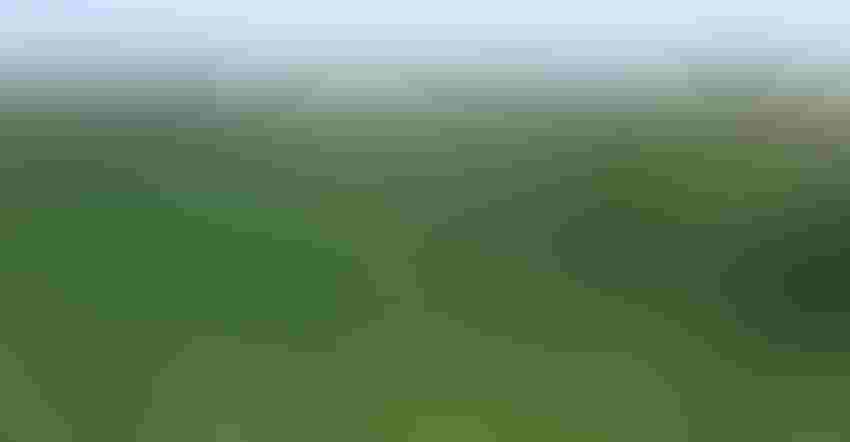 TIGHT MARGINS: Due to current and projected low crop prices, profit margins in corn and soybean production on cash-rented acres are expected to remain tight for 2018.
Results of two different surveys recently compiled by Iowa State University Extension confirm trends in farmland ownership and cash rental rates.
The 2017 Iowa Farmland Ownership and Tenure Survey finds that 55% of Iowa's farmland is rented, while 45% is owner operated. Of the rented land, over 80% of those acres use a cash rent arrangement. Also, 82% of the land has no debt against it.
The cash rental rates for Iowa 2018 survey found the overall average for typical cash rental rates statewide was $222 per tillable acre. That's a slight increase of $3 per acre, or 1.4%, from the 2017 average rent. Survey responses are collected statewide annually from mid-March through late April.
Seven of Iowa's nine crop reporting districts show slight increases in rental rates. The exceptions are the south-central and southeast districts. The largest average rent increase is in the central district with a jump of $9 per tillable acre. The largest decline in rent is in the southeast district with a drop of $6 per acre.
Rates follow land values
The cumulative drop in average rental rates statewide since 2013 is 17.8% from their peak of $270 per acre. That percentage decline is comparable to the 15.9% decrease in average Iowa land values during this same time frame.
Corn and soybean average cash prices received in Iowa peaked in August 2012 at $7.90 and $16.80 per bushel, respectively. In March 2018, corn and soybean cash prices were $3.40 and $9.60 per bushel, respectively. That's an accumulated decline of 57% and 43% from those peak values. Due to current and projected low crop prices, profit margins in corn and soybean production on cash-rented acres are expected to remain very tight. The limited supply of both farmland for sale and tillable acres to rent support both land values and cash rental rates.
Tenants will likely be using profits they make on their owned land to cover any negative margins on cash-rented ground. Thus, cash rental rate trends in Iowa are more closely associated with land values than they are to crop prices.
Rents reflect land quality
Not all Iowa land qualities saw cash rents decline proportionately in 2018. High-quality land experienced a 0.8% increase, from $256 per acre in 2017 to $258 in 2018. Medium-quality land experienced a 0.9% increase, from $220 per acre to $222. Low-quality land experienced a 1.1% increase, from $183 per acre to $185.
Survey results reflect responses from 1,596 knowledgeable Iowans who were asked what they thought were typical rents in their county for land producing corn and soybeans, hay, oats and pasture. Of these respondents, 47% were farmers, 29% landowners, 13% professional farm managers and realtors, 9% ag lenders, and 2% other professions. They are familiar with a total of 1.8 million cash rented acres across the state.
Setting rents for 2019
Survey information can serve as a reference point for negotiating an appropriate rental rate for next year. However, rents for individual farms should be based on productivity, ease of farming, fertility, drainage, local cash price patterns, tenure of the lease and possibly additional services performed by the tenant.
Two major factors with the potential to influence future cash rental rates across Iowa are crop prices and land values. Should average or above Iowa crop yields result in 2018 in addition to steady Iowa corn and soybean cash prices, expect both land values and 2019 cash rents to continue to stabilize.
Remember, Iowa farm lease agreements use a Sept. 1 notification deadline for terminating Iowa rental arrangements effective the following March 1.
ISU Extension will conduct 70 farmland leasing meetings statewide in late July and August, where lease-related information will be discussed.
For a list of meetings statewide, check the ISU Extension calendar for a meeting near you.
Johnson is an Iowa State University Extension and Outreach farm management specialist. He can be reached at [email protected].
Subscribe to receive top agriculture news
Be informed daily with these free e-newsletters
You May Also Like
---