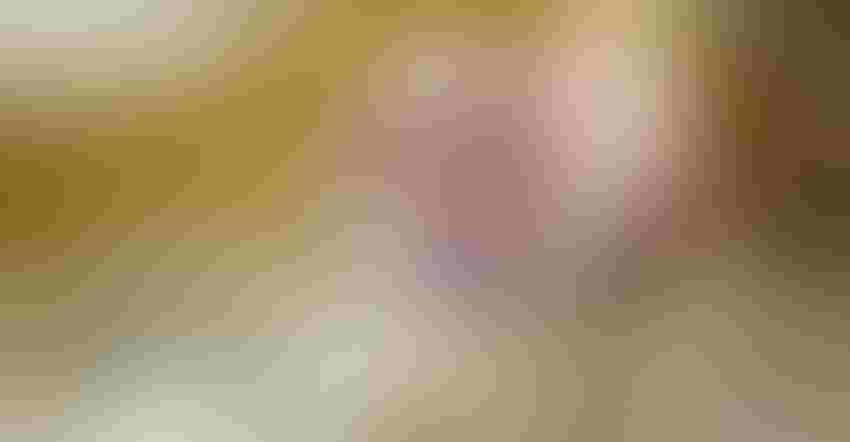 KEEP PIGS WARM: Straw or wood shavings can be used for bedding to help keep pigs warm in bitter cold winter weather.
NalinneJones/Getty Images
Baby, it's going to be cold outside this winter. Cattle, sheep and goats can grow hair and wool to give them that layer of necessary protection from winter elements. Even horses grow plenty of hair to keep themselves warm. But what do cold temperatures mean for swine?
When the month of October hits, it's time to bed down hogs with some extra care. Using extra bedding like wheat or barley straw, or denser bedding that is not straight hay that can cause skin irritations, can also give animals additional warmth. And, when temperatures do drop below freezing, it would be good to have some sort of cover inside the barn that is around the same height as the top of the pens to hold heat down. This can be as simple as a plastic tarp or sheet of plywood.
Ventilation is extremely important to ensure fresh air is moving through the barn. When temperatures are high, even with an insulated barn, you must have good airflow moving through it or the temperatures will continue to increase more inside the barn walls.
My dad, Ron, who is a retired large-animal veterinarian, says pigs naturally like cold versus warm temperatures, and many facilities expose their herd to colder temps assuming the animals adjust accordingly. Exposing heavy-muscled hogs to colder temps can help them use more energy as they tone down from a muscle standpoint. But Dad says that, even in this setting, it is important for pigs to have a warm place to rest and bed down during harsh weather.
Owners who have open barns should consider laying a piece of plywood across the top of the pen, which would drop the ceiling of the pen. As heat rises, it would stay inside this part of the pen longer and the pig would stay warmer. My grandpa would go as far as making a small hot box for smaller pigs, using plywood for walls and a ceiling. Cut a hole in the roof, hang a heat lamp in it and the pig can stay warm in this makeshift box.
The need to keep pigs warm is especially important when they weigh less than 150 pounds. As they grow in size and age, being exposed to cold temperatures is not uncommon.
Freezing temperatures are too cold, and if waterers are freezing that is a problem. Fresh water is so very important for hogs. A 50-degree F day or night is as low as a hog needs to go before things can get tough. If a pig is shivering, coughing, snotty or has sunken eyes, it's time to warm them up fast. Dad says to pay attention to changes in the animal's basic routine and watch for changes in skin color, like a white hog turning red, to know if a pig is too cold or not.
Most pig farmers know to offer them a climate-controlled barn or a small box, such as a plyboard-made hot box, to avoid icy winds. If it were me, I'd also put down straw and shavings to provide adequate bedding and prevent drafts. If it's safe and I can be there to monitor it, I would utilize a heat lamp, hung a safe distance from the pig. But if I have the lamp on I would not have straw or shavings in the pen. That's too much risk.
It's important to remember pigs are tough, and their ability to withstand weather situations is high. But sometimes a farmer might need a friendly reminder to pay extra attention to hogs. That extra bit of warmth can ensure they stay healthy and grow in order to give you great bacon and pork chops that will warm you up in the spring.
McCurry writes from Colwich.
Subscribe to receive top agriculture news
Be informed daily with these free e-newsletters
You May Also Like
---