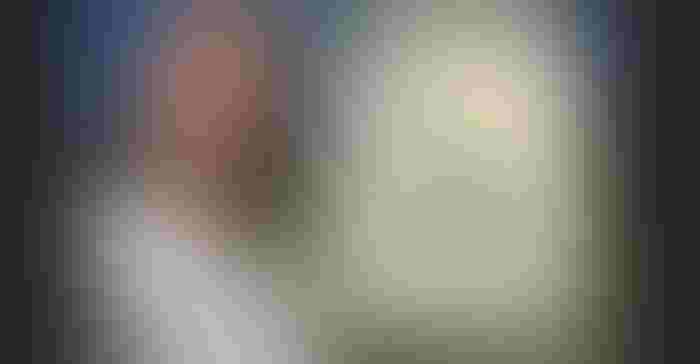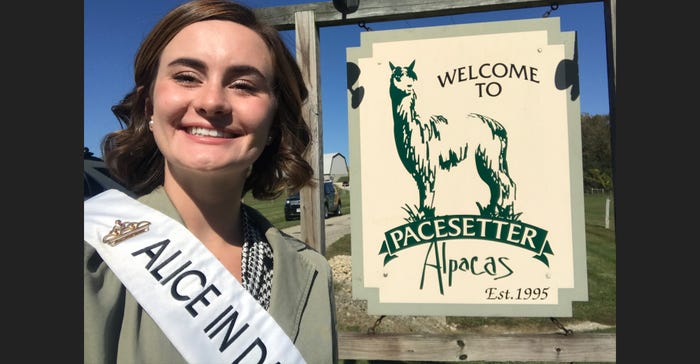 How do you combat the cold conditions of Wisconsin winters?
While shopping for clothing items to keep you warm this season, consider pieces made of alpaca fleece, also known as the "Fiber of the Gods." During the first half of my year as the 73rd Alice in Dairyland, I had the opportunity to visit two alpaca farms in Wisconsin and learn more about how alpacas are raised and the many uses for their fiber.
There are two different types of alpaca, the Suri and the Huacaya. The Suri has fiber that grows quite long and forms silky, pencil-like locks. The Huacaya has a shorter, dense, crimpy fleece, giving it a very woolly appearance. Alpacas come in 22 natural colors recognized by the textile industry, ranging from white to tumbleweed to sepia to black. Alpacas are sheared for their wonderful fleece each year in May.
The fleece of one animal will produce 5 to 10 pounds of soft, warm fiber that is turned into the most luxurious garments in the world. Alpaca fleece is used to make socks, hats, scarves, sweaters, rugs and blankets, depending on the grade of the fleece. Fiber that is coarse in texture is made into rugs, while softer fleeces are made into baby blankets. Alpaca fleece can produce clothing that is hypoallergenic, making it a great alternative to sheep wool.
Alpaca facts
A member of the camelid family and a cousin to the llama, the two are often confused. Alpacas are a smaller version of llamas, often with softer fleece. These graceful animals graze on pasture the majority of the year. Alpacas have soft-padded feet, making them gentle on pastures, and they have no top teeth in the front. They are a modified ruminant and chew their cud similar to a cow, although they have three stomachs rather than the true ruminant, which has four. Alpacas are grazers and generally have low feed costs.
They breed in April or May, and once bred, an alpaca's gestation period is 11 to 12 months. They typically have single births — twins are extremely rare. A baby alpaca, called a cria, usually weighs between 15 and 20 pounds at birth. A mother alpaca is called a dam or hembra, and a male, a sire or macho.
Alpacas have a life span of 15 to 20 years, so you can enjoy your alpaca for a long time. Not only do they have a long reproductive life, but they also will provide fleece for a lifetime and are fairly low maintenance, needing to be sheared once a year and given pedicures only a couple of times, depending on how fast their toenails grow.
Not many people realize that alpacas and llamas can also be used for animal-assisted therapy and activities. They are very gentle and preferred in some cases because they eat less than horses and do not need quite as much space or maintenance. Alpacas and llamas make very little noise and do not startle patients, young or old, helping to create a calming environment.
I encourage you to find an alpaca farm near you to learn more about these fleecy friends that speckle the Wisconsin landscape and contribute to our state's diverse agricultural community. Be sure to buy Wisconsin products to support our alpaca farmers, yarn spinners and clothing makers, who will keep this niche industry growing for years to come. Don't forget to grab some warm alpaca socks this winter — I've got mine!
Nunes is the 73rd Alice in Dairyland.
Subscribe to receive top agriculture news
Be informed daily with these free e-newsletters
You May Also Like
---