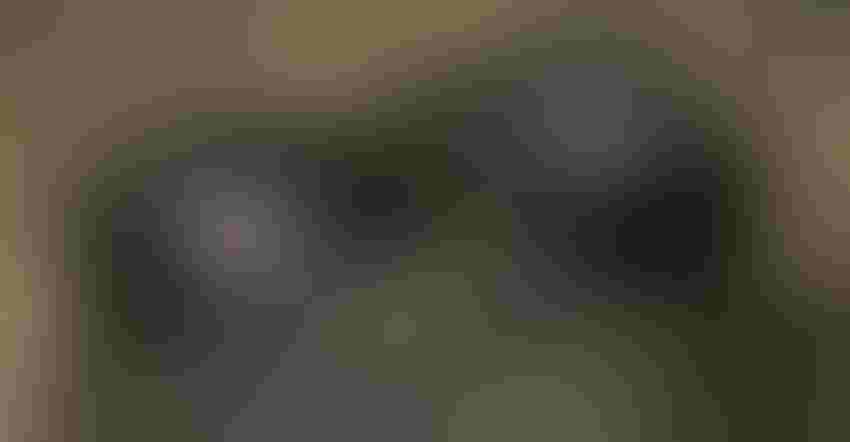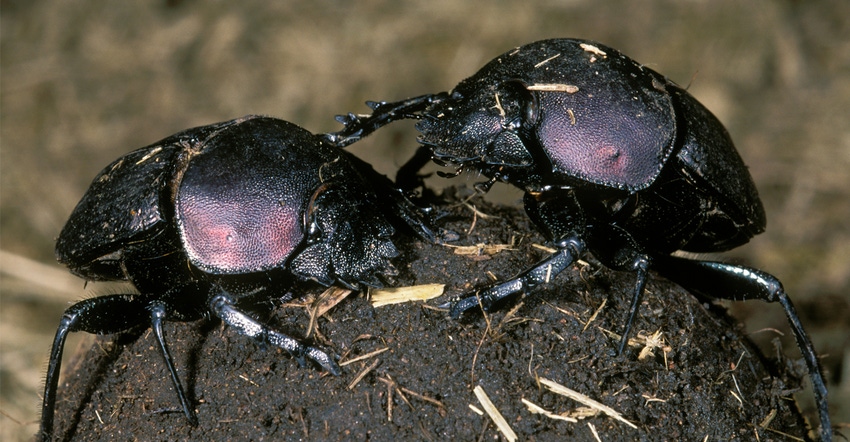 POOPER-SCOOPER: Kansas State University entomologist Cassandra Olds spoke at the 2022 KSU Stocker Field Day in September about the role dung beetles play in keeping pastures and cattle healthy.
Martin Harvey/Getty images
You can either work with the organisms in your pastures, or you can work against them, says Cassandra Olds, Kansas State University professor of entomology. And when it comes to costly pests in the pasture, dung beetles are one species that cattle producers definitely should consider adding to their team, she says.
Olds spoke at the 2022 KSU Stocker Field Day, in September. She says by managing all the species in our pastures, we can make it tougher for the insects we don't want to survive: costly insects like horn flies that feed on cattle, reducing weight gains and increasing their stress levels. Or face flies that are vectors of costly pink eye. And gastrointestinal nematodes, which can drastically affect the health of young calves before they have a chance to acquire resistance.
What do those three insects have in common? First, each of these is starting to develop resistance to the chemicals cattle producers use to control them, Olds says. Resistance is a heritable trait that is passed to offspring, and by overrelying on, or improper use of, chemistry to control them, we're just selecting for even stronger resistance in future generations, she explains. "Producers ask me if there's any new chemistries coming out, and I tell them we don't have any," she says. "And, even if we did, nature finds a way."
Second, each of these pests rely on fresh manure pads as nurseries for their eggs. And that's where dung beetles come into play.
Flip the script
"We really need to be spending the most amount of time on nonchemical interventions," Olds advises. By spending more time on prevention and less on intervention, we can keep a lid on these endo- and ectoparasites before they get to be a problem.  
She adds that cattle producers will still need to use chemical interventions, but the goal is to reduce the reliance and the amount of chemistry we use and rely more on nature's methods.
"If we get rid of the fresh manure, the life cycle is broken," she says. "A broken life cycle means less pests over time. Less pests over time means less reliance on chemical control. Which means when you do need to use it, hopefully you have susceptible populations able to be controlled."
And that's where the dung beetle comes in.
Nature's pooper-scooper
Dung beetles are the unsung custodians of the pasture. By cleaning up manure pads they:
Reduce breeding environments for the flies.

Reduce exposure to gastrointestinal nematodes.

Integrate nutrients back into the soil, which is better for pasture health.
There are several types of dung beetles, including rollers, dwellers and tunnellers, and all three types can be in the same pad. They even remove E. coli from the manure pad, and that helps animal health as well. Research says you can remove up to 50% of horn flies present just by letting dung beetles do their work, Olds adds.
Scientists have many gaps in dung beetle research, but what they do know is that dung beetles are active in pastures at different times of the year. The land management can affect the type of dung beetle you have and whether they thrive, she says. And there's research that shows dung beetles have preference for poop from certain animals. At the Konza Prairie Biological Station, dung beetle distribution was different on cattle poop versus bison poop, she says.
To help Olds and her team fill some of the gaps in the research record, she's asking cattle producers to consider setting some dung beetle traps on their pastures to help collect beetles for research.
Most importantly, Olds says there are species specific to Kansas. She strongly warns against buying dung beetles online and throwing them out into your pastures, because they can harm your ecosystem. These are actually invasive species from South Africa, she says, where they were raised on elephant manure — and they will displace your native beetles.
To watch Olds' full presentation, visit youtube.com/watch?v=TTPgnkR-jhI or view it below:
About the Author(s)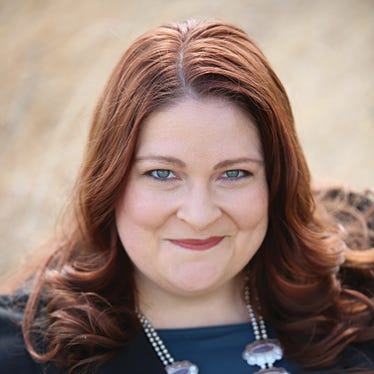 Through all her travels, Jennifer M. Latzke knows that there is no place like Kansas.
Jennifer grew up on her family's multigenerational registered Angus seedstock ranch and diversified farm just north of Woodbine, Kan., about 30 minutes south of Junction City on the edge of the Kansas Flint Hills. Rock Springs Ranch State 4-H Center was in her family's backyard.
While at Kansas State University, Jennifer was a member of the Sigma Kappa Sorority and a national officer for the Agricultural Communicators of Tomorrow. She graduated in May 2000 with a bachelor's degree in agricultural communications and a minor in animal science. In August 2000 Jennifer started her 20-year agricultural writing career in Dodge City, Kan., on the far southwest corner of the state.
She's traveled across the U.S. writing on wheat, sorghum, corn, cotton, dairy and beef stories as well as breaking news and policy at the local, state and national levels. Latzke has traveled across Mexico and South America with the U.S. Wheat Associates and toured Vietnam as a member of KARL Class X. She's traveled to Argentina as one of 10 IFAJ-Alltech Young Leaders in Agricultural Journalism. And she was part of a delegation of AAEA: The Ag Communicators Network members invited to Cuba.
Jennifer's an award-winning writer, columnist, and podcaster, recognized by the Kansas Professional Communicators, Kansas Press Association, the National Federation of Presswomen, Livestock Publications Council, and AAEA. In 2019, Jennifer reached the pinnacle of achievements, earning the title of "Writer of Merit" from AAEA.
Trips and accolades are lovely, but Jennifer says she is happiest on the road talking to farmers and ranchers and gathering stories and photos to share with readers.
"It's an honor and a great responsibility to be able to tell someone's story and bring them recognition for their work on the land," Jennifer says. "But my role is also evolving to help our more urban neighbors understand the issues our Kansas farmers face in bringing the food and fiber to their store shelves."
She spends her time gardening, crafting, watching K-State football, and cheering on her nephews and niece in their 4-H projects. She can be found on Twitter at @Latzke.
Subscribe to receive top agriculture news
Be informed daily with these free e-newsletters
You May Also Like
---