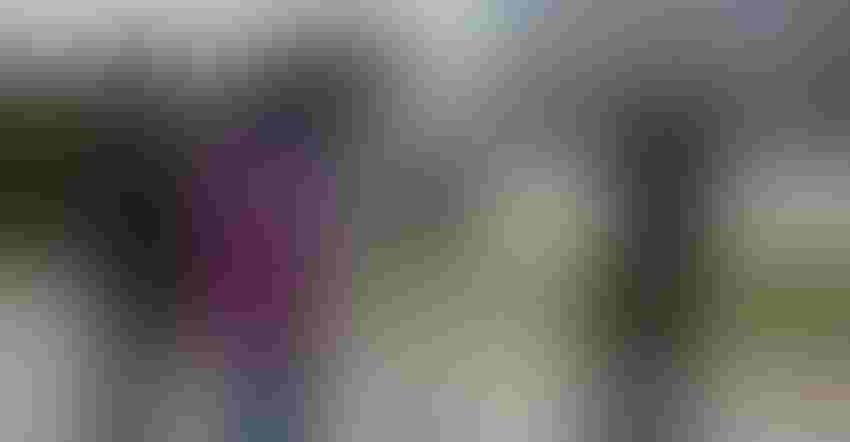 COMMUNICATE: "Our core value is training, communication and empowering individuals for success. We've lived out what our parents instilled in us," Ken Maschhoff says.
Photo courtesy of The Maschhoffs
When did life begin for Ken Maschhoff?
He was about 14 and working for a neighboring farmer. And while the pay was great, "life began when I said, 'I don't want to work for a paycheck. I want to create my own business and work for myself.'"
Ken and his brother Dave dove in, borrowing $3,500 from their grandparents and buying land near their Carlyle, Ill., farm. It was the late '70s, and when the ground tripled in price, they sold it and used the proceeds to buy half interest in their parents' 135 sows. A few years later, they bought the rest.
Today, Ken and Dave head The Maschhoffs, the largest family-held pork producer in the world. The organization spans 10 states with 600 production partners who raise hogs with them, and they employ 1,350 people. Ken serves as chairman of the board.
In this interview with Prairie Farmer, take a look at how he's served pork producers, built consensus and affected changed in agriculture.
What was your first job with the pigs? The first thing I remember was when I was probably 6 or 7 years old, clipping needle teeth, giving iron shots, processing pigs. When I was 8 or 9 years old, Dad was building new hog buildings, and I was the only one who could fit down in the pits. They'd knock the forms down, and I'd drag them out on a red Radio Flyer wagon.
A lot of people say they want to grow their business, but you've grown yours exponentially. What did you do that no one else did? The Lord certainly has blessed us. We made decisions that could've gone either way. Beyond fortune, we have invested in people and talents that go above and beyond.
I'm proud The Maschhoffs has been known as a breeding ground for entrepreneurs and bright people. That's good and bad! It's good for agriculture, but sometimes people outgrow the opportunities in the business. Other organizations realize that great people come here and come out of here. But it's expensive for us because we develop those people, and sometimes they get opportunities and become true leaders. I'm proud of that, and I'm happy for them.  
You have a reputation for hiring good people. Is there a particular trait you look for? I can read people very, very well. People here have one thing in common: They're very progressive-minded. They're bright people. They're hard-working, and that was instilled by their parents. Integrity. Honesty. Enthusiasm. We have hired people who bring a skill set to the company that we can't find otherwise.
You've recently finished your term as president of the National Pork Producers Council. What did you learn during your time in that role? I thought I knew everything about not just politics in general, but how you create and forge relationships around the ag sector to get things done. The one thing I've learned this year is that sometimes in agriculture, we tend to not think broadly enough and not think about the influences we can have in a broader way.
At NPPC, we're working with the U.S. Chamber of Commerce on NAFTA. We worked with the Congressional Black Caucus, whose members will be affected if HSUS and PETA get their way with driving up food costs in California and Massachusetts.
China has recently enacted a 25% tariff on imported U.S. pork, in retaliation to the president's steel and aluminum tariffs. How big of a problem is this for The Maschhoffs? Most people don't realize those tariffs went into place that Monday morning after steel tariffs were announced. The one that it affected right away was pork. Futures dropped tremendously. Millions and millions of dollars. Now, since the only pork entities that are larger than us are publicly traded, you could argue that Dave and Ken Maschhoff were the most affected individuals out of 340 million Americans. No other industry was as impacted as pork.
How has trade changed your business? Twenty years ago, we were a net importer of pork. We did not become a net exporter of pork until 1993 or '94. Today we export 27% of our pork. By the time all these packing plants are done, we'll be north of 30%.
And free trade? When we pulled out of TPP [Trans-Pacific Partnership], it was absolutely imperative that we not kill NAFTA. The [U.S.-]Korea Trade Agreement was near death experience, and thank God for [USDA Secretary] Sonny Perdue and other allies in Washington, that didn't happen. Now we don't have Gary Cohn [former chief economic adviser] in the White House. We have protectionists and people from the steel industries there. We're very concerned that one more trade agreement lost will put us in a very, very tough position. If we don't get the administration to recognize that the ag sector is expanding in beef, pork and poultry production, and if we don't expand our bilateral and trilateral trade agreements with countries like Japan, Vietnam, some emerging nations in South America, we are going to get hosed.
What would you tell the president, if you could? We are the low-cost pork producer in the world. The U.S. is the most efficient producer of pork in the world. And we have a product the world wants.
I want to say to a pro-business administration, what more could you want? Why inhibit an industry that is highly efficient? This is a place where we can build jobs and exports in the U.S. Look what this industry can do for our economy, if we just let it do it.
What's the big picture we're missing in agriculture today? Agriculture used to be very opportunistic: Work hard, put your head down, produce, be efficient, and if you're in the top 20% of what you do, you'll be successful. That was true through the '80s, '90s, 2000s, 2010s.
Now there are no guarantees. I say this as a grain farmer and as a pork producer: You can be the absolute best, but there are factors beyond your control. Geopolitical events could affect your business overnight. Those systemic risk factors exist across all of agriculture. And I don't think we view risk as an industry the way we should. We think about it the way we did 20 years ago.
GET INVOLVED: "You can be the best at what you do, but you better be involved politically," says Ken Maschhoff (right), pictured with his wife, Julie, and House Speaker Paul Ryan. "If you don't do it, somebody else will, and chances are, they won't have your best interest in mind."
Any regrets? Julie and I have four kids, and when we built the business, I wasn't there for many grade school, high school events. I missed a lot of that. I'm not proud of it. I would do it differently if I could. But in every business, somebody, somewhere, has to make a sacrifice. But it doesn't have to be that way going forward. 
What do you want your life to be about? That each of the 600 production partner families in our network would be able to say our family is better off financially for having networked with The Maschhoffs. And that they have more opportunities for their children or grandchildren to be in agriculture.
What's one thing you do that's directly tied to your success? Build consensus among your people to ensure success. Get people with different points of view. Bring them together. Get the snowball nudged in the right direction, and it can turn into something massive.
So often here, we take people in accounting or logistics to the farm, or we take the people on the farm who are pressure-washing a trailer and have them sit in an animal well-being meeting for a day. It makes them realize it's not just a job. They're part of something much more noble. They're producing a product they can be proud of.
MASCHHOFF REFLECTS
On training people:
"As a teenager, my parents had me making decisions about where to buy corn, dealing with packers, hiring and firing employees. Our core value is training, communication and empowering individuals for success. We've lived out what our parents instilled in us."
On trade imbalance:
"The administration's emphasis has been on trade deficit. We have 20 free trade agreements. Within those 20 FTAs, we don't have a trade imbalance. We talk about our $560 billion trade imbalance, but it's not in FTA countries. It's in the countries where we don't have FTAs where we get screwed."
On agricultural tariffs:
"It's the one industry that's been targeted and hit hard by tariffs. It makes me sick to my stomach to think about that."
On employee management:
"Make people feel good about what they do. Make them feel part of something, and proud and happy about their work life."
On business:
"We can't reinvest in our businesses with the same lenses as 25 years ago. We are a trade-dependent economy when it relates to agriculture. You can be the best at what you do, but you better be involved politically. If you don't do it, somebody else will, and chances are, they won't have your best interest in mind."
On company culture:
"We want to create more people that feel like they're owners."
MASCHHOFF IN BRIEF
Truck? Ford
Tractor? Case steam engines
Pig breed? Proprietary Maschhoff genetics!
Team? St. Louis Cardinals
Technology? Post-it notes
Place to be? In the mountains
Hobby? Travel
Family? Wife, Julie; daughters, Chelsea, Cassie and Sabrina; son, Ben
Best advice? Make people laugh. Lighten up tense situations. Have fun.
Subscribe to receive top agriculture news
Be informed daily with these free e-newsletters
You May Also Like
---