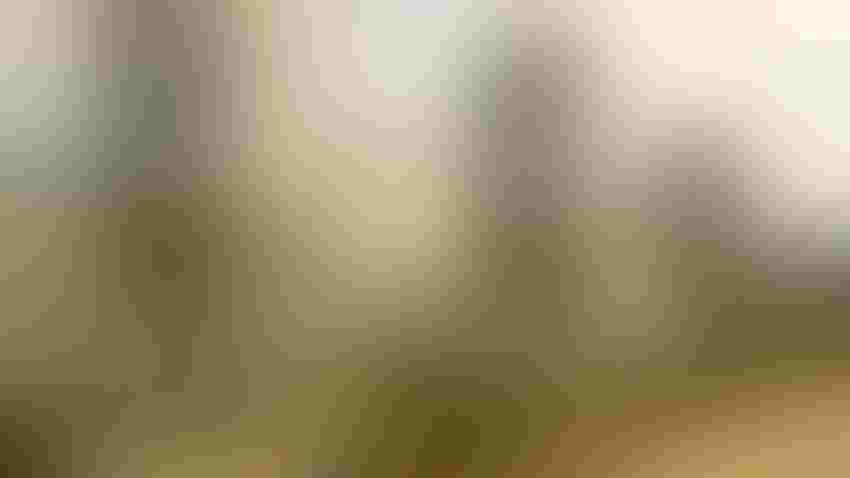 LEADERS AMONG US: Minnesota pork producers are the best at what they do — raise healthy hogs. They also make great leaders for the industry.
Russ Schleipman/Getty Images
Leaders of Minnesota's pork industry were honored at an awards banquet to kick off the 2023 Minnesota Pork Congress Feb. 20.
Honorees were recognized as Environmental Steward of the Year, Distinguished Service award recipient, Pork Promoter of the Year, Swine Manager of the Year, Pork Family of the Year and Legislator of Distinction.
Environmental Steward of the Year
Adam Barka's roots took him from a diversified livestock farm that converted to a dairy farm, to a county assistant feedlot officer to business development representative with Christensen Farms to his current position as director of Environmental Stewardship for the company.
Christensen Farms' commitment to pursuing excellence and stewardship was Barka's primary reason for joining the company. Though his time working under the leadership of the late Bob Christensen was limited, Barka said Bob's "vision for environmental stewardship" still influences his thoughts and actions today.
Barka has held this position for the last nine years and has responsibility for the agronomy manure application team.
"I have been honored to work for an organization where stewardship has been part of the culture since its founding," Barka said. "At CF, I am focused on how we pursue excellence and not on doing the bare minimum or just what is required."
This commitment garnered the Environmental Steward of the Year award.
Distinguished Service award
Reuben Bode has served the pork industry from raising pigs for the food chain to hosting farm tours. He's served on boards and associations within the industry and volunteered at numerous events. This dedication to the state's pork industry earned Bode the Distinguished Service award.
Bode and his wife, Judy, brought their son Ryan into the family operation of Rebco Pork that is home to 2,400 sows on the home site, as well as ownership in three other sow units. According to Pork Congress magazine, Bode joined forces with Pipestone Systems in 2015. A 10,000-sow unit was built, a number that astounded Bode, and he purchased shares and earned a spot on the board. He later involved himself on the boards of another sow unit, becoming a major shareholder in both units.
Pork Promoter of the Year
One doesn't have to look far to find a hog barn in Jackson County, Minn., and one only needs to look to Kat's Hog Heaven in downtown Jackson for delectable pork dishes.
On a daily basis, Donnie Schoenrock promotes pork, showing consumers the benefits and ease of cooking the product. This daily promotion merits Schoenrock being named this year's Promoter of the Year. This former law enforcement officer has turned a passion with food growing up into running his own restaurant.
"This restaurant is the best thing that's ever happened to me. It is the most rewarding thing to have people leave here happier after enjoying a delicious meal with an awesome atmosphere," he said in the Pork Congress preview magazine.
Swine Manager of the Year
A barn crew is made up of many people working toward the common goal of healthy pigs, and you need to have someone in charge of the team.
Adam Ziemke does what needs to be done, quietly leading by example, always learning and adapting. The recognition of his leadership makes him this year's Swine Manager of the Year.
Ziemke has been with Wingspan Pork in the Waseca, Minn., area for more than 20 years and manages four wean-to-finish sites with approximately 15,000 pigs at any one time.
Family of the Year
Ethan Kracht started working for Jim Veldkamp near Jasper, Minn., as a hired hand, handling daily chores and caretaking. In the six years since he joined Veldkamp's operation, it has tripled in size, and Kracht took the opportunity to work more into management.
"I am so thankful Ethan has come in to help with management," Veldkamp added, noting Kracht's advanced proficiency working with computers, scheduling loads of pigs and collaborating with processing facilities. "Ethan has gotten really good at projecting when the next load of pigs should get sold and when they'll be ready — which I will readily admit I wasn't good at."
Veldkamp and his late wife, JoAnn, had built Veldkamp Farms, and now the intent is for Kracht and his wife, Chyana, to succeed Veldkamp in the operation. This plan of passing a sustainable and profitable farm to the next generation merits the Veldkamp Farm to the Kracht family receiving this year's Family of the Year recognition.
Legislator of Distinction
Advocates for agriculture seem to be hard to come by these days, and for the last 18 years there was a friend at the state Capitol. Rod Hamilton retired in 2022 after serving as a state representative.
Since first being elected to the Minnesota House, Hamilton was a voice for agriculture, and his experience in the swine industry enabled him to speak with authority on the needs of hog farmers and agriculture in general.
"My desire for politics really sparked after I saw so many people come together to make those laws happen. From then on, I just became more involved and took advantage of opportunities to go to St. Paul and Washington, D.C., to visit with legislators and advocate on behalf of agriculture," Hamilton recalled.
Following his first appointment in 2004, Hamilton quickly became the leading voice for agriculture and rural Minnesota. In 2009, he became the assistant minority leader and the Minnesota House's third-most powerful position, House Majority Whip, in 2011. In the 2011-12, 2015-16 and 2017-18 sessions, he chaired the Minnesota House Agriculture Finance Committee.
His championing a variety of legislation for rural Minnesota, and his commitment to the Minnesota swine industry has earned him the distinction of being this year's Legislator of Distinction.
Minnesota Pork Congress contributed to this story.
Subscribe to receive top agriculture news
Be informed daily with these free e-newsletters
You May Also Like
---