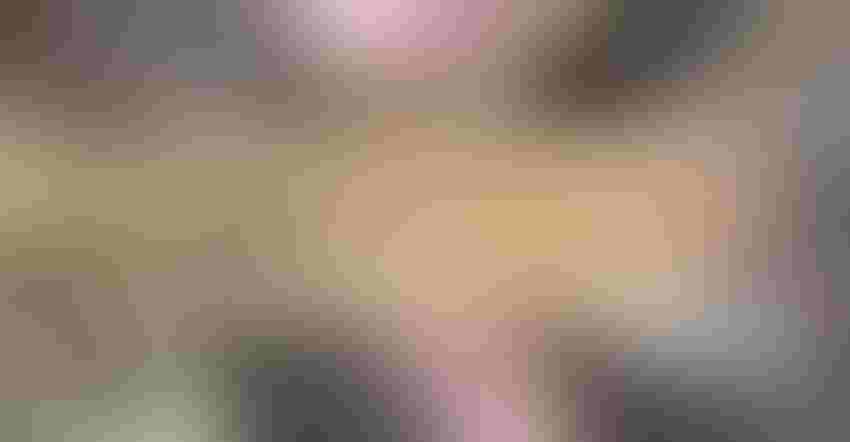 GET READY: Stalk rot is present in a number of Iowa cornfields this year. Prepare to harvest those fields first.
Nicole Stecklein
As the 2018 growing season winds down, now is a great time to check cornfields for stalk rots and prioritize those with weaker stalks for harvest first. Meaghan Anderson, Iowa State University Extension field agronomist for central Iowa, provides the following suggestions on how to do that.
"Farmers should also be looking for diseases and nutrient deficiencies in soybeans," says Anderson. She's also been getting calls on end-of-season weed management, questions about a new soybean pest that's showing up in western Iowa — soybean gall midge — and she offers information on grain drying and storage.
Scouting for stalk rot in corn
When scouting for stalk rot, choose several areas per field to check at least 10 plants in a row, making sure to check at least 100 plants total, says Anderson. Be sure to consider different hybrids, soil types, tillage or other management practices when choosing where to check in a field. For large fields or fields with significant variability, checking more plants may be necessary to get an accurate idea of the percent of stalk rot in a field. Choose one of two methods to check for stalk rot:
• The push test. Test the firmness of stalks by pushing plants over approximately 30 degrees from vertical. If the stalk fails to return to its vertical position, the plants are compromised and may lodge prior to harvest. This method seems faster and requires less bending down!
• The pinch test. Test the firmness of stalks by pinching the lower internodes of plants. If the stalk is compressed or feels soft, it is rotted and may lodge before harvest.
"If a field has 10% to 15% or more rotted stalks, the field should be prioritized for early harvest to avoid yield loss from unharvested ears," says Anderson.
A new University of Nebraska-Lincoln reference on stalk rots with photos and information about conditions favoring different kinds of stalk rot disease, is available.
What's up in soybean fields?
Now is also a good time to check soybean fields for signs of diseases and nutrient deficiencies, notes Anderson.
A number of soybean diseases have been showing up in crop fields this summer, including sudden death syndrome, brown stem rot, frogeye leaf spot and anthracnose stem blight. Knowing what diseases are present in your field is important for making management decisions for future years. Management for brown stem rot will differ significantly from management for SDS.

SYMPTOMS: Signs of potassium (K) deficiency in soybeans showed up in more Iowa fields in August this year.
Anderson and some of her colleagues have also seen a fair amount of what appears to be late-season potassium deficiency in soybeans. For reasons that aren't totally clear, late-season potassium (K) deficiency shows up in the upper canopy of soybean plants. ISU agronomist Antonio Mallarino wrote an Integrated Crop Management News article discussing late-season K deficiency and its effect on plant disease. He says K deficiency can occur simultaneously with disease, or on its own.
If you have a disease and want a confirmation on the diagnosis, the Plant and Insect Diagnostic Clinic at ISU accepts plant samples, notes Anderson. To submit a plant problem sample, go to ISU's submission form webpage.
End-of-season weed management
ISU field agronomists have been receiving questions in late August and early September about what, if anything, can still be done in the current growing season to control weeds. "In crop fields, it's probably too late to do much about the weeds that are there," Anderson advises. "But you can do several things to save yourself trouble with weeds in future years." Her recommendations are:
• Before harvest, take a moment to check weed issues in fields and write a few notes for next year. These notes might include where weed control failures happened, surprising weeds that survived through herbicide applications, and the need for special management next year (cocklebur, velvetleaf, bur cucumber) or anything else of concern for next year.
• Before harvest, make sure that waterhemp is not Palmer amaranth. If you find Palmer amaranth while scouting, eradication should be priority No.1. ISU's webpage on Palmer amaranth ID, biology and management will help you learn more about this weed. 
• Before harvest, determine whether any fields need to be harvested differently due to weed issues. Some weed issues are significant enough to consider altering harvest order or performing a combine cleanout before moving from that field on to others.
"We [the North Central Agriculture and Natural Resource Academy] have references for a between-field and end-of-season cleanout," says Anderson. "Due to the likelihood of spreading seed of troublesome weed species, it's advisable to avoid harvesting through drowned-out areas, if possible."
• After harvest, some no-till fields suffer from significant issues with winter annuals. Fall treatment of some winter annuals, like horseweed (marestail), can be an extremely effective way to manage these weeds before they get too large in spring. Check out this Purdue University report on effective herbicides for fall burndown of winter annuals. "We do not advise applying residual herbicides with fall burndown herbicide applications," says Anderson.
Soybean gall midge infesting fields
The hottest topic of the summer for crop pests in Iowa seems to be soybean gall midge, a new pest showing up in western Iowa soybean fields. As of early September, this insect hasn't been confirmed further east than the third column of counties in from the western edge of the state. To see a current map and learn more about these larvae that are girdling soybean stems, read ISU Extension entomologist Erin Hodgson's article New Soybean Pest in Iowa: Soybean Gall Midge.
"We know very little about this pest — not even the species — right now," says Anderson. "But farmers should keep an eye out for this pest and let us know if you suspect you may have found evidence of it in any crop fields in central Iowa or other areas of Iowa."
The larvae may have moved on from soybean plants by now, this late in the growing season. But evidence of their past presence may still be visible in the form of galls and scarring at the base of the plant, dead or dying plants, and plants lodging at the soil line. It is typically worst at a field edge and gets better quickly as you move further into fields, says Anderson. Here are pictures of affected soybean stems and the midge gall larvae.

NEW PEST: Midge larvae (left, color varies from nearly translucent white to bright orange) cause scarring on soybean stems (center) at the base of the plants. Here (right), they infest a field edge.
ISU's Erin Hodgson hosted a soybean gall midge forum with ISU Extension field agronomist Aaron Saeugling and Ryan Rusk at the Armstrong Research Farm on Sept. 5.
Grain drying and storage
It's time to get bins ready for harvest. Several resources are available to help plan grain drying and storage systems, but one, the Grain Drying, Handling and Storage Handbook, is now available for purchase from ISU. It's a great one-stop shop for information on planning a modern grain handling, drying and storage facility. Also, the University of Minnesota has a website that reviews basic on-farm storage principles. 
Subscribe to receive top agriculture news
Be informed daily with these free e-newsletters
You May Also Like
---