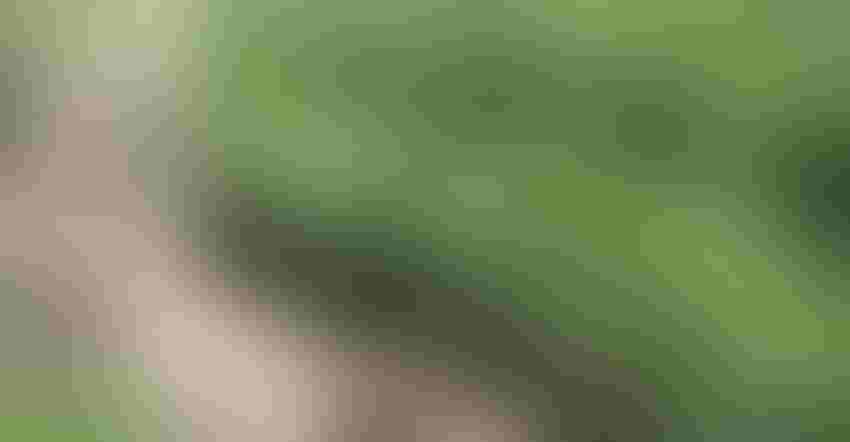 WINNING FORMULA: Following a protocol of maintaining adequate fertility teamed with early-season planting were the trump cards that enabled Midthun Bros. from Arlington to top 100 bushels of soybeans per acre in the Wisconsin Soybean Association Yield Contest. This is the first time a farm has had a 100-plus bushel yield in the history of the contest.
Harlen Persinger
The Wisconsin Soybean Association Yield Contest was launched in 2010 to encourage the development of new and innovative management practices and to show the importance of using sound cultural practices in soybean production across the Badger state.
Throughout the past decade, the highest recorded yield had been 99.58 bushels per acre in 2018. However, last fall, Midthun Bros. of Arlington became the first producers to top the century mark with 105.18 bushels per acre, earning first place in Division 4.
"While scouting the field prior to harvest, I was concerned about lodging in some areas which could reduce harvest efficiency and hamper overall yields," Don Midthun recalls. "But our agronomist wasn't concerned and felt extra pods on each plant would counteract that issue and contribute to excellent overall yields."
WINNING COMBINATION: Soybeans yielded 105 bushels per acre at Doug and Don Midthun's Arlington operation.
The brothers raise corn, soybeans and wheat on 1,285 acres in parts of Dane and Columbia counties. Their contest field of 183 acres featured a Plano heavy, silt loam soil. Each growing season, they base their fertility program on variable rate mapping and three-year soil test results.
In the fall of 2019, they applied 250 pounds of potash, 100 pounds of DAP (18-46-0), 15 pounds of elemental sulfur and 10 pounds of (Crop Mix LS) a blend of five micronutrients, consisting of 8% zinc, 7% sulfur, 3% manganese, 1% boron and 1% copper. Using a 16-row Case 1255 planter, 142,000 seeds of Asgrow AG 20X9 were dropped in 30-inch rows on April 21. At harvest on Oct. 5, the moisture test was 11.9% with a final stand of 135,000 plants per acre.
The pre-emerge herbicide treatment was Metalachlor at 1.75 pints per acre while the post-emerge application included 24 ounces of Credit Xtreme, 5 ounces of Outlook and 6 ounces of Clethodim 2E per acre along with 17 pounds of AMS and 18 pounds of Hook per 100 gallons of water per acre. In most years, water hemp poses the biggest weed problem in the crop.
The base seed treatment package consisted of Optimize XC for the inoculant, and Warden CX for broad spectrum disease and insect protection. An addition of Saltro to the base treatment for protection from soybean cyst nematode (SCN) and sudden death syndrome (SDS) was trialed on 40 acres and yielded 5 bushels per acre and will now be the standard treatment going forward. There was no foliar applied fungicide on the contest field on 2020.
"Planting by mid-April in 30-inch rows and maintaining adequate fertility with a specific focus on potassium, sulfur and micronutrients were the primary management practices that helped achieve 100 bushels per acre," says Pete Clothier, master agronomist for United Cooperative in Prairie du Sac. "Following continuous corn for 19 years and good growing conditions teamed with 24.8 inches of rain all contributed to the winning entry.
"With little soybean history on Midthun Bros. Farm, we intend to rotate soybeans on a different farm every year to help combat the increasing rootworm pressure for the continuous corn products," he says. "We also plan to use Miravis Neo as a foliar fungicide application this year."
Planting early pays dividends
Thelen Sand and Gravel in Twin Lakes claimed first prize in Division 3 with a yield of 90.22 bushels per acre, just above the second-place award they received in 2019 with 89.13 bushels.  Both totals are notably higher than the operation's average of 74 bushels per acre over the past five years.
"This Kenosha County enterprise comprises 2,200 acres, which also includes corn, wheat and some grass along with 650 acres of soybeans," says Tim Gaffron, farm manager. "The contest plot of 125 acres, consisting of clay, loam soils which utilizes both no-till and conventional-tillage practices, followed a crop rotation of corn to soybeans annually for the past four years.
PLANT EARLY: "In this operation, the most critical factor for putting more bushels in the bin last fall was getting into the field as soon as possible. If you can plant corn, plant beans. Don't wait," says Tim Gaffron, farm manager at Thelen Sand and Gravel in Twin Lakes.
To boost overall fertility levels on April 6, 150 pounds of potash and 150 pounds of Mesuraine per acre were spread across the field. Pioneer 24A80X soybeans were no-tiled into 30-inch rows at 120,000 seeds per acre with a John Deere 7200 12-row planter on April 25. The total rainfall measured during the growing season was 21 inches along with some moisture from irrigation. Beans were harvested on Sept. 25, and averaged 11.9% moisture, with a final stand of 112,000 plants per acre. The entire field averaged 84 bushels per acre.
The Pioneer Proprietary seed inoculant package included:
LumiGen Base seed treatment
To help control Bur cucumber and lambsquarters, 2.3 pints of Prefix and 5 ounces of Glory 4L were applied per acre on May 7. A second pass with a boom sprayer applied 20 ounces of Roundup/FS Max Supreme per acre on June 15. At the R3 growth stage, 13 ounces of Miravis Neo fungicide were applied per acre aerially. The total cost for this product and application was $24 per acre.
"In this operation, the most critical factor for putting more bushels in the bin last fall was getting into the field as soon as possible. If you can plant corn, plant beans. Don't wait," Gaffron notes. "Another management practice we adhere to is rolling the fields immediately after planting with a 30-foot Brillion style unit to push down rocks, sticks and other debris. Come fall, we're able to boost harvest efficiency by running the combine at 5 mph to 6 mph.
"Our purpose for entering the contest it to see how hard we can push plants during the growing season even if there are a couple of bumps along the way. Also, a good seed treatment allows plants to become hardy and achieve a more uniform emergence," he says. "Selecting a high-performing variety and relying on a company representative can make all the difference in the world when trying to push yields to the limit."
Monitoring production packages
Paul Lapacinski, Prairie Grains of Cameron LLC, was the top grower in Division 2 with 82.14 bushels per acre. Family members in this 3,400-acre operation, including 600 acres of soybeans that have averaged 60 bushels per acre the past three years, include his wife, Kassy, and his father, Robert. They also raise corn and edible beans and prefer using conventional tillage.
Their 40-acre contest plot followed corn and featured a Chelek silt/Antigo silt loam soil. They dropped 120,000 seeds per acre of Pioneer Pi6A13X in 30-inch rows with a 24 -row DB60 ExactEmerge John Deere planter on May 10. Each pass included 8 gallons of 10-34-0-ATS.  Beans were harvested on Oct. 7 at 16.5% moisture.
To help stabilize population and early growth, Lapacinski selected Dynastart 3P inoculant, which paid for itself. His foliar feeding program, prepared by AgXplore and sprayed in several passes by River Country Co-op, included 16 ounces of BorPak, 12 ounces of ValuPak, 16 ounces of Onward, 12 ounces of SulPak and 32 ounces of Octane per acre. The fungicide treatment, at the R 1 growth stage and when the third set of nodes started to blossom, was 10 ounces of Approach per acre.
The Barron County farmer applied 28 ounces of Roundup Power Max, 0.75 ounce of Synchrony XP and 1.2 pints of Class Act NG to control wild prosso millet, giant ragweed, velvetleaf and redroot pigweed. The 40 acres remained clean and was also void of any disease pressure.
"Several critical components must mesh together to optimize yields," Lapacinski says. "These include planting as early as possible when the ground is fit, adding a micronutrient package with the seed that is placed in the planter furrow, timely irrigation, a starter fertilizer mix of 10-34-0 at a rate of 8 gallons per acre applied in a 2-by 2-inch pattern beside each row and completing fungicide treatments at a regular scheduled time.
"I've heard that some folks believe we can't pull in above trend line yields in this area of the Badger state, but I'll enter the contest to prove otherwise," he says. "Next year I plan to designate 10 acres in one field and switch to Beck's Hybrids."
Proven winner
Paul Graf from Sturgeon Bay has entered the contest for several years in Division 1. He placed first in 2013 and second in 2012 and 2014. For 2020, he notched the top spot in this geographic area with 71.96 bushels per acre, 20 bushels above the farm's five-year average.
His 35-acre contest field, featuring a clay, loam soil had been in snap bean the previous year. He follows conventional tillage practices and planted NKs14-u9X in a 30-inch row spacing with a model Kinze 3600 corn planter at 155,000 seeds per acre on May 16. Beans were harvested on Oct. 13 at 11% moisture.
Graf's seed treatment, prepared by CropSource LLC in Freedom, included a proprietary mix of fungicide, biologicals, inoculant, insecticide, and heads-up. Using a Miller sprayer outfitted with 60-foot booms, the preemergence herbicide treatment was 4 ounces of Verdict per acre followed with a post application of 32 ounces of Glyphosate per acre.
"I try to make a sure my planting equipment is properly maintained, plant early as soon as the soil is fit, use a pre-emergence herbicide to prevent weeds from competing with the crop and don't hesitate to apply a post herbicide as soon as there is weed pressure. These items form the backbone of my management program," says the Door County farmer. "I also prefer 30-inch rows to help reduce the threat of white mold."
"Entering the contest provides a yardstick and opportunity to compare my operation with other top producers," he adds. "Seeing their results helps improve and manage certain items differently from one growing season to another."
Formulating success
For the second consecutive year, Rick DeVoe of RNK Farms from Monroe ranked No. 1 in Wisconsin for achieving the highest protein and oil content with 3,140 pounds per acre, topping his entry of 2,867 pounds in 2019.
"The contest plot of 20 acres consists of a corn-soybean rotation." says DeVoe, who farms 1,650 acres with his wife, Kathy. "This area features a deep, clay loam soil that has high levels of organic matter, nearly perfect for soybean production."
TISSUE SAMPLES: Rick DeVoe of RNK Farms from Monroe ranked No. 1 in Wisconsin for achieving the highest protein and oil content with 3,140 pounds per acre. He took tissue samples during the middle of the growing season that showed plants were lacking in zinc and sulfur. So, he made an extra pass with a mix of fungicide, 20 pounds of nitrogen and minerals just before the plants began to flower.
The Green County farmer no-tilled Pioneer 28A42x seed into 30-inch rows with a 16-row Case IH 2150 High Speed planter at 135,000 plants per acre on April 28. Beans were harvested on Oct. 15 and averaged 94 bushels per acre at 12.8% moisture with a final stand at 120,000 plants per acre.
DeVoe says tissue samples taken during the middle of the growing season showed that plants were lacking in zinc and sulfur. So he made an extra pass with a mix of fungicide, 20 pounds of nitrogen and minerals just before the plants began to flower. He says that incorporating this management practice may have led to the increase in overall protein and oil content.
"You could visually see a difference in plant color between treated and untreated rows. I will definitely consider using this package again this season," he says. "Even though my overall yield was the second highest ever measured for this farm, a lack of moisture in August was probably why I came up short in my goal of 100 bushels per acre."
In the past decade, DeVoe has been in the top of Division 4 several times. For example, in 2012, his winning total was 74.34 bushels; in 2013, it was 92 bushels; in 2016, 98.34 bushels; and for 2017, his plot averaged 93.15 bushels per acre. Perhaps 2021 will be the year he cracks the century mark for the first time.
Persinger lives in Milwaukee.
Subscribe to receive top agriculture news
Be informed daily with these free e-newsletters
You May Also Like
---