Record raisin price after costly decade
Record raisin price after costly decade
$1,500 raisin field price record announced.It has taken a decade of economic disarray for the raisin industry to finally reach a supply and demand balance — for at least one year.75,000 acres of Thompsons have been replaced.RAC declares 100 percent free tonnage.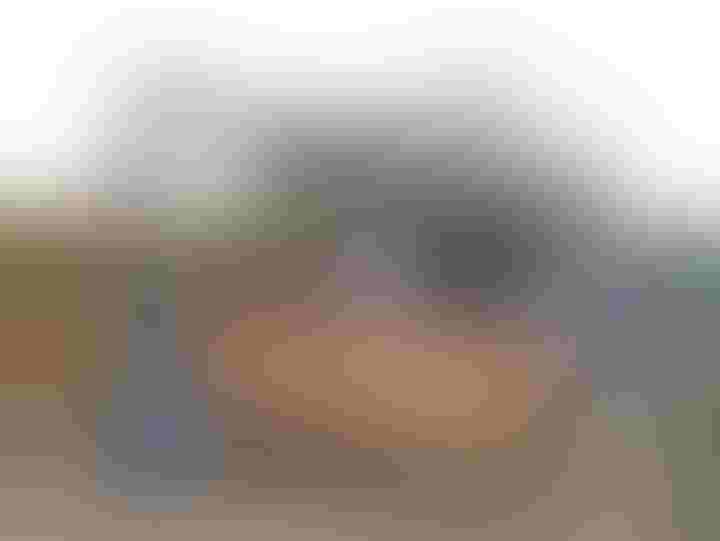 The recently announced $1,500 per ton field price for this season's California Natural Seedless Raisin crop is a record.
However, raisin growers are not dancing in the vine rows. There are mostly sighing survivors because the price milestone is erected on the carcasses of 75,000 acres of Thompson seedless vineyards, plenty of red ink since 2000 and the financial demise of many small, family grape growers. It is also another testament to a monopolistic and economically fickle California wine grape industry.
Raisin growers receiving the record price this season are the cast members of the longest-running reality survivor series. It has been a decade-long financial roller coaster for Thompson seedless raisin producers in the central San Joaquin Valley.
Although domestic and export raisin shipments have remained relatively stable over the decade, grower returns for raisins have been like a bouncing ball. This has been largely due to widely fluctuating prices for green Thompson seedless grapes for crushing either for wine or concentrate. It has ranged from a low of $75 per ton to as much as $225 per ton. This has created chaos in the raisin industry. When green prices are high, growers go to the winery with fresh grapes. When green prices are low, the grapes are dried into raisins and dumped into a federal supply management marketing order system to deal with the oversupply.
This uncertainty in the grape and raisin industry along with more favorable economics in permanent crops encouraged many growers to replace the destroyed 75,000 acres of Thompsons with crops like almonds, pistachios, citrus, pomegranates and, of late, olives for oil.
It has taken a decade of economic disarray for the raisin industry to finally reach a supply and demand balance — for at least one year.
The Raisin Bargaining Association's $1,500 Natural Seedless Raisin price negotiated with the 13 Valley processors/packers is the highest "field price" in 20 years because of this balance. A relatively short crop also helped.
More importantly, the price is an all-in price. The traditional two-tier supply management system is gone.
Free tonnage 100 percent
The Raisin Administrative Committee (RAC) is a federal marketing order made up of growers and packers that annually estimate sales for the coming year. That number is called "free tonnage." That has ranged from a low of 53 percent to 100 percent of the crop over the past decade. Only eight times since 1967-1968 has the crop been declared 100 percent free tonnage after harvest and growers received the full field price. The RAC accounted for the eighth time when it announced recently that there would not be a reserve pool for 2010, and growers would receive 100 percent of the field price for their entire crop.
The free tonnage percentage dictates how much money growers receive upon delivery to their packer. If the RBA field price was set at $1,000 per ton and the free tonnage was established at 53 percent, that means growers would get only $530 per ton upon delivery. The remainder of that year's raisins would go into reserve pools and sold at discount prices to foreign buyers, school lunch programs or turned into cattle feed or distilled for alcohol. Packers could also buy reserve raisins for domestic sales at discount prices. In the past, growers have even been paid in reserve pool raisins not to produce a crop the following year. This is somewhat simple to accomplish with Thompsons since they are cane pruned, not spur pruned. If you lop off all the canes in the winter, there is virtually no crop.
Regardless of where reserve pool raisins eventually went, they never returned as much as the field price.
Cash costs to grow, hand harvest and field dry an average crop of 2 tons of raisins per acre is about $2,300 per acre, not including overhead, according to the University of California. It costs about $1,850 to produce the same 2 tons with mechanically harvesting and continuous tray field drying. The green to dry ratio over the past few years has been about 4.5 tons green for 1 ton dry.
California produces 99 percent of the raisins produced in the U.S., mostly within a 50-mile radius of Fresno, Calif.
Wine sales skyrocketed in the 1990s and wineries scrambled for supplies, offering high prices for Thompsons which could be blended with wine grape juice. When the supply from new wine grape vineyard plantings caught up with demand, wineries quit paying decent prices for Thompsons and growers made raisins rather than harvest green. Thompsons also get caught up in the world concentrate market. When concentrate supplies are cheap and abundant in places like China or South America, wineries buy concentrate offshore and forgo California grapes. This would also divert green Thompsons to raisins. Cheap apple and pear juice from oversupplies of those crops can also be used for concentrate.
E&J Gallo, the largest winery in the U.S., is also the biggest buyer of Thompsons, annually setting the industry green price. Gallo sales total 68 million cases annually. Not only that, but the three largest wineries in the U.S. (Gallo, The Wine Group and Constellation Wines) account for 50 percent of U.S. case sales, and they all buy Thompsons. Gallo is always the first to announce prices, and it sets the bar where it wants.
Gallo: lowball shock
Gallo shocked the industry this year when it announced a $190 per ton price for 2010 Thompsons. Most growers were expecting more because Thompson supplies were short. However, the raisin industry was happy about the price because it created a much needed bigger supply for raisins this season to meet growing export demand. Most believe Gallo knew raisin packers wanted more raisins and used that to lowball green prices. Left in the cold were growers who could not make raisins because their vineyards would not accommodate raisin drying.
Bulldozers started ripping out SJV vineyards about 10 years ago because of continued uncertainty in the raisin and wine industry. More than 100,000 acres of vines have been removed the past 10 years, most obviously Thompsons. Many believe more older vineyards will continue to be taken out, perhaps at a slower pace. Raisin industry leaders hope this year's price and 100 percent free tonnage will slow the process down and possibly encourage more dried fruit from raisin adaptable vineyards that still go to the winery.
Another factor in this year's record price and 100 percent free tonnage is that world raisin supplies have fallen dramatically, creating growing markets for California raisins.
California raisins compete in the world market with Turkey, Australia, Chile, Greece, Iran, Mexico, and South Africa.
Global production from those countries has fallen from 1,104 metric tons in 2008 to 1,040 tons this year. This supply is expected to continue declining in 2011.
U.S. export sales have increased almost 50 percent in four years. This reached a record 152,000 tons for the 2010 fiscal year. To put that in perspective, the 2010 Valley raisin crop is estimated at 293,000 tons. Only four crops since 1982 have been smaller.
Glen Goto, RBA chief executive officer, said the $1,500 price will help surviving growers offset expenses that have been absorbed over the past several seasons and will provide incentive to keep vineyards in the ground to produce raisins.
The RBA agreed to allow its signatory packers the following schedule for payment to its growers to get the field price it wanted. Upon complete delivery of a grower's fruit, packers will pay 65 percent of the field price within 15 days; 20 percent more on or before Feb. 28, 2011. The final payment will be due on or before April 30. Goto said the payment schedule was "an important compromise to prevent any possibility of a protracted price negotiation."
The $1,500 free ton field price is "subject to renegotiation" should the crop production drop below 240,000 tons due to any significant weather or market related disaster affecting the harvest.
The instability of the raisin industry has been costly to many producers. Central Valley raisin growers are typically small, family farms, often 40 acres of less. Many of those producers are out of farming.
Other raisin producers have survived the tumultuous decade by converting from hand-harvesting to some form of mechanical harvesting to lay raisins on continuous trays for drying. This dramatically cuts labor costs.
Many have also converted to arbor-type trellising for dried-on-the vine (DOV) mechanically harvested raisins or planted new DOV vineyards. This not only reduces labor, and also produces much higher yields.
There will always be a demand for green Thompson seedless grapes and that will always have an impact on raisin production. But for one year, raisin growers can pay their bills and maybe have a little left over.
About the Author(s)
Subscribe to receive top agriculture news
Be informed daily with these free e-newsletters
You May Also Like
---