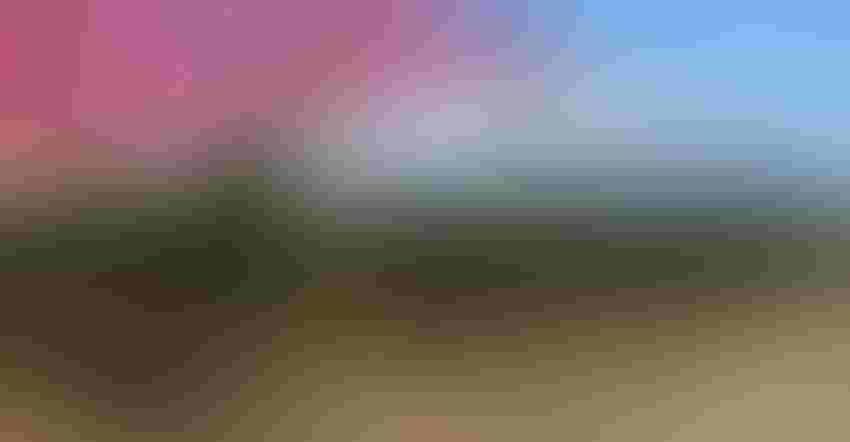 COSTLY PROTECTION: Putting netting over an orchard can protect from hail damage and too much sun, but they also cost a lot of money; upwards of $9,000 an acre for systems that are attached to a structure.
Lee Kalcsits, Washington State University
Will orchard growers be using protective netting in Adams County or New York state anytime soon? In Washington state, the largest grower of apples in the country, it's already a thing.
Lee Kalcsits, assistant professor of tree fruit physiology at Washington State University, said growers there use netting to not only protect apples from Mother Nature's worst — mainly hail and sunburn — but also to get better fruit quality.
"If we don't protect our trees, we lose about 10% of the crop to sunburn," and that will likely get worse with climate change, said Kalcsits, who visited this year's Mid-Atlantic Fruit and Vegetable Convention in Hershey, Pa.
Parts of the Northeast and Midwest are moving toward more 95-degree-F days in summer, he said, which is the temperature threshold for sunburn in apples. Sunburn can lead to ailments such as necrosis and sunburn browning.
Designed for hail protection
Netting — whether a hard, over-the-top structure or just drape netting — was originally designed for hail protection, he said. And while hail is more common on the East Coast, it's not as common in the Pacific Northwest.
Still, it does its job, as seen in a trial by Kalcsits and other researchers with help from the Washington Tree Fruit Research Commission. The trial compared two orchards with either a drape or exclusion netting to an orchard without netting. A freak hailstorm struck the orchards, damaging 80% of apples in the regular orchard. By comparison, only 1% to 3% of apples in the netted orchards were damaged.
In a hail event the fabric is designed to flex to hold a load. If the system is designed correctly, the posts where the fabric is attached will stay upright. When the load gets too heavy, the fabric simply falls to the ground between the rows, saving the trees.
But netting isn't cheap, and growers will likely need more than a single hailstorm to justify spending the thousands of dollars per acre to install a structure.
Apple sunscreen
Kalcsits and others have found that netting also provides good protection from the sun.
Shade percentages vary with netting — 10%, 17% or 30%, for example — and this is engineered into the material. Regardless of the shade percentage, Kalcsits said they can reduce the amount of radiation reaching the fruit by 20%.
They can also help reduce wind speed by 40% when installed over the top with the sides open, leading to less fruit rubbing.
Color and shade matter
Different colors of netting can affect fruit quality. "So, it's not just the amount of light reaching the fruit, it's the quality of the light," Kalcsits said.
Red netting, for instance, will transmit more red light, leading to better color development and shoot growth in red and bicolor apples. Blue netting is especially good for Granny Smiths, but it's worse for bicolor varieties since it reduces color development.  
Netting also helps scatter light. When sunlight hits the netting the light scatters, increasing penetration to the lower canopy. This can improve coloration and photosynthesis.
By reducing light intensity by 20%, it's also reducing the amount of radiation to the soils, Kalcsits said. In Washington state, soil temperatures often exceed 80 degrees at 8 inches deep during summer. Using netting can cool the soil by 2 degrees or more, so if there is a stressful situation — such as drought — it can help reduce that stress, he said.
Kalcsits just finished up a two-year research project that delves deeper into the effects of net shading. The project compared three shades — 10%, 17% and 24% — as well as the effects of reflective fabric to see if this would mitigate color loss.  
When it comes to photosynthesis and stress, in both Honeycrisp and Granny Smiths the percentage of shade didn't matter. In all cases, light efficiency increased, meaning the trees were more efficient at using the light they were getting.
Fruit weight increased as netting percentage increased.
When it comes to sunburn damage, the 10% fabric saw more damage.  
The amount of sunlight apparently had more of an effect on Granny Smith regardless of the shading. Honeycrisp had much more clean fruit under the nets than Granny Smith, he said. In terms of color reduction, there was a slight reduction across the board.
Kalcsits and his team also ran an experiment in 2018 that included reflective fabric in the rows. In Granny Smiths, the reflective fabric was put in just after bloom to increase light penetration to the lower canopy with the goal of increasing return bloom the following year.
Return flower clusters increased in 2019, he said. The orchards with reflective fabric also saw a more than 20% increase in yields — particularly Honeycrisp — as it helped increase color development.  
Water use was tracked by installing sensors to measure water coming up through the trunk each day. The tree water use over a 24-hour period — averaged over 70 days — was 20% less in the netted orchards than the regular orchards.   
Costly coverings
Even with all the benefits though, netting is costly.
Drape netting, which is the cheapest and easiest to deploy, costs around $3,000 an acre, he said. The drapes are typically installed by a tractor-mounted tool.
In interviews with employees of an orchard in Washington state that had drape netting, Kalcsits said the netting got low marks, especially when the workers had to go through and thin the trees.
Continuous over-the-top structures are the most commonly used in Washington state, but they're also the most expensive, he said, costing upwards of $9,000 an acre.
These nets are typically attached to a structure. They are usually deployed after pollination and then retracted after harvest. They are more labor-intensive, he said, and some growers even use exclusion netting on the sides for insect control.   
A louvre netting system sits on a 45-degree angle facing west, exposing the east side of the orchard to sunlight in the morning when temperatures and sunlight pressure are low. But these systems don't offer full hail protection.
Like anything else, Kalcsits said it's up to the individual grower to decide if it's worth it to make the investment.
"So, it is a high cost," he said. But if you have hail … that's going to pay for itself very, very quickly, especially for a high-volume cultivar."
Subscribe to receive top agriculture news
Be informed daily with these free e-newsletters
You May Also Like
---