Managing powdery mildew in peach orchards
Managing powdery mildew in peach orchards
Powdery mildew of peach occurs worldwide, but is most damaging in semi-arid growing areas. This means that in some years in California the disease can be severe.The disease can be caused by several different species of powdery mildew fungi that commonly occur on Rosaceous plants.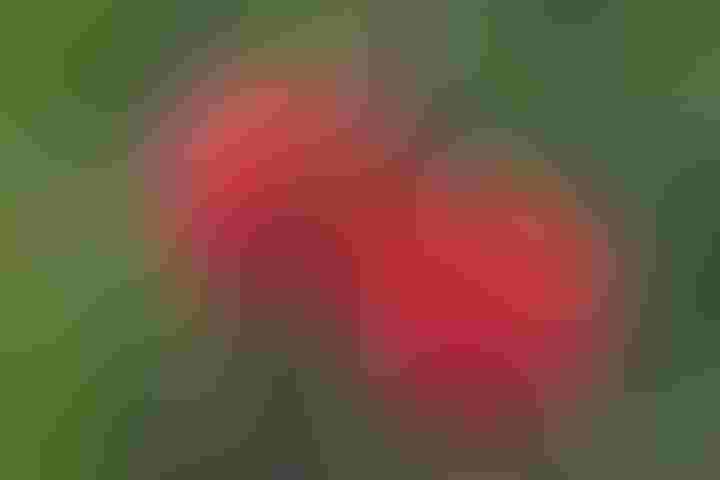 Powdery mildew of peach occurs worldwide, but is most damaging in semi-arid growing areas. This means that in some years in California the disease can be severe. The disease can be caused by several different species of powdery mildew fungi that commonly occur on Rosaceous plants.
Historically, three species have been reported on peach with Podosphaera pannosa (formerly Sphaerotheca pannosa) being the most important one. Podosphaera leucotricha is less common and P. clandestina has been reported on peach seedlings in the eastern United States. More recently a fourth species we have identified a fourth species P. tridactyla in the Central Valley. Fruit infections can be caused by P. pannosa, P. leucotricha and P. tridactyla resulting in the most economic damage. Stem and leaf infections are important sources of overwintering and secondary inoculum, respectively.
The susceptibility of peach and other stone fruit crops varies greatly among cultivars. The eglandular (without glands at the leaf base) peach cultivars are more susceptible than the glandular ones. Furthermore, in some cultivars, tissues also vary in their susceptibility with fruit being more or less susceptible than leaves, depending on the mildew species involved and maturity of host tissue.
Leaves, buds, green shoots, and fruit are commonly attacked by most powdery mildew fungi, but flower infections are rare. Symptoms include circular, white, web-like colonies that become powdery once masses of asexual conidia are produced in chains on all tissues. Leaves may then curl or become stunted. Severe infections commonly cause leaf chlorosis, necrosis, and leaf drop.
For mildew caused by P. pannosa, fruit are susceptible from the early stages of development until pit-hardening on peach. For P. tridactyla, fruit may be susceptible for extended periods but this is not completely studied. White circular spots may enlarge, coalesce, and cover large areas of the fruit. Based on indirect evidence, P. leucotricha (mainly an apple pathogen) presumably is involved in causing another powdery mildew symptom on peach fruit known as "rusty spot".
With this disease, small, circular, orange-rusty lesions develop on the fruit that enlarge and may cover the entire fruit. No symptoms occur on leaves and stems. Lesion development has been related to rapid fruit growth. Infections for all powdery mildew species usually result in some deformation of the fruit surface with depressed or slightly raised areas. Secondary infections caused by other fruit decay fungi may also occur in necrotic mildew lesions.
Disease cycle. In the spring, newly developing leaves become diseased as they emerge from infected buds. When overwintering spore cases (chasmothecia) are present, ascospores are released that serve as primary inoculum. Because roses are an important host for the P. pannosa pathogen where the disease is not always managed, diseased roses can be major contributors to the development of epidemics of peach powdery mildew.
Secondary infections by the wind-disseminated, asexual conidia occur throughout the growing season. Conidia germinate between 2 C and 37 C, with an optimum of 21 C. Conidia can germinate in free water and at relative humidity of 43 percent to 100 percent. Excessive durations of wetness will kill conidia of powdery mildew fungi. During periods with warm, humid conditions the disease can quickly develop into an epidemic.
Management of powdery mildew
Selection of less susceptible cultivars, cultural practices, and the use of protective fungicide treatments are the most important practices for managing the disease. Less susceptible cultivars should be planted in areas that commonly have a high incidence of disease. To reduce the relative humidity in the orchard, the frequency of irrigation periods should be minimized and low-angle sprinklers should be used to keep foliage dry. Fungicide applications are done from full bloom until the pit hardening stage of fruit development for peach. Adequate management of rusty spot was achieved with three to four fungicide applications including the full bloom treatment in the most favorable conditions for disease.
Several products are available for managing powdery mildew. Wettable sulfur has been known to be effective for many years but has the shortest residual residue. In orchards where mildew has been a problem, a pre-bloom treatment with wettable sulfur can be used to reduce the chasmothecia and subsequently the primary inoculum.
For bloom sprays the SBI fungicides (propiconazole/Tilt, Bumper, fenbuconazole/Indar, metconazole/Quash, myclobutanil/Rally, tebuconazole/Elite, Tebuzol, Orius in EC or WP formulations; the QoI fungicides (such as azoxystrobin/Abound) or trifloxystrobin/Gem; and wettable sulfur are effective materials. Other materials include premixtures such as pyraclostrobin & boscalid/Pristine and the newly registered propiconazole & azoxystrobin/Quilt Xcel. Several new premixtures will be registered this coming year and include azoxystrobin&difenoconazole/Quadris Top, trifloxystrobin & fluopyram/Luna Sensation and pyraclostrobin & fluxapyroxad/BAS703. In our testing this year we found that the new SDHI products, fluopyram and fluxapyroxad, are also highly effective against powdery mildew but will only be sold as premixtures. Thus the premixtures offer high activity, very consistent performance, and built-in resistance management with two different modes of action for powdery mildew management.
Lastly for petal fall (to pit hardening) treatments, the products mentioned above can be used, as well as two new materials that only have activity against powdery mildew. Quinoxyfen/Quintec, which was registered in 2010, has a unique mode of action and can be used to break-up overuse of SBI and QoI fungicides.
Another material with a different mode of action that is only active against powdery mildew is metrafenone. This material is not registered on tree crops but it is going through the specialty crop registration process. The outlook is very positive for new modes of action that are highly effective against powdery mildew. Just as using single-site mode of action fungicides, when using pre-mixtures or tank mixtures rotate between the FRAC Groups, never apply more than two consecutive applications of the same FRAC Group number, and, ideally, rotate between the FRAC Groups with every application.
Subscribe to receive top agriculture news
Be informed daily with these free e-newsletters
You May Also Like
---