 Alfalfa that will be used for field demonstrations during the Hay & Forage Expo should be in good shape for next week's event, June 25 and 26, 2014 at the Central Iowa Expo facility near Boone, Iowa.
2nd cutting of alfalfa will be demonstrated at the 28th annual Hay & Forage Expo, giving hay and forage producers a change to learn more about hay and forage production at the show. It's the industry's only two-day hay and forage event in the nation.

FIRST CUTTING: Alfalfa that will be used for field demonstrations during the Hay and Forage Expo should be in good shape for the event June 25 and 26. Cory Doerder, left, took the first cutting on May 24. Doerder has a crop share agreement with Eric Ziel, Farm Progress Show host farmer, who owns the alfalfa fields.
Field demonstrations
Live field demonstrations of hay making, hay handling and forage harvesting are the key draw for visitors. The two-day extravaganza showcases mowing, conditioning, baling and hay handling demonstrations on alfalfa. Visitors can compare the various equipment brands side by side under actual field conditions.
This year's event will be held at Central Iowa Expo, the same location where the Farm Progress Show will be held in August. Alfalfa fields designated for parking during the Farm Progress Show will be used for the haying and forage harvesting demonstrations. That means around 150 acres of alfalfa is available for the demos.
Hay harvest
The alfalfa acres are owned by Farm Progress Show host farmer Eric Ziel. He says the crop came through the harsh winter of 2013-14 in fine shape. "Considering the winter we had, the alfalfa survived quite well.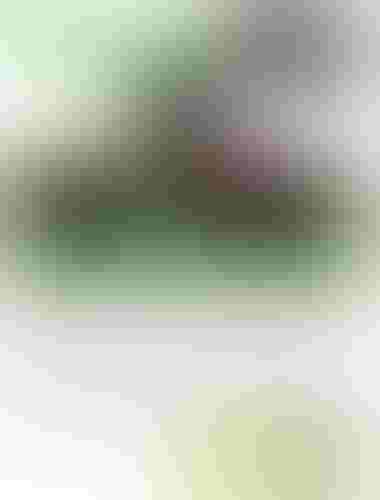 It's Time For Hay And Forage Expo
2nd hay cutting during the show
Ziel took the first cutting on the 80-acre north parking lot on May 24. "Typically the first cutting is around the middle of May but the season is later this year by a couple weeks. The crop was a little short and not in full bloom," he notes. "It probably needed about another week of growth. But we wanted to do our best to have full growth for the second cutting which will be harvested during the Hay and Forage Expo. The field demos will take place on this field. Some will be mowed ahead of time so it's ready for the baling demos."
Ziel doesn't raise livestock anymore so he harvests the hay on shares with the Doerder family – father Daryl and sons Nathan and Cory, who provide the harvesting equipment and labor. Ziel and the Doerders have an established customer base for their hay such as dairy farm in Kansas as well as a neighboring goat farm
Also, Daryl has a cow-calf herd and they sell hay at the Dyersville hay auction.  "That's the best hay auction in Iowa," adds Cory.
The first cutting was put up in big round bales but second and third cuttings will be big square bales and a few small squares, depending on the weather. "The big squares sell the best," notes Cory.
Ziel says the alfalfa was seeded in 2008 for the first Farm Progress Show held on the site. "So, we will soon be into the seventh season on this crop. We hope to get another three years out of it."

Product exhibits and more
A 10-acre exhibit field will highlight displays from the major and shortline specialty manufacturers, seed, building and storage facility suppliers, and a range of related product suppliers. Exhibitors plan to showcase a host of new products aimed at boosting the efficiency and profitability of hay and forage production.
 
"The exhibit field is the place to discuss seed, hay marketing, crop production, conservation and more. There will be educational exhibits, hay and forage grounds and others," notes Jungmann.
Educational exhibits
In addition to the field demonstrations, you will want to visit the exhibitors on the exhibit field where you can learn more about the equipment that is operated in the field as well as other manufactures who are not demonstrating.
Don't forget the Haying Industries Tent. Here you will find the latest in livestock feeding and handling equipment as well as information on seed, forage crop protection products and much more.
There is a huge educational component to the Hay & Forage Expo as well. For example, Iowa State University and other agencies and organizations will have specialists on hand to answer your questions about growing forages.
Seminars
Each show day will feature an informative seminar. "Weather Outlook for 2014 and Beyond" will be presented Wednesday, May 25 by Elwynn Taylor, Iowa State Univ. Ext. Climatologist. "Corn Stover — Managing and Selling Biomass to a Cellulosic Biorefinery" will be presented Thursday, May 26 by Matt Darr, assoc. professor, Iowa State Univ., Dept. of Agricultural and Biosystems.
Don't miss the show
The 28th annual Hay & Forage Expo will be held June 25 and 26 9 a.m. to 4 p.m. at the Central Iowa Expo facility near Boone, Iowa. The site is located west of I-35 on Hwy. 30; the show's website features a map and detailed driving directions. Admission is free; parking is $10 per vehicle. The public is welcome. For more information, visit www.HayExpo.com or call 866-264-7469.
Subscribe to receive top agriculture news
Be informed daily with these free e-newsletters
You May Also Like
---