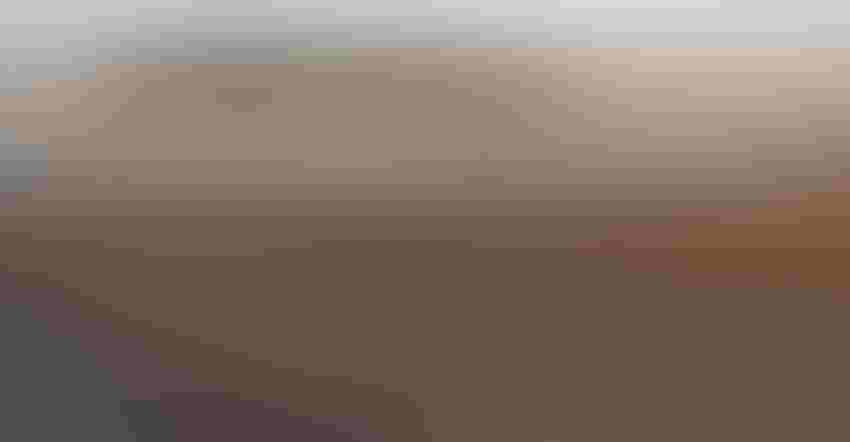 ICY MATTER: Freezing rain and melting snow in February caused ponding on a lot of alfalfa fields across southern Wisconsin.
Freezing rain and melting snow this winter has caused ice to accumulate across many alfalfa fields, particularly in southern Wisconsin. As a result, many farmers are concerned about winterkill and potential ice damage to alfalfa stands.
The freezing temperatures and ice often do little damage directly to alfalfa, according to Jerry Clark, Chippewa County Extension crops and soils agent. "Temperatures significantly below freezing cause damage to alfalfa crowns. Ice primarily damages alfalfa because alfalfa roots require oxygen during the winter," he explains. "A solid layer of ice suffocates the alfalfa. A lack of oxygen is a common reason for a loss of alfalfa in low spots in fields."
Assessing damage
If alfalfa was fertilized properly during the 2017 growing season, the seeding is less than 3 years old and the stand was not harvested last October, then there is a good chance the stand will survive.
"Determining whether ice sheets will cause suffocation damage to alfalfa stands, you must consider whether the ice is in a solid sheet," Clark says. "If the ice is cracked or has holes, it will not completely restrict air movement into the soil, and consequently, less damage will result. In addition, alfalfa stems sticking up through the ice from residue will help create holes that will aid in the diffusion of oxygen."
What can you do about ice on alfalfa? "The short answer is nothing," Clark says. "The end of April, the roots will offer clues as to how much winterkill has occurred."
Winterkilled roots will have a black appearance. If the root is soft and water can be squeezed from it easily, or it is brown, those are signs of possible cold-related death, Clark says.
"Uneven growth is an indicator of winter injury," he adds. "If it's greening up unevenly, or one field is greening up and another one isn't, then it is likely there is some damage. Older stands are more at risk."
Compare the shoots on the same plant; if one set of shoots seems to be drastically outperforming another in terms of growth, it could be that winter cold damaged the bud structure of your alfalfa.
"While growers may be concerned about ice on alfalfa, their best course of action is to wait and see how long the ice lasts, and afterward, assess what damage, if any, has occurred," Clark says. "Make sure you check each field. Just because your neighbor had some winterkill doesn't mean your fields will be damaged. You'll probably see injury if the ponding or ice lasted three or four weeks or more."
Pay attention
If you do need to keep a winter-injured alfalfa stand for the coming season, be sure to pay close attention to it, Clark advises.
• Delay first cutting until first flower, giving the crop more time to recover.
• Top-dress damaged stands with potash and/or phosphorus according to soil test.
• Do not treat winter-injured crops with herbicides that are known to stress or stunt plant growth.
"Not all crop injury can be avoided, but taking these steps to assess damage and establish a plan to move forward will help you get the most out of your crop heading into summer," Clark says.
If there is some damage to the field, or low spots are damaged but the rest of the field is fine, Clark suggests interseeding annual rye in the low spots to give forage yields a boost this year.
Another option is to harvest the first cutting of alfalfa in May, and then rip it up and plant corn for silage.
"This will give you more forage tonnage per acre than a damaged alfalfa field," Clark says. "But alfalfa takes a lot of moisture, so if we have a dry spring, planting corn after taking a first cutting is probably not a good option."
Subscribe to receive top agriculture news
Be informed daily with these free e-newsletters
You May Also Like
---