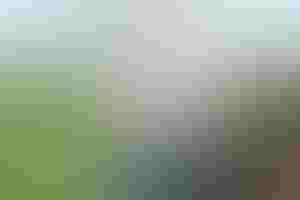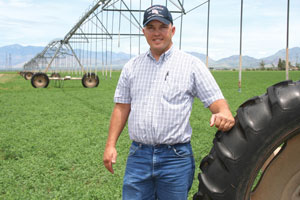 Willcox, Ariz., is known as the birthplace of Rex Allen, the film actor, singer, and songwriter who was memorialized with a star on the infamous Hollywood Walk of Fame.
Today, the Willcox area has another upcoming star; an alfalfa industry in the spotlight for its high-quality dairy hay production. The reasons for the notoriety include cooler temperatures and water management among other factors.
"Cooler nighttime temperatures allow us to grow alfalfa slower which results in higher quality and more cuttings of dairy quality hay," said Lance Owen, a third-generation farmer who owns and operates LAO Farms, LLC in Willcox with his wife Alicia.
In this southeastern-most Arizona county, temperatures in this high desert area at about 4,200 feet above sea level usually span in the upper 90s to low 100s in the heat of the summer and the 60s to 70s at night.
Owen grows 600 acres of alfalfa and 120 acres of milo on rented ground. Ryegrass grows on the milo acreage during the winter months.
The Owen family has farming roots in Willcox dating back to the 1970s. Lance's father Claire grew head lettuce, apples, and other crops. After several years as an agricultural education instructor, Lance re-entered the farming profession.
Owen says slower-growing conditions produce more leaves and fewer stems, and more cuttings of dairy hay. He gets six-to seven hay cuttings per season depending on the summer monsoon (rainy) season. Owen's first cutting is in late April to early May with the last cutting passes in November.
His first, second, third, six, and seventh cuttings are generally dairy quality hay, Owen says, with summer cuttings usually sold as dry cow hay.
Owen knows how to grow quality dairy hay. He entered two samples in the 2010 World Ag Expo Forage Challenge competition. Both samples scored in the Top Ten nationally.
Owen markets and trucks his hay to dairies in Arizona and New Mexico.
Hay tests reveal quality
Hay tests tell the real story in hay quality. Owen's hay crude protein level averages 22 percent to 25 percent. The relative feed value (RFV) is from 190-220; both numbers are higher than Arizona statewide averages.
Mike Ottman, University of Arizona Extension agronomist, says the overall Arizona crude protein level is about 20 percent, depending on a wide range of factors. The statewide RFV averages slightly over 150 for spring and early summer dairy quality hay.
Owen's cutting schedule ranges from 24-28 days depending on the weather. Hot weather reduces the cutting cycle to 24 days while cooler temperatures lead to 28-day cuttings.
"The number of days is a good indicator of hay quality, but you have to go out in the field to check the hay," Owen said. "As soon as we see buds, we get ready for cutting."
Owen's yields usually tally 8-10 tons per acre annually.
Water management is crucial to Owen's alfalfa business. Most of Cochise County agriculture is groundwater fed and delivered to crops by center pivot irrigation. Water management is easier with pivots.
"Pivot irrigation allows me to precisely apply water as needed to improve the quality and yield of the crop," Owen said.
In this large center pivot region, 160-acre fields are farmed in circles with 120 acres actually planted in the crop. A one-quarter-mile-long pivot rotates in the circle. Owen's permanently-placed pivots complete the circle in four days delivering 1.5 to 2 inches of water to the crop. The pivot can move faster or slower depending on water needs.
In this area known as the Sulphur Springs Valley, groundwater supplies are sufficient in most areas but not all. Center pivot technology delivers an estimated 80 percent to 90 percent water efficiency which helps farmers stretch available water supplies.
There is no financial cost for the groundwater. Owen paid $300-$450 per acre last year for gas and electricity to pump and deliver water to the fields. His well pumps are powered by electric motors and natural gas.
Groundwater-based pivot alfalfa production decreases weeds in fields which means less herbicide use.
"With the pivot system, weed seed is not introduced into the stand as much compared to the open flood irrigated ditch system," Owen said. "The pivot system is a closed irrigation so you can manage the weeds and water better."
The pivots allow Owen to easily adjust water delivery.
"All you have to do is slow the pivot down or speed it up depending on the crop need," Owen said. "If you are getting ready to cut the alfalfa but it's a little stressed, you can speed up the pivot to give the plant one more drink and then get on the field without it being too wet."
The pivot system also reduces labor costs. Owen's pivot nozzles hang 3 feet from the ground. The spacing between the nozzles is 60 inches.
Owen receives good market prices for dairy quality hay.
Cochise County alfalfa acreage doubles
Cochise County alfalfa acreage has nearly doubled over the last seven years. According to the National Agricultural Statistics Service's Phoenix Field Office, Cochise growers harvested 115,000 tons of alfalfa from 16,500 acres in 2009 (6.5 tons per acre). About 9,000 acres of hay were harvested in 2003.
About 10 miles south of Willcox, David and Cathy Collins farm 360 acres of alfalfa at 4,200 feet elevation along the Dos Cabezas mountain range. The Collins and Cathy's father Earl Moser farm 600 acres of cotton and corn for grain further south in Elfrida. All crops are center pivot irrigated.
Collins largely credits his 9-ton-per-acre annual alfalfa hay yields on the region's cooler temperatures and efficient water use.
"Every one of my cuttings has been heavier this year," Collins smiled taking a swig of iced tea. He also credits the increase in part to tweaks in his fertilizer program and sulfuric acid use to lower the high pH level in the groundwater.
Collins grows a Pioneer 6-7 dormancy seed variety which develops the plant crown deeper in the soil to provide increased protection from frost. The average frost date in the valley is Oct. 20. Lower dormancy seed delays plant emergence in the spring and speeds up crop dormancy in the fall.
"The lower dormancy, slower-growing alfalfa is a good fit under these cooler growing conditions," Collins said. "Slowing production down allows me to grow higher quality hay."
Collins pays from $250-$350 annually/acre in water-related costs to deliver about 48 inches of water to the crop.
Collins maintains his alfalfa stands for about five years. He usually gets seven cuttings. Due to the 6 to 10 inches of rain during the summer monsoon season, Collins expects to harvest six and a half cuttings.
His first cutting is usually about May 1. The last cutting occurs in late October. He aims for 28 days between cuttings.
Collins and neighboring alfalfa grower John Hart share equipment which reduces operating costs.
"We use big balers which reduces the traffic in the field and extends the stand life due to fewer runs across the field," Collins said.
Collins averages four to five dairy quality hay cuttings annually; the first two and last two cuttings. His most recent hay analysis included a 181 RFV. The crude protein content was 21.5 percent.
A hay broker markets Collins' hay which is usually sold to dairies. Lower quality hay is sold to feedlots.
Soil types vary across Collins' fields.
"I can have six or seven soil types in a single field," the third-generation farmer said. "Center pivot irrigation provides more efficient irrigation across the different soils."
Subscribe to receive top agriculture news
Be informed daily with these free e-newsletters
You May Also Like
---