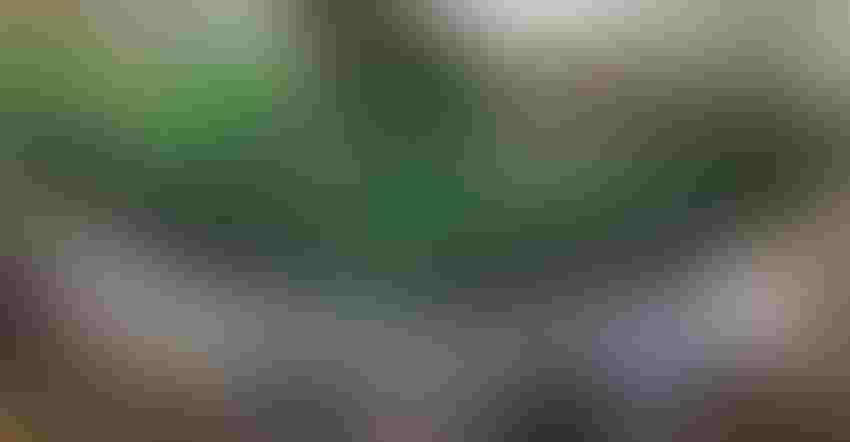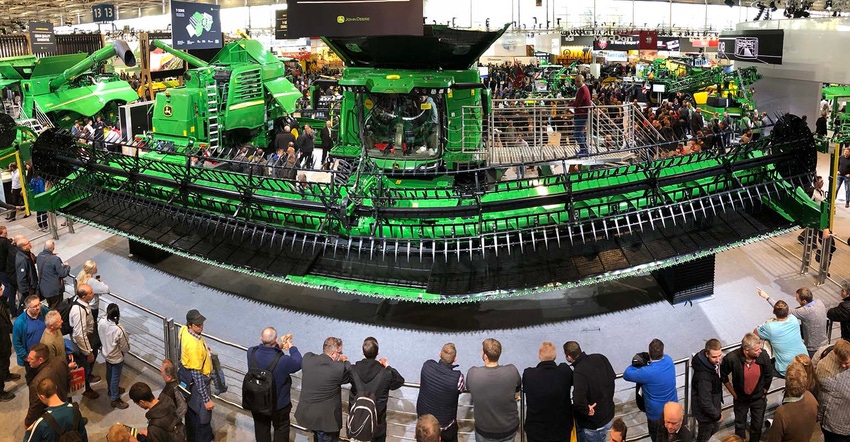 GOING BIGGER: This very wide-angle shot 'expands' the look of this new draper head, but does give you an idea of the size of the new John Deere X9 combine.
Willie Vogt
Note: Check out a video of the machine in action, and set to a little music, at the end of this report. Enjoy.
In my early days of writing about farm equipment we in the media had it great. We could go check out equipment, then write the story and many times our reporting would be the first you would see of the new machine until it arrived at your local dealership. Of course, that's changed, today we must get that story online along with video and whatever audio we can find to give you nearly instant information.
There are a couple challenges with that, and please don't consider this a lament on the changing nature of information. Instead it's an observation.
First, instant information is good for those who want to know the latest. But apparently, it's now also a time for the equipment trolls to come out of the woodwork and complain about something, and sometimes it looks like they're really digging to look.
Second, there's still time to reflect on a rollout but that first story can sometimes look like an ad for the product since we're all hustling to get you the specs and information as soon as we can.
The time to sit back and reflect, or analyze, seems not to be as appreciated as it once was, and the case in point (no surprise if you read the headline) is that new combine from John Deere.
Related:John Deere rolls out new X Series combine
The machine got its official world viewing during Agritechnica in the fall of 2019 and garnered a lot of attention. It's big, but I'm not sure we all knew how big until the model numbers were released.
Deere has had solid success with the S series of combines, all the way up to the S790 so what's the X9 doing in the line? Why develop this X model?
A question of combine class
"One of the issues in combines is that there really isn't an industry defined class six, class seven, class eight, class nine structure," says Matt Badding, harvest product manager, John Deere. "I can't just pull up a table and go, well, that's a class seven because…"
He notes that farmers may look at the X9 1000 and 1100 and think they're "bigger class" machines, but Badding shifts the conversation noting that instead of talking about classes, "we're going to talk about performance groups."
That changes the sales conversation too. Instead of just saying a specific model, say an S780 is right for the farm, you may end up in a discussion about a specific model's capacity in bushels per hour for corn, wheat or soybeans.
"If we think about our current S Series today, we have performance group six, seven, eight and nine. So, the S790 would stop there. And at that, nine placeholder, and then the X9 1000 would be performance group 10, and then the 1100 would be a performance group 11. And that's what we're really excited about."
The single biggest change in features for that added capacity was that Deere doubled down on the STS rotor, going with two in the X9. Though smaller in diameter, the dual separation system aims to boost productivity for this machine. And that dual-approach combined with a 13.6 liter PowerTech engine means the X9 1100 can harvest up to 30 acres per hour in wheat or 7200 bu/hr in high-yielding corn.
And in the sales conversation, you may find that dealer asking about your support equipment for the new combine. Does the grain cart have the capacity to keep up? How about the semi hauling grain to the bin or to town? Those logistical questions are now part of the conversation because a machine this big should be supported so there's very little idle time.
The Internet trolls lament the need for such a big machine, but today's high-producing crops are stretching the way you do business. How you decide to manage for productivity and efficiency will guide any purchase decisions. Knowing there's a bigger option is just a start in the sales conversation.
About the Author(s)
Subscribe to receive top agriculture news
Be informed daily with these free e-newsletters
You May Also Like
---