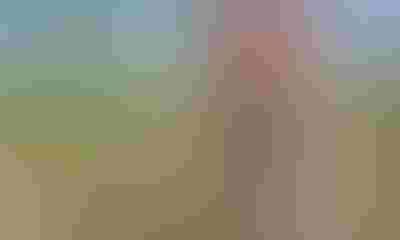 The Nebraska Panhandle has always been a unique place in terms of crop production. In this semiarid landscape, producers grow a diverse range of crops, including sugarbeets, winter wheat, dry edible beans and field peas. Now, a new crop is winding its way up a set of trellises in the shadows of the Scotts Bluff National Monument at the Panhandle Research and Extension Center: hops.

TRELLIS SYSTEM: Nebraska Extension educator Gary Stone holds one of the hops cones growing at the Panhandle REC in early August.
Historically, most of the hops in the U.S. has been grown in the drier climates of the intermountain Pacific Northwest. But with the rising demand from local craft brewers, interest in growing hops in Nebraska has increased. One of the goals of the Nebraska Hops Project, which kicked off earlier this year, is identifying varieties that perform well in different parts of Nebraska.
"We import a lot of hops; we don't grow enough hops to meet demand in the U.S.," says Gary Stone, Nebraska Extension educator at the Panhandle REC. "If smaller breweries here in Nebraska are looking for a locally produced hop variety for a beer they're trying to make, it's a win-win for the producer and the brewery."
Eight varieties are being grown as part of the three-year project at five sites across the state, including the Panhandle REC, UNL's East Campus, and three fields owned by cooperating farmers in Valparaiso, Norfolk and Sutton. Each site is growing the same varieties on the same 12-foot trellis system, and each site is using a similar drip irrigation system. In addition, each variety will be tested for yield and the qualities and flavors different brewers are seeking.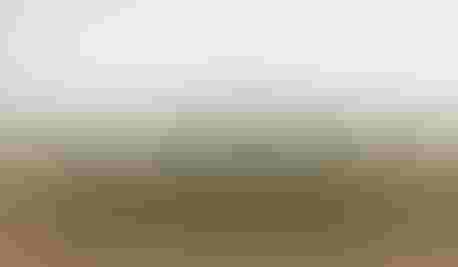 NEW CROP IN TOWN: Hops grow on trellises at the Panhandle Research and Extension Center in Scottsbluff in late August.
"Through a nose test, some hops may give a hint as to what flavors the beer will imbibe," says Stone. "We're looking at quality, yield and the flavors brewers are looking for."
First-year takeaways
In the first year of the project, the hops are just being established. Yield data won't be available until next year, but there have been some key takeaways this year, says Stacy Adams, associate professor of practice in the University of Nebraska-Lincoln's Department of Agronomy and Horticulture and project lead.
"We found out that providing water on a consistent basis is critical. We had a farmer putting on the same amount of water as we were at our other sites, but not on a consistent daily basis, so the growth of the plant was suppressed," Adams says. "Nutritionally, we found out a little bit of fertilizer is needed, but not very much at once. At our site near Lincoln, I was trying to see the fertility response at the highest rate possible, and that's not necessarily a good thing."
Next year, these protocols for water and nitrogen management will be implemented into the project.
In addition to water and nutrient management, this year saw different kinds of insect pressure among different sites and varieties — from potato hoppers to green beetles to spider mites. So, Adams hopes to implement protocols for insect pressure as well.
"Going into the hops project, I wanted to see what kinds of pressures we have. That way we can develop protocols, and next year, we're going to be full steam ahead," he says. "Corn and soybean growers already have established thresholds, and we don't really have those. But there are approximations people are using, and I want to pull that together so next year we can observe and monitor for those pressures."
Hops quality is key
One of the key findings this year is the difference in quality already observed at some sites, depending on environmental conditions and varieties. Adams notes the goal is eventually to have data on how particular varieties perform in each location and the quality they can provide consistently to the brewer.
"What's important is providing consistent quality every year, like they do in Washington and in Oregon," says Adams. However, with the state's varying climate, Nebraska may be in a unique position. "It's like wine, when we say 2014 was a great year for this grape variety. I think that's what's going to happen for us for beer," Adams explains. "That's great, because that's what's actually drawing a crowd to places like Lazlo's in Lincoln. We have the varieties of beer we always offer, and now we have these two select varieties available for a limited time. I don't think that's a bad thing when it comes to marketing."
Whatever the location, Adams advises any grower considering hops production to have a game plan before getting started. "Plan ahead and see how you want to handle the market," he says. "If you want to try hops production, you need to plan ahead the year before and make sure you have a layout for the site, have a plan for weed control and have a vision for marketing."
Subscribe to receive top agriculture news
Be informed daily with these free e-newsletters
You May Also Like
---