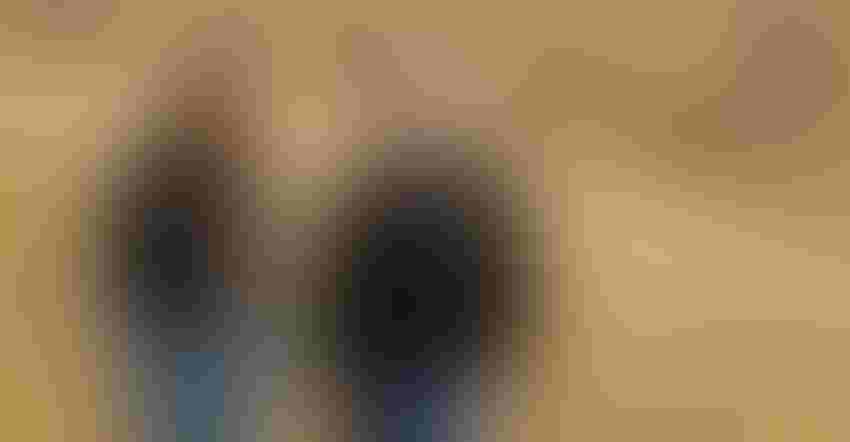 LABOR OF LOVE: Katie Brenny and her husband, Ted, operate a Charolais and Angus cow-calf operation. She also works off the farm as Climate Business Manager with Bayer, helping farmers use the Climate Field View system.
Katie Brenny
The farm where Katie Brenny and her husband, Ted, raise beef cattle is only 20 miles from the world-renowned Mayo Clinic in Rochester, Minn. Her off-the-farm job is with Bayer Crop Science as climate business manager, where she helps farmers learn how to use the Climate Field View technology to collect and use data to help them make decisions.
When Brenny and her husband both need to be on the internet, though, she finds herself trekking to a nearby public park to use the Wi-Fi because the service at the farm is so bad that it can't handle two users at once.
Speaking to the annual Women in Agribusiness Summit in Minneapolis in September, Brenny said her plight, and that of countless other rural residents, underscores the need for a national mechanism to expand broadband service into rural areas of America — something on the order of the Rural Electrification Administration and the cooperatives that brought electricity to every farm in the country.
"I was on a call with my manager when she asked, 'Katie, where are you? I hear birds. Are you in a nursing home?' And I said no, I'm in a public park. I'm going to have to find a coffee shop or something for the winter," she told the group.
Brenny appeared on a panel of three women in agribusiness who shared some of their experiences and challenges. Other panelists were Deb Gangwish, who farms in central Nebraska with her husband, Paul; and Amy Syester. who is co-owner of Syester Farms, a poultry and grain operation in Delaware.
Brenny is a fifth-generation farmer who now lives about 8 miles from the farm where she grew up. In between high school and today, she graduated from the World Wide College of Auctioning, earned a BS in agriculture marketing and communication from the University of Wisconsin in River Falls, Wisc., and a master's degree in agriculture from Iowa State University.
"My dream is to someday own a sales barn, hence the auctioneering thing," she said. "At one time, I thought I wanted to become a vet but when it came to biochemistry, I knew that wasn't going to work. So, my adviser said, 'Well you really like talking to people, so maybe you should try marketing and communication.' And yes, that was a good fit."
She said she loves talking about agriculture, and her passion for baby calves is unlimited. She and Ted have a Charolais and Angus cow-calf beef farm.
"I travel a lot and I find myself spending time in a hotel downloading things while I have the chance to use high-speed internet," she said. "I see other people looking forward to dinner or a meeting or whatever and I'm going, 'Woo-hoo, now I can download that presentation.'"
Brenny said she wants people to know that it's not just the most isolated areas of the country that struggle with a lack of high-speed internet service. There are a lot of pockets out there where you are so close to the end of the fiber-optic line that you can literally see the business or the house or the park where it ends.
"It's frustrating," she said. "And it's something we should be able to fix."
Subscribe to receive top agriculture news
Be informed daily with these free e-newsletters
You May Also Like
---