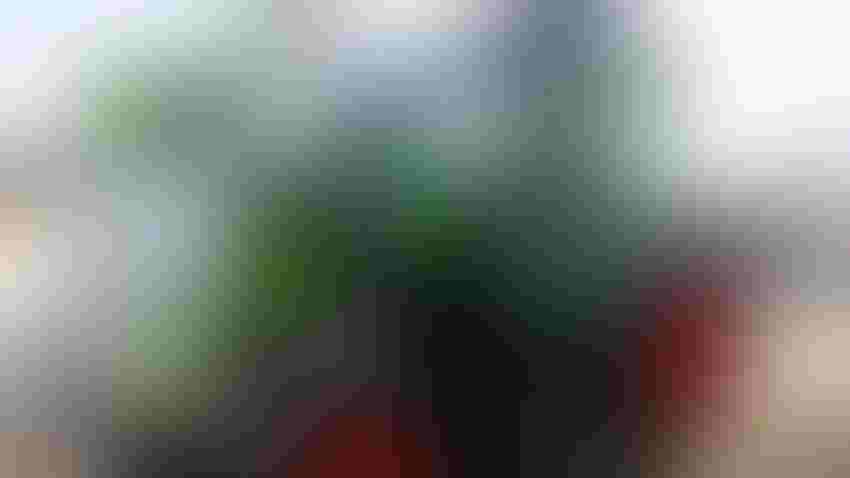 ON DISPLAY: Fendt launched the Fendt 200 tractor during World Ag Expo in February. Four versions of the tractor are targeted for specialty crop use, with one suited for a range of tasks on any farm.
Todd Fitchette
Fendt offers a wide range of tractors from 95 to 115 hp, with designs for specialty applications. For 2023, the company raises its game with the Fendt 200 Series, a three-model line that comes in four market-focused styles.
"This machine is not new to Europe, but we're bringing them here," says Conor Bergin, director of regional sales for eastern North America. "This is another testament of our commitment to growth in the market. And these machines have unique features."
He notes that all versions come standard with a front PTO, which is gaining popularity across a wider segment of users. And for the Fendt 200, there are four platforms in the line for vineyards, orchards, fruit production and general farm use.
The machines all feature FendtOne driver workstations with a 10-inch digital dash and console, as well as a 12-inch monitor, which is rare for a tractor this size. And for hydraulics, users will have a choice of up to seven valves and flow capacity up to 32 gpm to run a range of tools. The machines also feature front-axle suspension with anti-roll control.
The U.S. market will have three models to choose from, and all feature the VarioCVT, offering a 25-mph top road speed:
Different markets, models
The Fendt 200 comes in four variants; each features different front- and rear-track widths:
200V Specialty Edition. This narrow tractor focuses on the vineyard market. The front track width is only 33.5 inches for all three models. The rear track width is 32.7 inches for the 209V and 210V, and 33.7 inches for the 211V. Height is 94.5 inches.
200F Specialty Edition. The 200F targets fruit or orchard crops. The front track is 41.9 inches wide and the rear at 39.4 inches. This machine is slightly taller at 97.5 inches.
200P Specialty Edition. While a beefier model for the compact line, the 200P retains a lower profile. The front track is 47.7 inches wide and the rear is 50.7 inches. Overall height is 98.4 inches.
Fendt 200S. The more conventional 200S is a multipurpose compact tractor that's popular on all sizes of farms for a range of chores. The front track is 66.5 inches, with a rear track of 65.4 inches. Overall height is 103.2 inches.
Available in different trim levels and option packages, all three models feature Gold Star service and a three-year full warranty.
"What we see and hear from this market segment is a rising demand for machines that have the best technology to get and keep labor," Bergin says.You can learn more about the Fendt 200 lineup at fendt.com
Subscribe to receive top agriculture news
Be informed daily with these free e-newsletters
You May Also Like
---