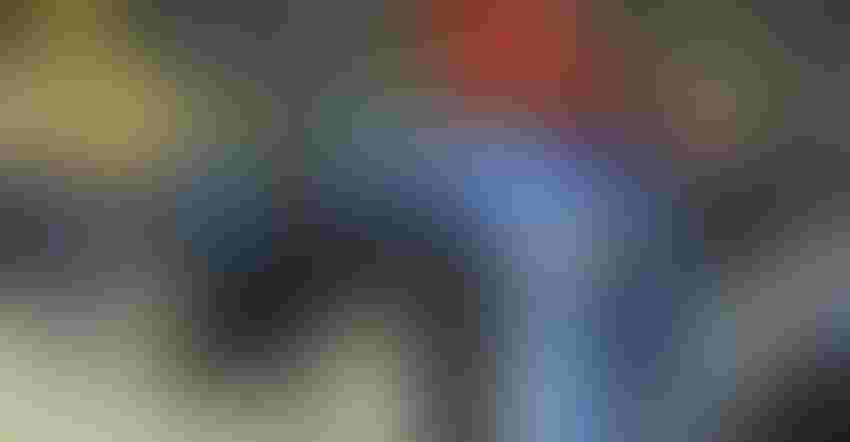 BIGGER WORKHORSES: Three new machines join the Workmaster line, providing economically priced muscle to the line. The tractors ranging from 95 to 120 engine hp, so buyers get new choices.
Photos by Willie Vogt
There's no avoiding it — Todd DeBock is enthusiastic about the New Holland tractor line. When he engages someone on the show floor at the National Farm Machinery Show, you can feel his energy, and why not? He's got plenty to talk about. This time out, it's an expansion of the Workmaster line and two new premium machines for the T5 Series.
For the new T5 machines, the key is the package size. "This is a smaller package that has all the features of a T6," DeBock says. He's the segment leader for pro work tools at New Holland.
He acknowledges that a few years ago, a decision was made to remove a shorter-wheelbase machine from the line. That was part of a decision across many brands during a time of engine changes and moves to economize, due to the costs of ramping up emissions development programs. Today, the engineers are turning their attention to what customers are calling for; and maneuverability, while not giving up on features, is one answer.
The new T5 machines offer two different higher-end transmissions. The AutoCommand continuously variable transmission (CVT) is one option, which provides the operator the ability to set a speed and forget it while also providing consistent PTO performance. That's an important factor in this class size, where much of the work is livestock-related, with implements that demand PTO power.
The cab is from a T6, and power comes from a 4.5-liter Stage V engine that uses SCR (selective catalytic reduction) technology. "There is no DPF [diesel particulate filter] for these machines," DeBock says. "And you won't find one on the new Workmaster models, either."

BIGGER WORKHORSES: Three new machines join the Workmaster line, providing economically priced muscle to the line. The tractors ranging from 95 to 120 engine hp, so buyers get new choices.
As for the T5 Dynamic Command transmission, DeBock says this is a driveline many farmers will like in this horsepower class. The dual-clutch design provides smooth shifts through the 24-by-24-speed range and full forward-reverse clutchless shuttling, which is a feature many livestock producers like.
"In this transmission, in the 2-to-8-mph range, there are 10 to 11 gears that overlap," DeBock says. That means the machine can properly match engine torque to ground speed more efficiently. And the Dynamic Command transmission features auto-shift modes that allow it to perform almost like a CVT.
For hydraulic power, the machines feature closed-center with load-sensing design, which is new for the T5. "And you can get up to a 30-gpm flow rate," he adds.
The machine includes a suspended front axle as well as ISOBUS 3 controls.
There are two models — the T5.130 with 102 PTO hp, and the T5.140 with 111 PTO hp.
Building on a workhorse
There are three new models in the Workmaster line that DeBock says fit in just below the company's popular PowerStar line. "These new machines are economical and offer higher horsepower for Workmaster machines," he says
DeBock points to the clean-line design of the new machines, with their flat deck (in cab models) operating platform, and with the emission system designed to fit under-hood and out of the way. These machines are powered by a 3.4-liter, four-cylinder FPT engine; they are Tier 4-compliant but do not require a DPT.
There are three new models — the 95, 105 and 120 models, which signify engine horsepower. The Workmaster 95 produces 78 PTO hp, the 105 produces 95 PTO hp and the 120 produces 100 PTO hp.
There's a single transmission choice for these machines — a 12x12 power shuttle with a column-mounted shuttle lever.
For operators, there's an air-ride seat for daylong comfort. The cab version features a standard high-visibility cab roof and even features a training seat, which is a first for this class of cab-machine.
"The visibility panel comes opaque on these machines, but it can be converted to a window for loader work," DeBock says.
The cab comes standard with air conditioning, a feature Southern users will appreciate — and the seat is a high-backed design, too.
For this class of tractor, often associated with budget-minded design, these new Workmaster models set a higher standard.
Learn more about the new T5 and Workmaster machines at newholland.com.
Subscribe to receive top agriculture news
Be informed daily with these free e-newsletters
You May Also Like
---