40-foot corn head tackles 15-inch rows for faster corn harvest
40-foot corn head tackles 15-inch rows for faster corn harvest
Think DifferentFrank Howey, Munro, N.C., uses the first Calmer 40-foot corn head designed for narrower 20, 15, and even 12-inch-row-corn. The longtime no-tiller has used 15-inch rows exclusively on its 17,000-acre operation for several years to conserve early-season moisture and a quicker canopy to retain moisture and improved weed control.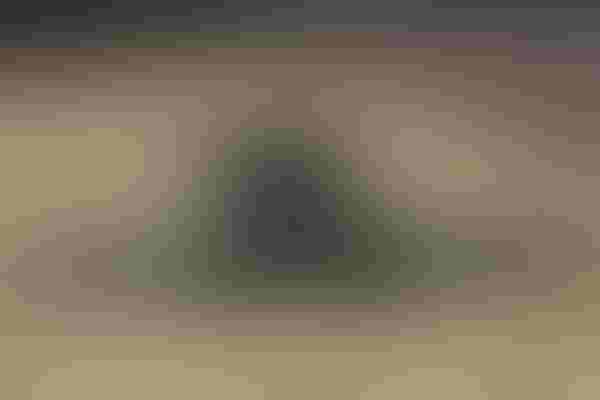 Frank Howey's grain carts can't keep up with his new 40-foot-wide head harvesting 15-inch corn rows. The head is the first of its kind.
Howey, the seventh generation of the family to farm near Monroe, N.C., isn't complaining, though.
The 40-foot head is the first produced by Illinois-based Calmer Corn Heads. The company, founded and run by farmer Marion Calmer, produces harvesting heads designed for narrower 20-, 15- and even 12-inch-row-corn. In addition to the new wide head, two additional combines working these fields use 20-foot-wide Calmer Corn heads.
So far, wider has been better. On these well-drained hills, the yield monitor hits 240 to 265 bushels per acre. Frank Howey Family Farms has planted corn in 15-inch rows exclusively on its 17,000-acre operation for several years.
"We're long-time no-tillers, and that's helped us conserve moisture with crop residue on the surface," says Howey. "We had been looking for a way to conserve early-season moisture. If we could narrow our rows up for a quicker canopy, we'd retain moisture with better weed control."
That's turned out to be true for Howey. He met Calmer nearly a decade ago at a farm show. Their shared desire to increase yields through higher plant populations—which generally means narrower rows—sparked an ongoing business relationship. Howey jumped at the chance this year to get a wider head for 15-inch rows, and Calmer added another farmer-researcher to the several dozen who help him test narrow-rows.
Most of Howey's corn is planted at variable rates of 28,000 to 38,000 plants per acre, depending on productivity zones. He planted test plots using various hybrids—one of which is from Iowa-based Stine Seed Co.—bred specifically for use in narrow-row corn. Those tests include seeding rates up to 45,000 plants per acre.
"There is a lot of upside potential," says Howey. "All the hybrids used now were bred for 30-inch rows. Plant breeders believe that the genetic material is there to get the yields up to 300 bushels per acre using narrow spacing."
In the meantime, he'll settle for increased productivity and cost savings. "I need one less person combining by using one combine with the larger head rather than two combines with two heads," Howey says.
Engineering challenges
The added volume of corn harvested per pass presents several engineering challenges. Marion Calmer believes they have dealt with those issues on the 40-foot head.
"Anybody can build a frame and row units and put the units on the frame," Calmer says. "But there are three big obstacles to making it work: the weight of the unit, the additional horsepower needed and the ability to deal with more trash intake."
Calmer heads use a single chain, rather than a double, as the main mechanism. "I would say our unit is 100 pounds lighter, per row, than most other conventional units," he says.
It takes less horsepower to run one gathering chain, according to Calmer. The Calmer unit also uses one big paddle per row, rather than two, to act as a kind of "retaining wall" to keep the ears engaged in the single chain, he says.
The head uses patented combo stripper plates that are longer and can better harvest low-hanging ears on downed corn. A bevel on the second stripper plate allows the stalk rolls to make contact with more corn leaves, shanks and husks, which reduces trash intake into the machine. Less trash in the combine lowers horsepower requirements.
Even though Calmer has introduced a head for harvesting 12-inch-corn rows, Howey predicts he'll stay with 15-inch rows. "I've got a 15-inch row planter that I use for soybeans, so I'm happy to be able to get double duty out of it," he says. "I don't have to get a special planter for 12-inch-corn."
As the total acreage for narrow-row corn in the U.S. increases, Howey predicts more manufacturers will introduce their own narrower-row products. John Deere introduced a corn head for 20-inch rows in 2012.
New corn designed for high populations
The key to consistently hitting corn yields at or above 300 bushels per acre will involve higher seed populations per acre. That's the thinking behind new corn seed introduced this year by Iowa-based Stine Seed Co. 
The new hybrid, dubbed 9733E VTPro, was planted on thousands of acres in 2013. The hybrid is a 112-day number that the company planted on its farms at populations up to 50,000 plants per acre on highly productive ground. The plant is shorter than the typical corn hybrid, by as much as 18 inches, with leaves that are more upright and outstretched.
"One grower in western Illinois made 305 bushels in his test strips in 15-inch rows planted at 55,000 plants per acre," says Myron Stine, vice president of sales and marketing. "We had other growers who did the same thing and it was their best corn, partly because of the hybrid, but mainly because it was planted at a higher than normal population which allows 9733E to excel."
Many hybrids can perform in high-population situations—not just those that might be "designed" for those conditions, Stine says. Not all the news for the new hybrid was good. On Frank Howey Family Farms in North Carolina, the new Stine high-population hybrid had yields 40- to 50-bushels per acre less than that of DeKalb varieties in side-by-side test plots.
Due to its smaller stature, the new Stine hybrid doesn't leave any more residue than traditional hybrids. Stine predicts that as breeding progresses, narrow-row corn will get shorter and shorter.
Even in the narrower rows, individual corn plants are spaced 10-12 inches apart in the row, as opposed to 5-7 inches in more traditional 30-inch rows, according to Stine. As of 2009, when the most recent data is available, 85% of all corn in the U.S. was planted in 30-inch rows or wider, according to USDA. Only 4%-5% of corn was grown in 15- or 20-inch rows.
Subscribe to receive top agriculture news
Be informed daily with these free e-newsletters
You May Also Like
---