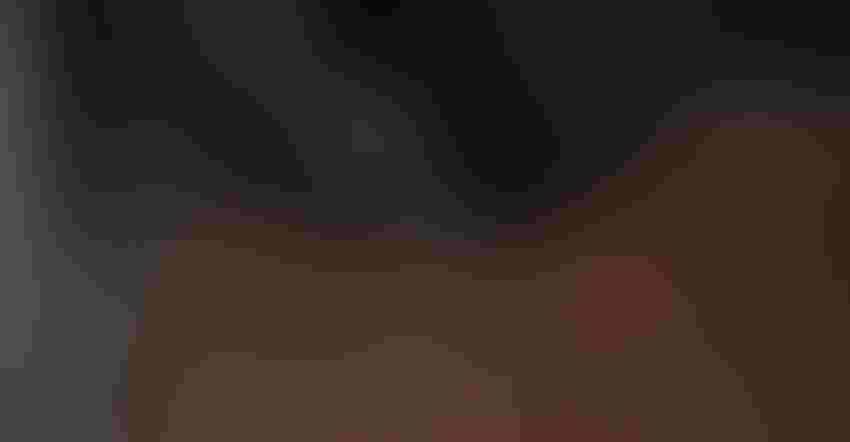 MATCH FERTILIZER WITH SEED: CapstanAg's Seed-Squirter can apply fertilizer at intermittent intervals so it's placed near each seed.
This likely isn't the year that you are flush with extra cash to spend on equipment. But if the right product comes along that allows you to pencil out a quick payback, it might still be worth a look.
Whether you intend to make purchases right now or not, here is technology you should know about for the future. Check out these three products:
• Seed-Squirter for liquid starter fertilizer. CapstanAg developed technology two decades ago that allows for intermittent delivery of a product. Now the company introduces it in a product designed to apply liquid fertilizer in the row right where the seed needs it (see photo above). Imagine a seed placed in the seed trench with a 3-inch string of fertilizer right behind it. That's what CapstanAg says Seed-Squirter can deliver. Fertilizer delivery is in sync with the seed delivery tube.
The technology will really shine in twin-row systems where plants are spaced farther apart, spokespeople say. Instead of putting a constant stream of fertilizer in the furrow, you will have it where the seedling needs it most. Call CapstanAg at 855-628-7722, or visit capstanag.com.
• Scissor closing wheels to cut cover crop residue. If you're planting into cover crop residue, you need planter row units equipped with the right technology to cut through the residue so it doesn't interfere with planting. Dawn believes it has a winner in the Scissor wheel row cleaner. Each wheel is drop-forged and equipped with special bearings for long life. The secret is in how the pair of wheels are angled and positioned during mounting, representatives say. Learn more at dawnequipment.com. If you visit the company's Facebook page, you can see a short video of these wheels in action: facebook.com/DawnEquipmentCompany.

COVER CROP CUTTERS: Dawn's Scissor closing wheels are designed to cut residue before planting in cover crop situations.
• RowFlow module for variable-rate planting. If you already have Precision Planting's 20/20 SeedSense monitor and you want to go to variable-rate seeding, the company says the RowFlow module is your next step. It connects to the 20/20 SeedSense monitor. In fact, you must have the 20/20 to add the RowFlow unit. RowFlow gives you accurate swath control of up to 48 swath sections; the goal is minimizing wasted seed and following variable-rate prescriptions precisely.


VARIABLE-RATE GURU:

If you're going to plant with variable-rate prescriptions and already have the 20/20 SeedSense monitor, pairing RowFlow with it is the next logical step, according to Precision Planting.
Subscribe to receive top agriculture news
Be informed daily with these free e-newsletters
You May Also Like
---