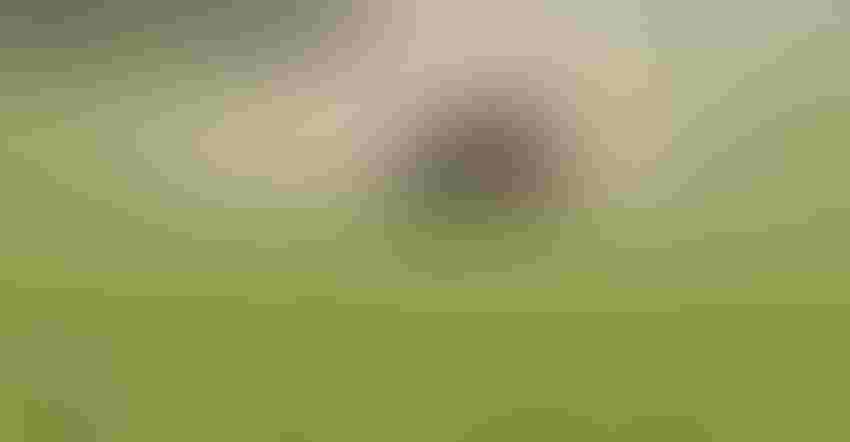 CONSIDER YOUR COSTS: In comparing the costs of owning versus hiring, add up the cost of trips and number of acres you need covered.
chas53/Getty images
Each month in Wallaces Farmer magazine, the Timely Tips panel answers questions sent by readers. Members of the Timely Tips panel are Alejandro Plastina and Wendong Zhang, Extension economists, Iowa State University; Leslie Miller, Marion County Savings Bank, Knoxville; and Rob Stout, Master Farmer, Washington, Iowa.
We are weighing the cost of owning a high-clearance sprayer versus hiring a custom applicator. We plan to use the machine for herbicide applications, split-applying nitrogen, and are considering using it to seed cover crops as well, which would mean equipping it with a seeder. What costs should we consider in our budget for both options?
Stout: In comparing the costs of owning to hiring, add up the trips per acre times your acres times the custom application fee to get a yearly cost for custom application. Check on custom prices as they may be different for the different applications you are planning to use. You can use an annual depreciation cost for ownership, or cost of the unit divided by expected years of use, taking off the salvage value. You also need to add interest, storage and insurance as fixed costs.
Variable costs will vary with the number of acres you cover, which would include labor, fuel and oil, and repairs and maintenance. Iowa State University Extension publication PM 710 will give you some guidelines on that.
If you have been hiring these applications in the past do you have the labor and expertise to run this machine? Don't forget that you will also need a mobile water tank to tend to the sprayer. Other costs to keep in mind besides the sprayer are different nozzles for different operations, drops for the N application, and as you mentioned, the seeder attachment.
Plastina: Besides price, expected years of ownership and interest on the financed portion, it is important to evaluate the total number of acres that will be sprayed annually, the farm efficiency of the self-propelled sprayer (acres per hour), its fuel efficiency and fuel price, expected repair costs, and the availability and cost of labor to operate it at the time of applications and seeding cover crops when contemplating the purchase option.
Spreading the cost of the sprayer over more acres by doing custom work for other farmers should generate extra income and reduce the fixed cost per acre for your own operation. Beyond costs, it is also important to evaluate how loan payments will affect the liquidity of your business and your monthly net cash income, as well as your income taxes.
Hiring a custom applicator has the advantage of releasing you from operating the sprayer, paying for repairs and making loan payments. However, those advantages might come at the expense of not being able to fully control the quality of the custom work, or its timeliness (particularly when there are many farmers waiting in line to get their farms sprayed, or the cover crops planted).
A decision tool to compare the costs of each alternative is available in the Ag Decision Maker website as File A3-33.
Miller: There's a temptation to assume that you will save $7.50 per acre in custom costs by having your own sprayer. However, that custom-hired sprayer comes with an operator and insurance (if mistakes get made), and is probably a newer machine. For your own operation, the cost of the machine and the size of the operation are critical factors to examine in this purchase. Also, the labor and the expertise needed to operate the machine may not be available without hiring additional help.
Let's consider some of the costs that might occur if we buy a $150,000 used sprayer at 4.5% interest with a five-year payback. Under these terms, the annual loan payment would be $33,694 This cost alone would require $4.21 per acre if you used the machine twice over 4,000 acres. On top of this, hired labor, fuel, repairs, maintenance and insurance could eat up an extra $3 per acre.
So, there can be some small savings if you have enough acres and can keep the purchase price reasonable. Plus, there could be some timeliness factors and more careful application that can provide additional incentives. Some of my customers report that they have saved money on the cost of chemicals by pricing with suppliers that aren't needed for spray application. Keep in mind, these suppliers may not supply the service that a local supplier can provide.
Spreading costs out
In order to pay for our new high-clearance machine, we are considering using it for custom work. What costs (fuel, equipment depreciation, time, etc.) do we need to take into account when determining how many acres we can or should cover?
Zhang: ISU Extension and Outreach's Ag Decision Maker sites have several resources that could help you figure out the operating costs for your machine, as well as the field capacity — the number of acres it could cover in an hour of operation. In particular, the Ag Decision Maker Information File A3-29 has a nice article on estimating the ownership and operating costs for farm machinery, as well as a spreadsheet-based decision tool where you can enter the parameters for your machine.
You already noted several key items of the operation costs — fuel, depreciation, labor. Other costs might also include repairs and maintenance, as well as lubrication. In addition, this and the information file A3-24 could help you figure out the number of acres this machine could cover in an hour (the hourly work rate), and that could help you figure out the costs per hour, or per operation.
Finally, we just published the 2021 Iowa Farm Custom Rate Survey, which could help you figure out how others are charging for custom machine work.
Stout: Your fixed costs, being spread out over more acres, could be less under this scenario, although the extra use of the machine would eventually wear it out faster and reduce its value over time. You have mentioned the main costs, but don't forget that providing the water for spraying operations would also be your responsibility.
You might want to run it over your own acres for a season to get a better idea of actual costs and to determine if you have the time to do custom work without it being at the expense of getting your own work done in a timely fashion. If you have underemployed labor already on your team, then this may not be necessary, and you can jump right in to custom work.
Miller: Using the new machine for custom work can spread the cost out. However, it will probably take a lot more custom acres than you might realize to generate much cash.
With added custom work comes added maintenance, fuel, repairs and depreciation costs. You also greatly increase the cost of labor and liability insurance. Furthermore, if you are planning to be a commercial applicator, you will need to obtain a commercial pesticide applicator license and obtain additional liability insurance to allow you to apply chemicals on acres where you are not the operator of record.
With custom spraying, there will be additional records to keep when you are applying chemicals to someone else's operation. There will also be annual educational needs to keep your commercial license valid.
Subscribe to receive top agriculture news
Be informed daily with these free e-newsletters
You May Also Like
---