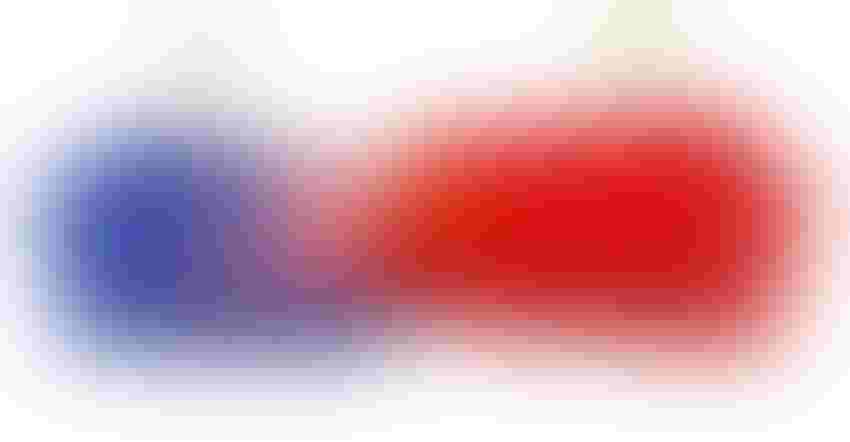 Nerthuz/iStock/GettyImages
by Jenny Leonard and Saleha Mohsin 
President  Donald Trump is backing away from the trade agreement the U.S. just announced with Beijing, under pressure from China hawks among his supporters and in Congress who have assailed the accord as a capitulation.
"Our Trade Deal with China is moving along nicely, but in the end we will probably have to use a different structure in that this will be too hard to get done and to verify results after completion," Trump said on Twitter on Wednesday.
After boasting of the deal's benefits for farmers in tweets on Monday, Trump first indicated on Tuesday he was having second thoughts as some of his loyalists publicly criticized the agreement. Asked if he was pleased with the direction of his administration's negotiations with China, Trump told reporters "no, not really." He later added, "they're a start."
The president's misgivings open the prospect that a trade war Treasury Secretary Steven Mnuchin had declared "on hold" is at risk of resuming. Tariffs Trump had proposed for $50 billion in Chinese goods are ready to be enacted at his command, after a public comment period expired on Tuesday. The Chinese have promised counter-tariffs targeting products from states politically important to Trump, particularly in the Midwest Farm Belt -- the source of intense pressure on the president to resolve the dispute.
But public criticism of the China deal by fellow Republicans and Trump supporters appears to be outweighing concern about a trade war among farm-state Republicans, retailers and others. Trump has also found himself under attack for retreating from penalties his administration announced against a large Chinese telecommunications company, ZTE Corp., for violating U.S. sanctions against Iran and North Korea.
#NotWinning 
"Sadly #China is out-negotiating the administration & winning the trade talks right now," Republican Senator Marco Rubio of Florida tweeted on Tuesday. "They have avoided tariffs & got a #ZTE deal without giving up anything meaningful." He added, "This is #NotWinning."
Another critic of the deal, Senator Steve Daines of Montana, lectured Mnuchin during a hearing at the Capitol on Tuesday. 
"It's very important as we engage in these negotiations, we can't just see this as a standard trade dispute with China," Daines told the Treasury secretary. "We must keep in mind China's long-term strategic approach and their long-term goal of becoming the world's superpower, militarily and economically." 
Trump supporters outside the government have joined in the chorus of complaints, and some have blamed Mnuchin.
"Doesn't make sense to have the Treasury secretary negotiating trade policy -- that's the USTR's job," former Nucor Corp. Chief Executive Officer Dan DiMicco said in a phone interview on Tuesday. DiMicco was an adviser to Trump's campaign and presidential transition who now sits on an advisory committee for U.S. Trade Representative Robert Lighthizer.
"We supported Trump in the elections, support a lot of the things he stands for, and we need him to come through on trade like he promised," DiMicco said.
Negotiation "Framework" 
Mnuchin announced Sunday the U.S. and China had agreed on a "framework" for trade talks, but neither nation provided any details of the agreement. While Trump said on Twitter that China had agreed to purchase "MASSIVE" amounts of American farm goods to reduce its yawning trade surplus with the U.S., the two sides didn't agree on a specific dollar figure.
Critics of the deal have also complained that it is silent on broader economic issues important to the U.S., including Chinese acquisition of American technology; the country's plans to subsidize growth of advanced domestic industries such as artificial intelligence and clean energy; and U.S. companies' access to China's markets. 
Trump's about-face on ZTE adds to his allies' concerns. The Commerce Department announced April 16 that the company would be cut off from its U.S. suppliers, crippling its business, for what Commerce Secretary Wilbur Ross called "egregious" violations of U.S. sanctions. But Trump said on Tuesday that he had agreed to re-examine the matter as a personal favor to Chinese President Xi Jinping.
Trump said the U.S. may instead require that ZTE appoint a new board of directors and pay a "very large fine" of perhaps $1.3 billion. 
Fourteen Republican senators including the party's second-ranking leader, John Cornyn of Texas, joined 13 Democratic and independent senators in sending Trump a public letter Tuesday urging him not to soften ZTE's punishment. They called ZTE's sanction violations "serial and pre-meditated."
Administration Discord 
Ross plans to visit Beijing in early June to hammer out the details of the trade deal with China and how it would increase its purchases of American goods -- particularly of energy and farming products, his office said on Tuesday. A scheduled Ross appearance early Wednesday at a Heritage Foundation trade event in Washington was canceled, organizers said. 
Some White House officials blamed poor coordination among the opposing factions on Trump's team for his initial agreement with China, according to several people briefed on the matter. Concern about harming negotiations over North Korea's nuclear program, in which China plays a pivotal role as the isolated nation's closest ally, has also factored in Trump's decision to hold off on tariffs.
Trump expressed doubt on Tuesday that his planned June 12 summit with North Korean leader Kim Jong Un would happen, telling reporters there's a "very substantial chance" it won't. 
Mnuchin and White House economic adviser Larry Kudlow are free-trade supporters regarded as more conciliatory toward Beijing than Lighthizer and White House trade adviser Peter Navarro, the administration's fiercest China hawk. Mnuchin said in an interview on CNBC Monday that he speaks with Lighthizer ten times a day and that he and the trade representative and Ross are "unified" on trade strategy. 
He pointedly did not mention Navarro, with whom he quarreled during a trade mission to Beijing earlier this month.
--With assistance from Terrence Dopp.
To contact the reporters on this story: Jenny Leonard in Washington at [email protected]; Saleha Mohsin in Washington at [email protected]
To contact the editors responsible for this story: Brendan Murray at [email protected]; Alex Wayne at [email protected]
Sarah McGregor
© 2018 Bloomberg L.P
Subscribe to receive top agriculture news
Be informed daily with these free e-newsletters
You May Also Like
---