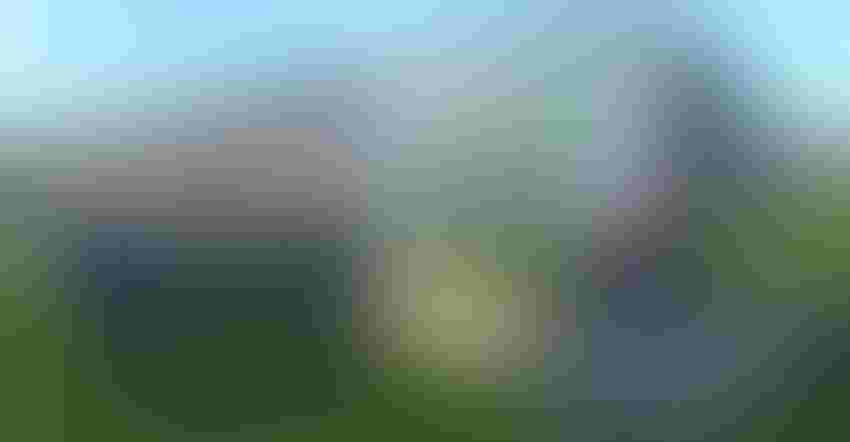 BREAKING BARRIERS: Garrett Miller, right, manager of Oakwood Dairy, is all about educating his Hispanic workers — Esdras Ramirez, Daniel Vasquez and Pablo Vasquez — on proper dairy management.
Spanish is the native language for most foreign-born farm workers on American dairy farms.
In January, the Cornell Pro-Dairy Spanish Webinars series begins another year of web-based educational programming presented entirely in Spanish.
Garrett Miller, dairy manager of Oakwood Dairy in Auburn, N.Y., is making this training available to his Spanish-speaking workers. The farm milks approximately 2,100 cows with 1,900 head of youngstock and 3,600 acres in crop production.
"We have a high standard for herd health and overall herd care," Miller says. "All of the training here, including the webinars, has contributed to a better job of calving management, milking routine and fresh cow monitoring. We have seen a response across the herd in terms of increased reproduction performance and live calf births, a steady SCC below 150,000, and decreased antibiotic use."
His crew has participated in Pro-Dairy webinars on the use of antibiotics and vaccines, reproduction management, calving, fresh cow monitoring, milking and mastitis, calf nutrition, moving cows, and cow behavior.
"The webinars in Spanish eliminate the language barrier and provide for a better understanding of the science and 'the why' behind what the employees are doing, Miller says. "I think even the Spanish-speaking employees who are fluent in English get more from the training in their primary language."
Communication barriers
According to a 2016 survey of Hispanic dairy workers in New York state by Cornell University's Dyson School of Applied Economics and Management, "the most obvious implication is that (the lack of adequate language skills) leaves the door open for workplace mistakes because the employee did not understand important information related to the job."
CONVENIENT LEARNING: Esdras Ramirez (left), Daniel Vasquez and Pablo Vasquez watch a Spanish-language dairy webinar on the farm.
According to the report:
• The majority of Hispanic workers on New York dairy farms were from Mexico or Guatemala. More than half reported not speaking English, 37.6% said they spoke some English and only 6.8% reported that they speak English very well.
• The job for 64.9% of those responding to the survey was milking cows. Nearly half the respondents push cows and help with calving.
• Communication was identified as the hardest part of their jobs.
Making a difference
A calving management example on Miller's farm illustrates the importance of knowing the science behind farm decisions. 
"Some of our crew did not know the different phases of labor and how intervening too early can impact the cow and calf. Our calf DOA rate has dropped, and I credit that to the crew having more knowledge of the calving process," he says.
Generally, two to three Oakwood Dairy workers at a time participate in webinars focused on their area of responsibility. The Pro-Dairy website posts the recorded webinars for use at will, but Miller prefers the live learning opportunity.
"The live sessions include the opportunity to ask questions right then and there that day. While the workers may hesitate to ask the presenter questions, we have some good, healthy discussions after the webinars, which would not have happened otherwise," he says. "Pulling in a small number of employees at a time for a training works well as it doesn't disrupt the work day too much. The Pro-Dairy webinars are packed with information but short, which makes them easy to put into our farm work schedule."
Miller has scheduled time in the past for on-farm training with topic-specific instructors. 
"Access to the webinars means I do not have to bring a Spanish-speaking trainer on-site just for two or three people. With the preset webinars, I just have to make sure the employees know when the training is and help structure their work for that day to get them to the meeting room," he says.
Miller sees on-farm education as part of his job and a benefit to the farm.
GOOD RESULTS: Garrett Miller says he's seen better decision-making by his employees as a result of the Pro-Dairy Spanish-language webinars.
"A good crew makes everything easier, supports a work environment with positive attitudes, and makes people want to come to work and do a good job," he says.
Institute helps fund webinars
The start-up of these Spanish webinars was underwritten by a grant from the New York Farm Viability Institute. A survey of dairy farmers and Hispanic workers in 2005 by Cornell faculty was the first of its kind in the Northeast.
David Grusenmeyer, executive director of New York Farm Viability Institute, and Thomas Maloney with the Cornell University Dyson School of Applied Economics and Management, authored the survey, which was the first of its kind in the Northeastern U.S.
"Our survey in 2005 created a demographic profile of Hispanic dairy workers on New York farms and identified language as a primary challenge. Since then, interest in providing effective educational training for both Hispanic employees and farm managers has grown exponentially. The institute's support of the Pro-Dairy Spanish-language webinars is one more step toward effective communication on New York's dairy farms," says Grusenmeyer, who was at Cornell at the time the 2005 survey came out.
The Pro-Dairy Spanish Webinars are posted online. Registration is not required.
For details, contact Kathryn Barrett at [email protected] or 607-229-4357; or Libby Eiholzer at 607-793-4847 or [email protected].
Dunn writes from her farm in Mannsville, N.Y.
Subscribe to receive top agriculture news
Be informed daily with these free e-newsletters
You May Also Like
---