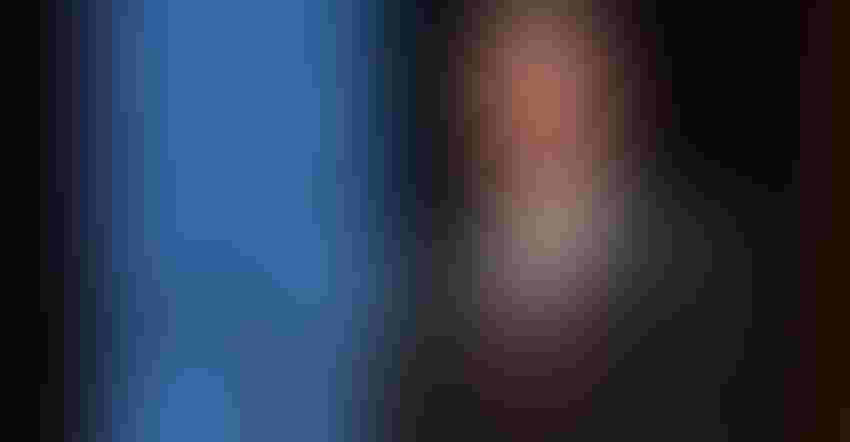 DEFEND FARMING: "Misinformation is continuing to threaten the gains being made in agriculture for soil conservation, water quality protection and modern livestock farming practices," says Craig Hill, Iowa Farm Bureau president.
Photo by Gary Fandel, IFBF
Craig Hill of Ackworth was re-elected president of the Iowa Farm Bureau Federation (IFBF) for a two-year term at the organization's 99th annual meeting Dec. 7 in Des Moines. The Warren County farmer has served as president of Iowa's largest statewide farm organization since 2011. Also, two farmers, one from Worth County and one from Van Buren County, were elected to serve on the IFBF board of directors to replace two retiring directors.
Addressing the approximately 1,000 farmers attending last week's event, Hill said misinformation about food and farming shared on social media, such as Facebook and Twitter, is threatening the gains being made in agriculture. This online misinformation is continuing to increase in intensity. "It seems that people who don't farm and don't understand farming have plenty of opinions about how we, as farmers, should be farming," he said. "This new threat that has emerged is one that places limits on our progress."
Farmers must continue to speak up, defend farming
Hill encouraged Farm Bureau members to continue using science and education to fight the messages that are being spread, which "prey on people's fears." For example, anti-GMO activists continue to raise concerns about the use of genetically modified crops, which have traits developed by biotechnology methods. These traits enable crop plants to resist pests and provide tolerance to herbicides. "The anti-biotech groups say they are concerned about the safety of having these crops in our nation's food supply. But no one has ever been killed by a genetically engineered food product. You can't say that about automobile crashes," notes Hill.
Farmers are also speaking out at county board of supervisor meetings and state environmental protection commission meetings. "These farmers have stepped up and helped raise awareness of how the activist-led tactics could affect our way of life," Hill said. "These farmers have helped turn the tide against activists who have attempted to block modern livestock farming in Iowa."
Farm Bureau supports Iowa's "Master Matrix"
Anti-livestock groups, including Iowa Citizens for Community Improvement and the Food & Water Watch, earlier this year petitioned the Iowa Environmental Protection Commission to tighten rules on where large hog confinements and cattle feedlots can be built, saying manure produced by the facilities is leaving fields where it is applied and polluting Iowa waterways.
Farm Bureau will continue to defend the rules the state of Iowa has that guide where livestock buildings can be built — known as the "Master Matrix" formula. "Livestock production is important to our state. Iowa has a good set of regulations that oversee the permitting process for locating livestock confinements," he said.
Farmers investing in conservation practices
Hill said Iowa farmers are investing in conservation practices to improve water quality. He noted 85% of Iowa Farm Bureau members surveyed say they're using conservation practices on their farms, and 71% have plans to apply, install and use new conservation practices. "Iowa farmers know water quality is important," Hill said.
He added, "It's so important that even though they've had three straight years of declining commodity prices and declining farm income, 73% of the farmers who were surveyed said they are spending their own money to put conservation practices on their land. Farmers are putting words into action."
Hill served as president since 2011
Hill's Farm Bureau leadership began with the Warren County Farm Bureau before being elected as the District 8 representative on the state board in 1989, and he later served as IFBF vice president from 2001 to 2011. As IFBF president, Hill serves as chairman of the board of FBL Financial Group Inc. and Farm Bureau Life Cos. In addition, he serves on the American Farm Bureau Federation board of directors. 
Craig and wife Patti have a daughter, Abbie, and son, Adam. Adam farms with his mom and dad, growing corn and soybeans and raising livestock on their Warren County farm.
At last week's meeting, IFBF delegates elected Andy Hill of Worth County as District 2 director and Rick Plowman of Van Buren County as District 7 director. Will Frazee of Montgomery County was re-elected as District 9 director.
Retirements prompt change in state directors
Andy Hill (no relation to Craig Hill) of Manly replaces Charlie Norris who is retiring after 22 years of service. Andy Hill raises corn and soybeans and will represent 11 counties in north-central Iowa: Kossuth, Humboldt, Winnebago, Hancock, Wright, Worth, Cerro Gordo, Franklin, Mitchell, Floyd and Butler. He and wife Michelle have two daughters. Hill has held several offices in Worth County Farm Bureau, including president and voting delegate and AFBF voting delegate. He chairs the AFBF Budget and Economy Issue Advisory Committee.
Plowman replaces Andy Hora who retired from the IFBF board and will represent 11 counties in southeast Iowa: Muscatine, Keokuk, Washington, Louisa, Wapello, Jefferson, Henry, Des Moines, Davis, Van Buren and Lee. Plowman has held several offices in Van Buren County Farm Bureau, including president and voting delegate. He has served on the Hay and Forage Advisory Committee for both IFBF and AFBF. Plowman and wife Lisa raise corn and cattle near Douds. They have two children; son Cale is active in the family farm.
Delegates represent Iowa at AFBF in January
Nine delegates were elected to represent Iowa at the American Farm Bureau Federation annual convention in Nashville Jan. 5-10. They are IFBF President Craig Hill; IFBF Vice President Joe Heinrich of Jackson County; Mark Buskohl of Grundy County, Joe Dierickx of Clinton County, Matthew Willimack of Clinton County, Larry Sailer of Franklin County, Brian Feldpausch of Grundy County, Paula Ellis of Lee County, and Bryan Reed of Monroe County.
Karen Seipold of Mills County was elected to a three-year term on the IFBF internal study committee. The internal study committee serves as a liaison between county Farm Bureau voting delegates and the state board of directors.
Subscribe to receive top agriculture news
Be informed daily with these free e-newsletters
You May Also Like
---