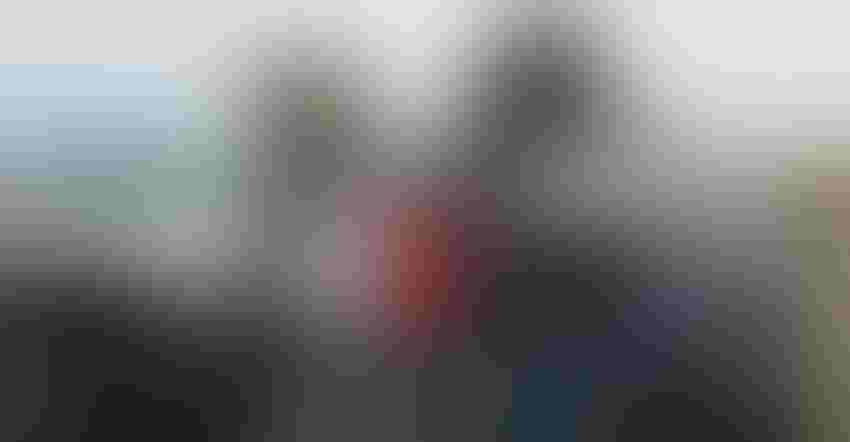 NO BORDERS: Neighbors helping neighbors extends beyond state borders after the March wildfires. Missouri and other states sent convoys of supplies. A group of four Missouri boys (from left) Austin Sisco, Colby Andrews, Dylan Hill and Zach Cook, made a second trip to the Oklahoma ranch of Guy Payne (far right).
Oklahoma rancher Guy Payne shares what life was like during and after the wildfires — in his own words.
The degree of loss
My wife, Jan, and I have been married 40 years. We have been through cancer, drought — and this, I do believe is, the toughest of them all. It has been quite an ordeal. We lost pastureland, around 5,000 to 6,000 acres of grass. We lost cows and calves. Some burned up. We are still doctoring a lot of cattle. We lost buildings. This fire was peculiar. It came with a wind of 50 to 60 to 70 mph. You could not outrun it with a car. It would burn off stretches here and there — some the size of a house and some the size of a hat. You could not predict where it was heading and what damage it would do. But it sure did a lot.
The lowest moment
We went down to a pasture that we knew was burned out. We had 80 pair down there. This set of cows — we just knew we lost them. When the fires started coming, we cut all the fences; then the wind changed. We had to get up and save the house and get everything gathered up, so we left them. The next morning, my wife and I went to see what was left. We headed to that pasture. When we got down there, my wife and I saw these 80 head standing on — I tell you — a 100-foot circumference that did not burn.
We decided to drive them off about a quarter-mile to another pasture, and the little calves just gave out. My wife cries about that to this day.
The other low was watching one mama cow we were trying to drive through a gate as the fires were on us. She was bawling. She had a calf, and it wasn't with her. We got right to the gate; she turned around and headed back into the fire. The next day we found her lying next to her calf, burned.
The fear for the future
We rotate our pastures. I calve on the river. The problem now is with the winter pasture burned up, we had to go to summer pastures. We are helping it along with the hay donations, but what happens when next winter comes? We will be out of grass in summer pastures, and there won't be any winter pasture.
We will have to figure something out, maybe sell cattle — whatever we can to stay in.
My fear for some of the younger guys in their 20s and 30s is that they may have Grandad's place leased, and went to town to borrow money to buy cows and maybe an operating loan. They have lost grass and cattle. They are not able to pay the lease at Grandad's and then find more land to lease for grass. They can't lease two places and run half the cattle. I fear the bank is going to own them. This will be their choice if they make it.
I am 64 years old, and my son came back to take over this place — that was the plan. We need to figure out how to hang on to our cows — 300 head of cow-calf pairs and 150 yearlings. It is going to be a long way back with no guarantees.
The level of support
It is hard on my wife. Every time she saw a truckload of hay with an American flag draped across it, she just cried. It's an emotional thing. The outpouring of good people affects me more than anything. Total strangers, people from a different world, just poured their heart out with semiload after semiload of supplies.
I have a whole new outlook on society. I'd just about given up on society, but there are still a lot of good people left in the world. How many kids take spring break and go through the hell (blowing out six tires) they did to get a guy some hay. That says a lot. The boys (from Missouri) went above and beyond. Some drove back that night, made it home at 3:30 in the morning, and then got up and went to school. You don't find that a great deal anymore. That's dedicated.
About the Author(s) Editor, Missouri Ruralist
Mindy resides on a small farm just outside of Holstein, Mo, about 80 miles southwest of St. Louis.
After graduating from the University of Missouri-Columbia with a bachelor's degree in agricultural journalism, she worked briefly at a public relations firm in Kansas City. Her husband's career led the couple north to Minnesota.
There, she reported on large-scale production of corn, soybeans, sugar beets, and dairy, as well as, biofuels for The Land. After 10 years, the couple returned to Missouri and she began covering agriculture in the Show-Me State.
"In all my 15 years of writing about agriculture, I have found some of the most progressive thinkers are farmers," she says. "They are constantly searching for ways to do more with less, improve their land and leave their legacy to the next generation."
Mindy and her husband, Stacy, together with their daughters, Elisa and Cassidy, operate Showtime Farms in southern Warren County. The family spends a great deal of time caring for and showing Dorset, Oxford and crossbred sheep.
Subscribe to receive top agriculture news
Be informed daily with these free e-newsletters
You May Also Like
---