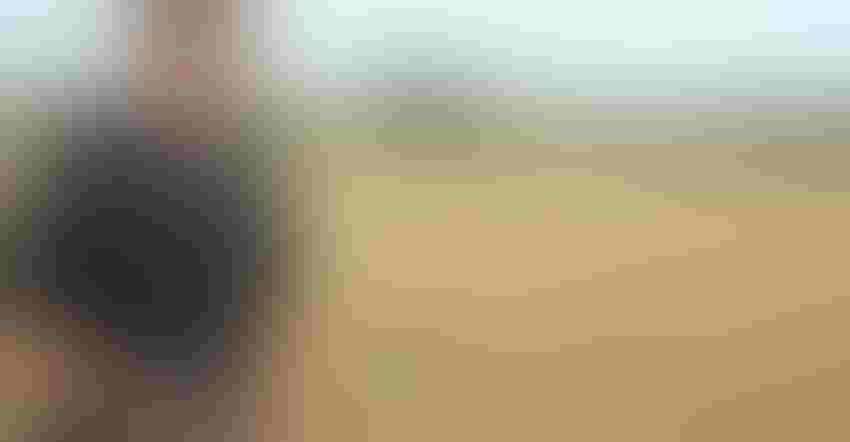 FARMING FUTURE: Garrett Cramer holds a handful of wheat. The FFA member built his farming operation around row crops such as wheat, corn and soybeans, along with cattle.
Elizabeth Wyss
By Elizabeth Wyss
Standing in a field of knee-high wheat between Ludlow and Utica, Mo., 19-year-old Garrett Cramer examines a few wheat heads. He's concerned about the pink color.
"We've fought a lot of rain this year," Cramer says. "Hopefully, a few warm, sunny days will dry this field out and prevent any disease."
The Missouri State FFA Star Farmer talks about his crops as if he's been farming for years. Cramer's passion for agriculture started while riding a tractor with his dad at age 4.
"Agriculture's been something that I always had an interest in," he says. "My parents got me started with five cows when I was 8 years old, and I can still tell you the numbers of those first cows they bought me."
From there, Cramer saved money to buy heifers. His dad, mom and grandma all took an interest in diversifying his farm portfolio. "They helped me get a start in row crops before my eighth-grade year," he explains.
New experience
Joining FFA in high school seemed like a natural fit for Cramer. At that time, he attended Southwestern R-1 High School in Ludlow, which did not offer the program. The small town has a population of just more than 130.
Cramer would need to travel to nearby Chillicothe, Mo., and attend an hour of classes at the Chillicothe Litton Agricultural Campus. It was a big change.
"Coming from a class of nine students, when I joined the Chillicothe FFA chapter, I immediately was thrown into a class with 24 students, with only four I knew from my school," Cramer recalls. "I was nervous."
He overcame those early nerves and went on to encourage other young FFA members to do the same, serving as president of the Chillicothe FFA chapter his senior year.
"My involvement in FFA has led me to be as successful as I have," Cramer says. "I would tell other freshmen not to be nervous, and to feel comfortable knowing that everyone is in the same boat as you, and it is important to get involved."
Build a business
Cramer has used skills learned in his agricultural education classes and FFA to expand his farming operation.
He now runs 25 head of Angus cross cattle, 196 acres of row crops — including wheat, corn and soybeans — and a few chickens. Along the way, the young man from Livingston County learned how to operate more than farm equipment.
Cramer's business skills grew with his diversified Supervised Agricultural Experience project. He's become proficient at navigating buying choices to maximize the genetic potential of his cattle and engaging in sharecropping agreements.
"Going into my sophomore year, my adviser, Mr. Martin, highly encouraged me to keep very good track of my records because he thought I had the potential to run for Area or State Star Farmer," Cramer says.

INSPECTING THE HARVEST: Garrett Cramer surveys this year's wheat crop. It has been a year full of trials for this next generation farmer.
He also participated in Missouri Agribusiness Academy and Precision Ag Academy to learn better and more innovative ways to improve his operation. Four years of learning culminated with his application for Area Star Farmer.
"When I was selected at the area level, I was very, very excited and also very surprised," Cramer says. "Going into State Convention, I was shaking, literally, as I walked into the interview room, but whenever I came out, I was very happy with how I did."
Still, he knew the competition was tough.
"Honestly, when my name was called on stage I could've fallen over," Cramer says. Even in the celebratory aftermath of winning the prestigious Missouri FFA Association Star Farmer Award, Cramer has the good of his chapter in mind.
"To me, it means an awful lot because there's only even been four State Star Farmer winners from the Chillicothe FFA chapter," Cramer says. "I think it does a lot of good for our chapter to be recognized for its hard work as well."
"It has been a pleasure to work with a young man who knows what he wants and then goes after it," says Leda Schreiner, agricultural education teacher at Litton Agriculture Center. "He knows what hard work is and is not afraid to tackle any job that he is given."
Next steps
Cramer's passion for production agriculture didn't stop at graduation. This fall, he will attend Kansas State University to major in animal sciences and industry, with a minor in agriculture technology management. While Cramer says that Kansas State felt like home when he toured, he hopes to complete the degree in three years and return to the family farm full time.
He'll be the fifth generation on his family's farm, and during this difficult planting season, several people have asked Cramer if he has thought about getting out of the family business.
"It's always what I've known I wanted to do," Cramer says. "There are days when I'm pulling my hair out, but even when I'm facing all these frustrations, I never question what I do."
Wyss writes from Jefferson City, Mo.
Subscribe to receive top agriculture news
Be informed daily with these free e-newsletters
You May Also Like
---