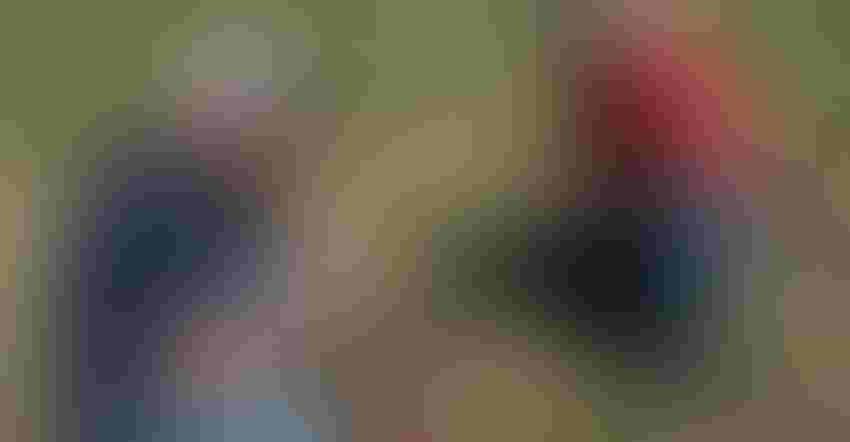 IN THE FIELD: Intern Derick Weiermann (right) shares a crop scouting observation with sales associate Lane Welsh at New Century FS.
Kameryn Warren
Scheduled summer internships with agribusinesses were disrupted for many students when COVID-19 struck. With safety concerns rising as the pandemic took hold, some companies that offered summer internships ultimately canceled their programs. 
Fortunately, that was not the case for four Iowa students: Derick Weiermann, Tylia Kaisand, Kameryn Warren and Gus Leonard. Derick, Tylia and Kameryn spent this summer at three locations of New Century FS, an Iowa-based ag and energy cooperative that is a part of the Growmark system. Gus served at a Growmark FS location based in Iowa and South Dakota.
In its 61st year, Growmark refused to give up its long-standing tradition of developing the next generation of leadership in agriculture just because of the COVID-19 crisis. This year, the program is operating across the U.S. and Canada both virtually and socially distant in the field to keep interns and employees safe. 
"We are excited to be continuing both internship programs in 2020," says Growmark member and student recruiting manager Kayla Portwood. "These programs continue to be a key component in identifying and retaining top talent for the Growmark system. Our interns engage with industry professionals on important projects and have the opportunity to clarify career goals, while networking with other talented students." 
Exploring potential ag careers 
Derick, Gus, Tylia and Kameryn are just four of the 66 college students exploring ag career opportunities this summer through the Growmark internship and the Exploring Agriculture internship programs. 
The first affords interns accounting, marketing, and product and service-related interaction. Participants in this type of internship create and conduct a business-related project. At the end of their experience, they summarize and showcase their work and results through a presentation. 
The Exploring Agriculture internship focuses on operations, equipment and technology experience. It allows students to learn and assist with facility and equipment maintenance and repairs. Both types of internships include building on- and off-farm relationships with customers and employees alike. 
Because Iowa State University moved to online classes due to the pandemic, Derick was able to start his Growmark internship early. Having a year of crop scouting experience through a previous Growmark internship under his belt, he was eager to learn more and understand a new segment of the company. So, this year he has his internship focused on seed sales. He surveyed growers to learn customer decision-making processes and what they look for in products and services. He's found serving on the sales side to be a positive and rewarding experience. 
Virtual meetings
"This opportunity with Growmark is ideal for students like me who want to be challenged," Derick says. His favorite part of the internship is being able to make new connections. Even though many meetings turned into a virtual experience, he got to know many more farmers as he conducted seed preference surveys. 
Tylia is part of the Exploring Agriculture Program at Melbourne, Iowa. Tylia says she has been able to do "a little bit of everything." She's aided in a variety of tasks — from cleaning shuttles to assisting in applying chemicals to crop scouting. 
Keeping herself and others safe is of utmost importance during Tylia's internship. Business doors have been locked from the public, and communication done primarily by phone to protect employees and customers. "Our location is like a family," Tylia says. "My favorite thing is being able to thrive in a friendly work environment. I've felt comfortable asking questions while learning." 
Tylia recommends the Growmark System internship program for all students who are passionate about agronomy. Coming from a livestock production background, she was also happy to see the flip side of agriculture focused on crop production. "It's been such an amazing experience, and I learned so much," she adds. 
Cultivating knowledge, skills 
Derick and Tylia's supervisors say they are proud of the new growth and connections that are brought about through this internship. 
"By opening our doors to Derick, we've been able to create a stronger connection with youth and clients," says New Century FS seed specialist Howard Noel. "Derick shows an incredible amount of promise as an intern, and we are proud to help him develop in his career path. Through Derick's project, we are able to build stronger connections for our customers and from this, we can ensure they are satisfied with our product." 
"Tylia has seen what a challenge it can be to coordinate and successfully run a retail agriculture business in an ever-changing world," says Dan Hart, who manages the New Century FS Melbourne location. "With all the challenges the usual spring throws at us on top of the COVID-19 dilemma, it has been difficult to remain diligent about customer focus and remain steadfast during these trying times." 

NEW SKILLS: Summer intern Tylia Kaisand says she's learned a lot and gained valuable experience to develop a career in agriculture.
For Hart, he wanted to make sure Tylia took away some of the core lessons his team is focused on as part of the Growmark system, including an unsurpassed customer experience along with excellent communication skills. 
"Tylia has learned a lot during her internship here and will take with her many of life's lessons about working in retail agriculture," Hart says. "If you have time to lean, you have time to clean. I feel our image here at New Century FS is everything. Our customers appreciate the fact that we are a farmer-owned business and like their equipment and facilities taken care of." 
Working as an intern allows students to grow professionally and educationally through networking and learning experiences. This year may have looked and felt different for both students and employees at Growmark/FS locations, but Growmark system leaders felt it was important to continue the program for students, along with the potential for future employment opportunities upon graduation.
Schmitt attends Iowa State University, where she is triple-majoring in dairy science, ag communications and international agriculture. After her initial internship this summer was canceled, Schmitt took an internship at Circle H Headquarters LLC, a veterinary services company in Dalhart, Texas. She is a Growmark 2020 scholarship winner.
Subscribe to receive top agriculture news
Be informed daily with these free e-newsletters
You May Also Like
---