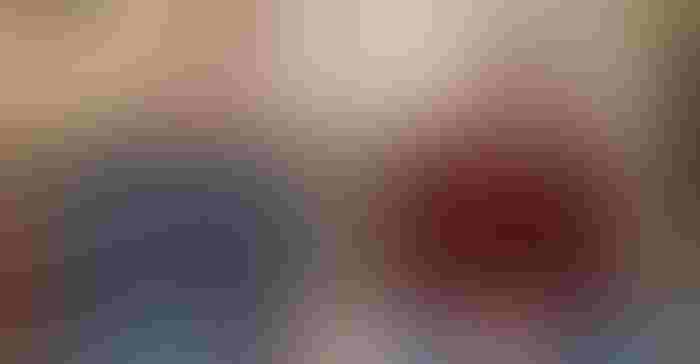 Les and Jerry Seiler buried their plow in the back of the barn for almost 40 years. They haven't gotten it out since. Over the years, they have seen gains in soil health with continuous no-till and the use of cover crops. They've installed conservation practices to keep the soil in the field, while slowly and steadily adding acreage to their Fayette, Ohio-area farming operation.
With cover crops, crop diversity became much more important, Les says. Today, the brothers are farming 1,650 acres of corn, soybean, alfalfa, malting barley and wheat. "The days of a corn and soybean monoculture are over," Les says. "It's a drawback in building soil health and organic matter."
About three-quarters of the land they are farming is rented. "We are blessed to have landowners that appreciate what we are doing with their land," Jerry says. "We tile where it needs tile, and put waterways in when necessary. … We farm it like it's ours. We hate to see soil being blown or washed away."
For their efforts, Les and Jerry Seiler were named 2020 Ohio Master Farmers during a March 3 ceremony held in conjunction with the Ohio Conservation Tillage and Technology Conference in Ada.
Love of farming
The brothers were two of the five children of Merle and Susie Seiler. "We grew up farming, but our other three siblings didn't seem to want anything to do with farming," says Les, who adds that he and Jerry were always interested in farming and were active in FFA and 4-H.
After high school they both took off-farm, full-time jobs. "It was in the 1980s, and interest rates were through the roof," says Les, who started farming with Jerry in 1980. "Dad told us 'Get a job and ride this thing out.'"
The off-farm income —Les and Jerry both worked at Sauder Woodworking — allowed for the updating of machinery. And as they both got married, the farm expanded.
"My job ended there [Sauder] in 2009, and I started farming full time, allowing more management of the farm," Les says. He notes that Jerry still works at the factory.
They've been learning along the way. And, in 1986, they tired of watching valuable soil wash away in gullies on property in northwest Fulton County, near the Ohio-Michigan state line. "With our tillage and moldboard plowing at the time, we knew we had to do something different," Les says. Through a cost-share program, they began to install grass waterways and implement no-till practices, as well as installing subsurface drainage.
Over the years they have seen gains in soil health, measured by zone soil tests done and rotating half the farm every year. This has given the brothers confidence to cut back and — in some cases — eliminate commercial fertilizer use without mining the soils of nutrients. They have also cut back or eliminated the need for insecticides, herbicides and fungicides.
"We started learning about whole-system biology — the soil health circle of life," Jerry says.
In 2009, they started to add wheat back into the crop rotation and experiment with cover crops that included a blend of winter pea and radishes. "The biodiversity in our soils exploded," Les says, He calls cover crops the missing link.
As the peas with volunteer wheat survived the winter, Les and Jerry watched soil activity grow. "Those crops woke up first and started growing in March and April," Les says. "The plants were harvesting the sun and cycling the nutrients through the soil profile. This helped to create higher soil temperatures and to dry out the fields."
Patience pays
When others were starting to be turned off about no-till because of slugs and residue that didn't break down, "we eventually saw the organisms build up and start eating up the residue," Jerry says.
Now, fall cover crops are planted on all acres to keep a living root system intact year-round. Corn and soybeans are both planted into the living green cover crop.
"Everything we do is an innovation," Les says. He describes farming as fun because it's always an ever-changing challenge. "We have to fabricate equipment or pull something off another piece of machinery and retrofit it to meet our needs. We've had to adjust a lot, including developing a guidance system to allow planting into 6-foot-tall rye."
The brothers have started interseeding cover crops in August and September, ensuring a winter crop and easing fall stress.
In 2014, Les and Jerry worked with The Nature Conservancy to implement a two-stage ditch on one of their farms. "TNC headed up a group of ag businesses and conservation agencies that helped with and encouraged our Fulton County engineer's ditch maintenance office to help us transform a winding ditch," Les explains.
The ditch was prone to overflow and washing out. Now, the ditch is a channel controlling the flow and preventing water pressure from washing out soils heading east, toward Lake Erie. "We are particularly proud of that farm because it contains the two-stage ditch, filter strips, waterways, cover crops and a pollinator habitat, all on one property," Les says. Another pollinator plot has now been put in, he adds.
The brothers employ some help during the busy season, and Les' son, Nathan, 26, is currently working off-farm but is in the process of buying a farm. "My hope is that he doesn't have to work off-farm as long as I did," Les says.
Les and his wife of 27 years, Lucy, also have a daughter, Melani, in addition to son Nathan. Jerry and his wife, Chris, have been married 32 years and have three children: Brittney, Rachel and 21-year-old Jerad. "My son, Jerad, helps when he's not in college," Jerry says. 
The wives handle the books and, "come farming time, they are on top of things," Les says. "If it wasn't for the wives doing the dinners for everybody, the whole thing would be a train wreck."
One thing the brothers both agree on: "God never intended for the land to be bare, and everyone deserves good drinking water," Les says. "Farmers, as stewards of the land, are in the position to make a difference to both."
Check out the video below to hear the Seilers talk about farming.
Subscribe to receive top agriculture news
Be informed daily with these free e-newsletters
You May Also Like
---