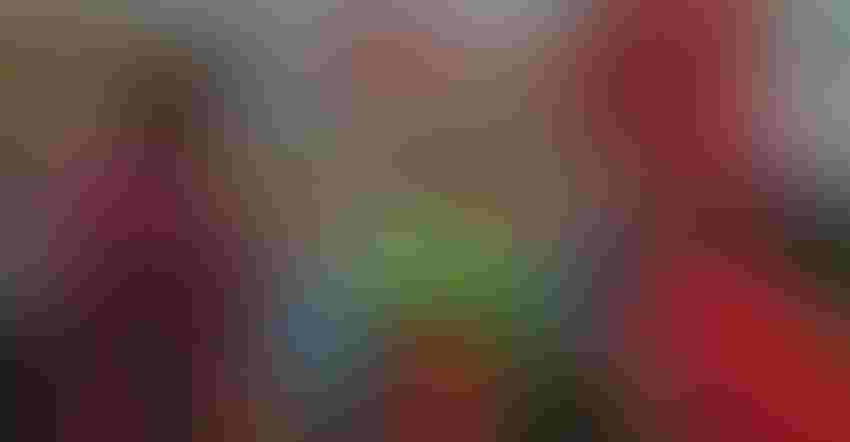 LEARNING AND FUN: Science and Ag Family Field Day will feature farm-related workshops on livestock and crops, but it also will engage people of all ages in hands-on sessions related to agriculture and science.
With the weather farmers have experienced this year, it might be no coincidence that last year's first farm field day at the University of Nebraska Haskell Agriculture Laboratory near Concord focused on building resilience to weather into farming systems.
From agronomic workshops to sessions on livestock systems that can handle weather events, about 450 northeast Nebraska residents attended the event last August at HAL. This new field day format replaced the popular VIP field tours that had been held at HAL each August for many years.
This year, HAL staff are planning a Science and Ag Family Field Day on July 24, with workshops for educators, youth, farmers and a session with a feedlot focus.
"HAL is transitioning to more of an education and engagement center, so the event last year was meant to begin that process," says Bill Kranz, associate director, Northeast Extension District. "We have about 50 people working for Nebraska Extension in northeast Nebraska, so the event was meant to provide a more inclusive view of the University of Nebraska's research and Extension programs."
This year, the focus is centered on science, technology, engineering, agriculture and mathematics, or STEAM.
"We will have several of the same educational trailers and exhibits as last year," Kranz says. "We will talk about a new workforce development effort related to our feedlot operation, in conjunction with Nebraska College of Technical Agriculture [NCTA] at Curtis, Neb., Wayne State College and UNL."
Last year, attendees ranged in age from 5 to 95 years. Sessions this year also will focus on topics that relate to a wide age range, with activities for families available throughout the day. "We are making a specific effort to encourage FFA students to attend," Kranz adds.
Morning educational sessions will feature Tom Hunt, Nebraska Extension entomologist, speaking about soybean gall midge, and Stevan Knezevic, Nebraska Extension weed scientist, discussing the effects of dicamba micro-rates on non-dicamba tolerant soybeans, grapes and tomatoes.
Jim Jansen, Nebraska Extension agricultural economist, will talk about land values and cash rental rates for 2019, and Nebraska Extension agricultural economist Jay Parsons will talk about managing forage production risk.
A STEAM track of hands-on sessions for families and educators will feature Megan Taylor, Nebraska Extension innovative cropping and water systems educator, talking about soil health, and Hanna Pinneo, Nebraska Forest Service conservation education coordinator, speaking about Project Learning Tree. New sessions will be added to the schedule as details are firmed up.
In addition, a children's area will feature activities such as a makerspace trailer, UNL science literacy trailer and other STEAM explorations appropriate for all ages.
For the staff at HAL, support from local producers for their research and Extension programs has been stellar. "We continue to have research related to soil health, managing new insect pests, and chemically resistant weeds and insects," Kranz says. "The new part of this year's event will be a tour of the feedlot facilities highlighting the new program with NCTA."
A trolley riding tour of farm research plots will be offered, along with walking tours of Northeast Arboretum at HAL, to showcase different trees and shrubs that can be grown in northeast Nebraska.
More than 24 local business sponsors are supporting this year's field day event, and more than 33 booths and vendors will be attending, covering topics ranging from seed to machinery and farm safety to wind energy. Free lunch also is provided, sponsored by the Nebraska Soybean Board.
The research farm at HAL grew out of local interest for agricultural research to be conducted in northeast Nebraska. The Experimental Farm Association took a donation of a 320-acre farm from the C.D. Haskell family and turned it over to UNL in 1957.
Over the years, the facility grew to 480 acres, and staff there have conducted groundbreaking research in beef and swine management, as well as row crops, nutrient management, irrigation management, small grains, organic production, pesticide research, insect and chemical resistance issues, Conservation Reserve Program management, conservation and rural forestry.
Learn more by contacting Mary Jarvi at [email protected].
Subscribe to receive top agriculture news
Be informed daily with these free e-newsletters
You May Also Like
---