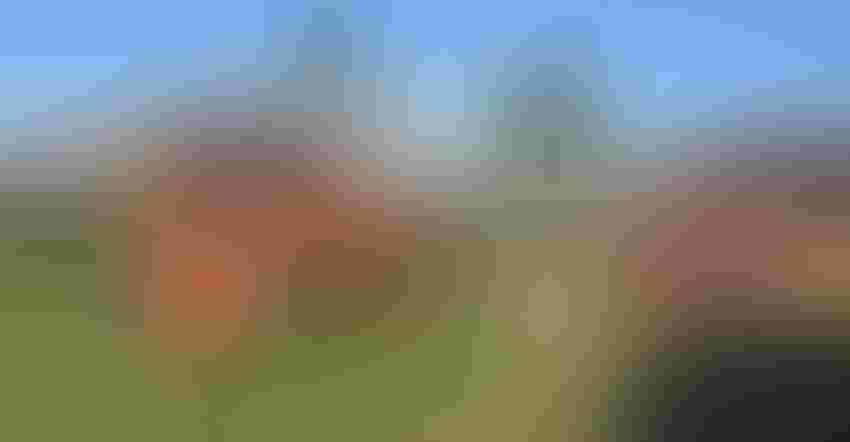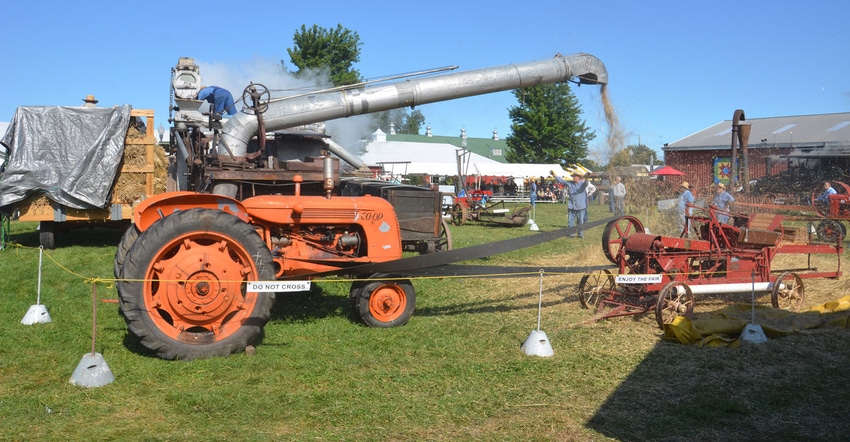 WEAR AND TEAR: If you use machinery long enough, parts wear out. But you don't just drop by your local John Deere or Case IH dealer to get parts for an implement like this one. A complete overhaul can be expensive.
The auctioneer's chant is music to many people's ears on the last Saturday of the Indiana State Fair. The Indiana Agricultural Alumni Association holds an "old-time farm auction" on that day.
Several tables filled with antique wrenches and tools led off the sale this year, followed by dozens of donated items. Items crafted by artisans who spend the fair pursuing their craft while people watch also donated items, including handcrafted wooden benches and the ever-popular handmade quilt.
"All the older hand tools came from one donor who collects tons of that stuff," says Ben Carter, who has managed the sale for the alumni association for the past couple of years. "We had a great crowd this year, and that helped. Many people bid because they wanted to help Pioneer Village, and some really want the merchandise."
A handful of screwdrivers might have sold for a few bucks. But if someone really wanted a certain tool, it may have brought $20 or more. Someone donated boxes of new gumboots for auction. They also helped raise money.

OLD-TIME AUCTION: You could have purchased some dandy old screwdrivers for a few bucks, but the handmade quilt cost quite a bit more. The Pioneer Village old-time farm sale raised money to restore machinery.
One of the hottest items was an old grain separator used at country elevators to form two equal samples of grain for moisture testing. Bidding started quickly and didn't stop until it was pushing $300. Carter himself donated the tool.
"It came along with a lot of other stuff I bought at an elevator going-out-of-business auction years ago," he recalls. "I bought the lot of stuff for something else, so it's just sat around for years." Who says one man's junk isn't another man's treasure?
Good cause
A group of quilters from LaPorte County made the quilt displayed at Pioneer Village during the 2018 Indiana State Fair. It features Purdue University colors. The price was approaching $3,000 when it was bid off by Ellsworth Christmas, a retired Purdue Extension agronomist still active at Pioneer Village.
"The money raised helps us repair and restore antique equipment which we use here at Pioneer Village," Carter explains. "People often donate items, but some of them are in rough shape. If we want to restore things, it often takes money."
One goal this year is to restore the threshing machine used at demonstrations during the state fair. Volunteers dressed in overalls feed bundles of grain, usually oats, into the thresher at set times every day for the 17-day run of the fair. Their predecessors were doing that in 1969 when I visited the fair as a teenager. Whether or not it's the same threshing machine, I'm not sure. But that's nearly 50 years of threshing seasons. Eventually, parts wear out. You don't go to the local machinery dealer to get parts for a Red River grain thresher, the kind sold by Nichols and Shepard, Battle Creek, Mich., founded in 1848 and long since out of business.
Carter says there is an Amish-run business in Ohio that completely refurbishes old threshing machines. The only problem is it's expensive. A complete refurbishing can cost as much as the price of a modern utility tractor or more.
Comments? Email [email protected].
Subscribe to receive top agriculture news
Be informed daily with these free e-newsletters
You May Also Like
---