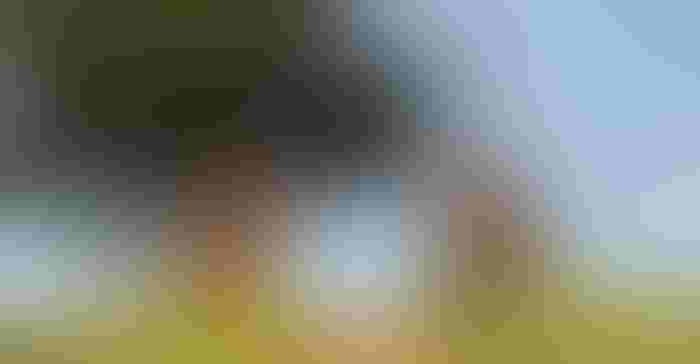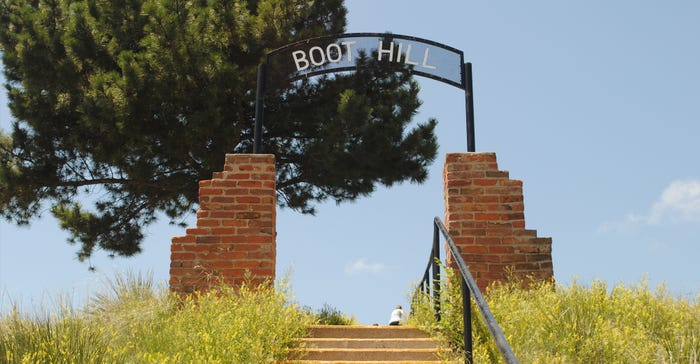 Located on a high ridge overlooking the South Platte River in Ogallala, Boot Hill has below its grassy surface a fair share of good Samaritans, unlucky gamblers, saints, ruffians and scoundrels.
Ogallala was only a decade old when Union Pacific Railroad built cattle pens west of Main Street. Cattle from Texas were driven along the Western Trail north to Ogallala, then loaded on rail cars for markets in the East.
Between 1870 and 1885, probably about 1 million head came up from Texas to Ogallala, making the town a mecca for trail-weary cowboys and all the characters that came along with them.
Saints and sinners
Among the more reputable burials on Boot Hill was Patrick Carroll, a settler and community man who moved to Ogallala in the 1870s with his mother, sister and three brothers. He developed a form of tuberculosis, so doctors recommended the move to the dry climate of western Nebraska. He was elected county treasurer in the fall of 1879, but he died that same December before taking office.
On the other hand, "Rattlesnake" Ed Worley was one of the last burials on Boot Hill. He was shot by a fellow gambler, Lank Keyes, in a saloon in August 1884 over a bet of $9.
The story goes that Worley lost his money playing a game of three-card monte, and asked Keyes to loan him more so they could keep playing. Keyes refused, so Worley rushed him with a knife. Keyes pulled a revolver and shot Worley in the corner of his eye, killing him instantly.
Gertrude Fisher was only 18 years old when she died of typhoid fever. Union Pacific workers, unknown cowboys, young ladies who died in tragic accidents on the Plains — or in childbirth — gunfighters, Indian warriors and other mysterious characters were all laid to rest on Boot Hill. There were 48 known burials, but most local historians estimate that many more lay beneath the grassy hill.
Cleanup
By the 1930s, most of the wooden signs and grave markers were in disrepair. The local Jaycees organized an effort in the 1960s to clean up Boot Hill, research those burials, plant trees and recover some of the early grave markers.
Originally, a statue sculpted by Burdette Gainsforth was installed at Boot Hill in 1965, depicting early Western Trail cowboy Lep Sanders. In 2007, that concrete statue was moved to Ogallala Livestock Market on West Highway 30, and a new horse and rider statue called the "Trail Boss" was added to the cemetery, overlooking the graves, the town and the old cow trail.
Learn more at ilovelakemac.com.
About the Author(s)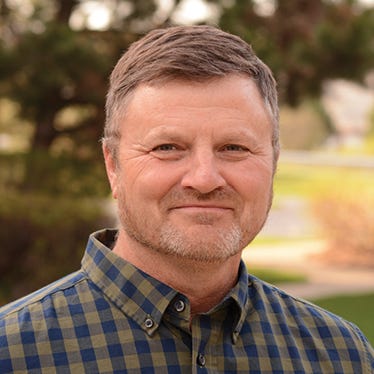 Curt Arens began writing about Nebraska's farm families when he was in high school. Before joining Farm Progress as a field editor in April 2010, he had worked as a freelance farm writer for 27 years, first for newspapers and then for farm magazines, including Nebraska Farmer.
His real full-time career, however, during that same period was farming his family's fourth generation land in northeast Nebraska. He also operated his Christmas tree farm and grew black oil sunflowers for wild birdseed. Curt continues to raise corn, soybeans and alfalfa and runs a cow-calf herd.
Curt and his wife Donna have four children, Lauren, Taylor, Zachary and Benjamin. They are active in their church and St. Rose School in Crofton, where Donna teaches and their children attend classes.
Previously, the 1986 University of Nebraska animal science graduate wrote a weekly rural life column, developed a farm radio program and wrote books about farm direct marketing and farmers markets. He received media honors from the Nebraska Forest Service, Center for Rural Affairs and Northeast Nebraska Experimental Farm Association.
He wrote about the spiritual side of farming in his 2008 book, "Down to Earth: Celebrating a Blessed Life on the Land," garnering a Catholic Press Association award.
Subscribe to receive top agriculture news
Be informed daily with these free e-newsletters
You May Also Like
---