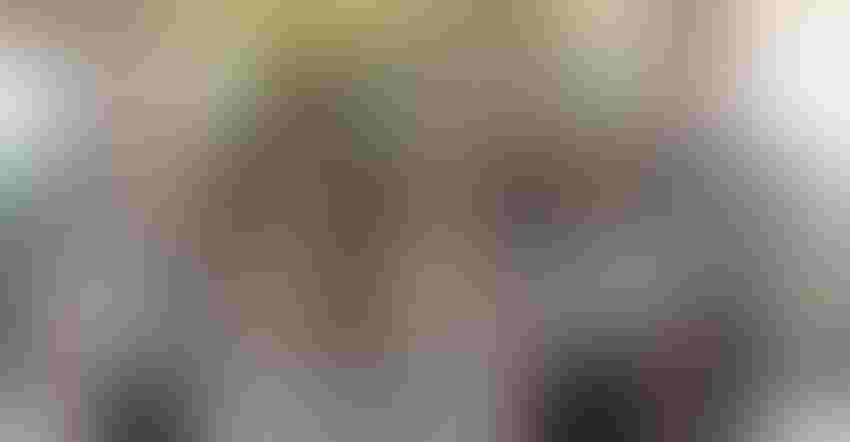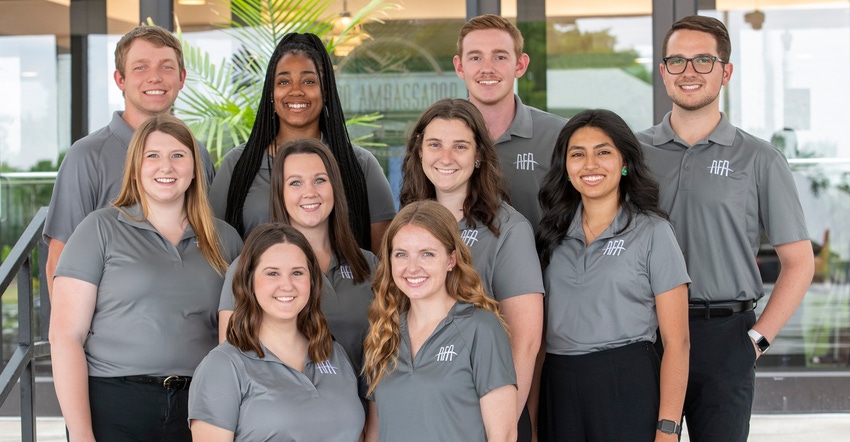 ASPIRING IN AG: The 2022 Agriculture Future of America Student Advisory Team included (top row, from left) Nathan Linke, Anarra Williams, Luke Altermatt and Hunter Gibson. In the middle are Kylie Farmer, Tomi Harrod, Emily Harold and Jasmine Garza. In front are Sally Reed and Ashley Hagenow.
Chris Krum
You've heard it a hundred times: lack of interest in agriculture, worry about future leaders and startling statistics for the amount of food farmers must produce with fewer resources. It's enough for anyone to have a bleak outlook on the future of agriculture. One organization is already training future leaders to solve these problems.
Eion Stephens, a junior at Purdue University, and Madisen Carns, a freshman, are learning more about agriculture through Agriculture Future of America. AFA is a nonprofit that shapes transformational leaders in agriculture, food and natural resources. AFA hosts college students from across the country for professional development opportunities at conferences and institutes, plus provides scholarship opportunities.
What happens at AFA
Student delegates network with professional industry leaders to gain an understanding of the current state of the industry and to receive mentoring on being a successful employee. These industry leaders work for companies in agriculture, food and natural resources, and have partnered with AFA for a mutually beneficial relationship.
Partner companies support AFA programming, and in exchange, employees and executives are invited to the programming to begin recruiting for jobs and internships, offer advice to delegates, and learn from delegates about their expectations and goals for future jobs.
At AFA leaders conferences and institutes, student delegates interact with industry professionals at career fairs and roundtable discussions and hear from keynote speakers. Students say they are enriched by what they learn and who they meet.
AFA does not host leadership conferences. Rather, these experiences are for students who have already proven themselves as leaders. They're ready for conversations about bringing change in agriculture. Students come from across the country, but their passion for agriculture ties them together.
Student experiences
Stephens, a third-year AFA Leaders Conference attendee, knows the future of agriculture rests not just on people from one background or experience, but on people across the globe. For him, AFA is a place where these people can convene to focus on the future.
"The future leaders of the agriculture industry come from all walks of life, but one thing they all have in common is passion for the industry and a passion for personal growth," Stephens says. "AFA provides a place for these leaders to meet other leaders, display their passion and grow."
Carns has similar thoughts about her first AFA Leaders Conference. Having been a state FFA officer before starting at Purdue, she knew she loved the agriculture industry, and was excited to find another opportunity to network, meet more people with similar passions and focus on career readiness.
"I felt that I learned a lot about work-life balance, positive thinking, career opportunities and other topics from the various speakers and sessions," Carns says.
These two students prove there are bright-minded, passionate young leaders who are biting at the reins to begin solving the world's problems.
So, fear not, agriculture industry. As Carns says, "The next generation is driven and ready to make change in the industry."
Harrod is a senior in ag communication at Purdue University. She is a member of AFA. Read about her personal experience with the organization.
Subscribe to receive top agriculture news
Be informed daily with these free e-newsletters
You May Also Like
---