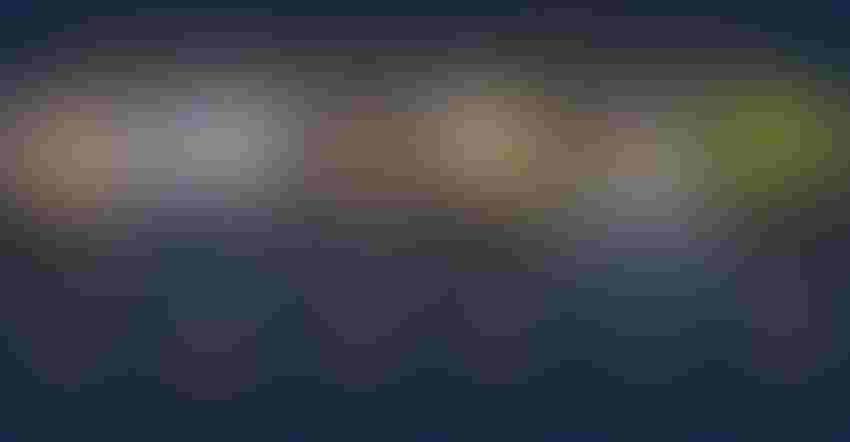 STATE LEADERS: The Minnesota FFA State Convention concluded with the election of the 2020-2021 state officer team. The newly elected team will serve nearly 11,000 members in Minnesota for one year.
Minnesota FFA
Staff and students who participated in the first virtual Minnesota FFA State Convention deemed the event a success with more than 500 students and 100 supporters participating in 40 interactive workshops, panels and tours.
The convention, held May 19-21, also included online award ceremonies and keynotes highlighting the achievements of the Minnesota FFA's top members.
The association's 91st convention highlighted the importance of agriculture education across nearly 200 Minnesota schools where 270 teachers provide students with classroom instruction surrounding agriculture, food and natural resources, according to Minnesota FFA. Those courses allow students to take on work-based learning projects known as Supervised Agricultural Experience (SAE) projects as research, entrepreneurial or placement efforts and earn awards and degrees through membership in FFA. FFA and SAE are integral components of school-based agricultural education.
Juleah Tolosky, Minnesota FFA executive director, acknowledged the team effort it took to re-organize the convention, which is usually held in April on the Twin Cities campuses of the University of Minnesota. The COVID-19 pandemic forced the event to be postponed.
"When it became clear our convention would be virtual this year, our team of state officers and leaders rose to the challenge," Tolosky says. "I cannot say enough about the six individuals on our Minnesota FFA State Officer team and the maturity with which they accepted their disappointment in not celebrating their year in person and the creativity they brought to bear in designing the virtual event."
New FFA state officer team
The final session of the convention concluded with the election of the six-member state officer team. Elected to office for the 2020-2021 term are Ben Olander, Staples Motley FFA, president; Emilee Xayanourom, Mountain Lake FFA, vice president; Mackenzie Craig, Alexandria FFA, secretary; Elaina Knott, Thief River Falls FFA, treasurer; Anna Euerle, Litchfield FFA, reporter; and Laney Swiers, Mahnomen FFA, sentinel.
The newly elected team will serve nearly 11,000 members in Minnesota for one year. They will also spend the next year representing Minnesota, agriculture and agricultural education at state and national levels. The state officer candidates were interviewed by a panel of FFA members, agricultural educators and representatives from partnering organizations in early May.
Top award recipients
The Eden Valley Watkins FFA Chapter received top honors for the State FFA National Chapter Award, sponsored by the Minnesota FFA Foundation. FFA chapters apply for this honor by highlighting their activities in the categories of growing leaders, building communities and strengthening agriculture. Chapter applications are reviewed and scored by a series of judges who evaluate innovative ideas and accomplished goals.
Other chapters advancing to national competition included: Chatfield, Howard Lake Waverly Winsted, South Central AgriScience Academy, Staples-Motley, Princeton, Sleepy Eye, Randolph, Plainview-Elgin-Millville, Forest Lake, Springfield, Academy for Sciences and Agriculture, Morris Area, Redwood Valley, Martin County West, Dassel-Cokato, Thief River Falls, Detroit Lakes and Tracy Area.
The virtual Minnesota FFA State Convention is archived and available to watch on mnffa.org and the Minnesota FFA Association's social media platforms and YouTube page, which also features videos of the retiring addresses of the 2019-2020 state officer team.
Lipinski wins ag comm proficiency award
Adrienne Lipinski, Eden Valley FFA, was selected as winner of the Minnesota FFA agricultural communication proficiency award.
The Farmer magazine is a long-time sponsor of the ag comm award.
PROFICIENCY WINNER: Adrienne Lipinski, Eden Valley FFA, was the recipient of this year's Minnesota FFA agricultural communications proficiency award. The Farmer magazine is a long-time sponsor of the ag comm award.
Lipinski is a recent graduate of Eden Valley Watkins High School. In the fall, she plans to attend South Dakota State University and major in agricultural communications.
Throughout her FFA career, which began in 7th grade, Lipinski has served as chapter president, secretary and reporter, and as Region V secretary and reporter. She has participated in Career and Leadership Development Events for general livestock, floriculture and farm business management, creed speaking, employability skills, prepared public speaking and parliamentary procedure.
Her SAE Proficiency areas include agricultural communications, swine production placement, poultry production placement, diversified livestock and swine entrepreneurship. In the area of agricultural communications, Lipinski managed her FFA chapter's social media accounts and made promotional posts about activities, contest results and fundraisers. She wrote articles for her school newspaper, Eagles Cry, while also working for her hometown newspaper, The Voice.
Additional communication activities include creating promotional posters for the Meeker County Fairground in the FFA barnyard and giving local radio interviews.
When not participating in FFA activities throughout her high school career, Lipinski was active in other clubs such as speech, 4-H, the National Honor Society; serving on the student council and as class officer; taking wrestling team stats and working for her school newspaper.
About the Author(s) Paula Mohr has been editor of The Farmer since 2004. She enjoys covering a wide range of topics that are of interest to Minnesota producers.
Subscribe to receive top agriculture news
Be informed daily with these free e-newsletters
You May Also Like
---