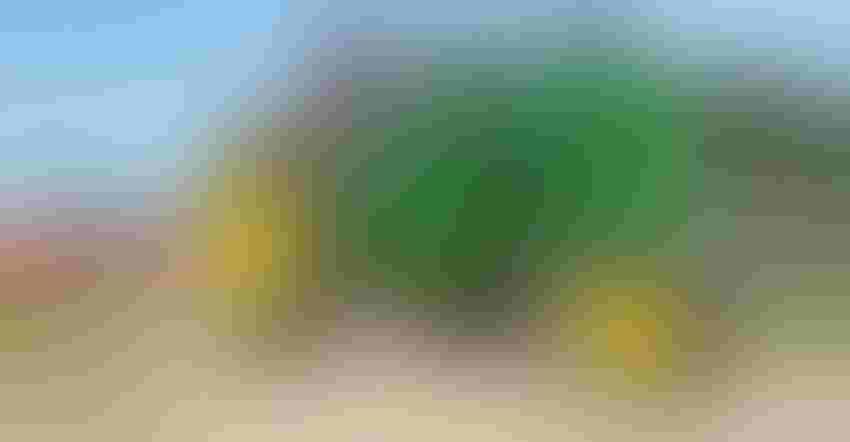 FARM FAVORITE: Jake Standal uses his newly restored tractor to handle little jobs on his family's farm near Elkhorn, Wis.
As a youngster, Jake Standal of Elkhorn, Wis., learned how to drive a John Deere 3020 diesel and a John Deere 2510 for his neighbor. "Basically, I grew up on those machines and always dreamed of owning my own tractor," he says.
In 2008, during his junior year in high school, Standal found a 1947 John Deere B on Craigslist and purchased it for $1,500. "It was in rough shape, covered in rust, and the tires were nearly bald. I used it for three years to rake hay. When the magneto gave out, it just sat in the shed, and then outside, and was basically forgotten."
Features on the B included: manual steering, tricycle front axle, differential mechanical expanding brakes, dry disk clutch, open operator station with pressed steel seat, six-speed transmission and 2.4-liter two-cylinder all-fuel engine. It weighs 3,275 pounds, has four forward and one reverse gears, high- and low-range shift lever, two lights in front by the steering wheel, oil bath air cleaner, 12 hp on the drawbar, 16 hp on the belt, 12-gallon fuel tank and 1-gallon auxiliary tank.

DILAPIDATED TRACTOR: Jake Standal bought this John Deere B for $1,500 in 2008.
Between 1935 and 1952, there were 55,670 B unstyled tractors manufactured in Waterloo, Iowa. The B was introduced as a smaller tractor to fill the needs of row crop farmers who did not need a tractor as large as the model A. During its production run, the version of the B can be broadly divided into three groups. The original B is often referred to as "unstyled" and included all tractors built through 1938. In 1939, with tractor serial number 6,000, began the "early styled" model B. In 1947, with tractor number 201,000, began the "late styled" model B. Within the first year of production, tractors 1,000 through 3,042 used a four-bolt front pedestal.
In the past couple of years, a new chapter opened for Standal's tractor. Prior to Standal getting married in June 2018, Bryan Rowntree, his college roommate at University of Wisconsin-Madison, and Standal's family wanted to restore the B as a wedding gift. This process involved stripping the frame; removing the dents; and adding a new carburetor, magneto, electrical wiring, tires and rims. After 100 hours, nearly $3,000 and some TLC, the B was ready for the couple's special day.

WEDDING BLISS: Bryan Rowntree and Jake Standal's family restored the John Deere B in time for Jake and his bride, Ashley, to drive it at their wedding reception in June 2018.
"All the guests were surprised when Ashley and I drove it at our wedding reception," Standal says. "Today, it handles little jobs, like raking hay, pulling wagons and running the grain auger. Restoring something that was broken down and turning it into a beautiful green swan was an enjoyable experience. That B truly is my one and only favorite tractor."
Persinger writes from Milwaukee, Wis. To have your favorite tractor featured, email or send in a photo of yourself with your tractor, along with a 300- to 400-word write-up about the tractor, to: [email protected] or Wisconsin Agriculturist, P.O. Box 236, Brandon, WI 53919.
Subscribe to receive top agriculture news
Be informed daily with these free e-newsletters
You May Also Like
---