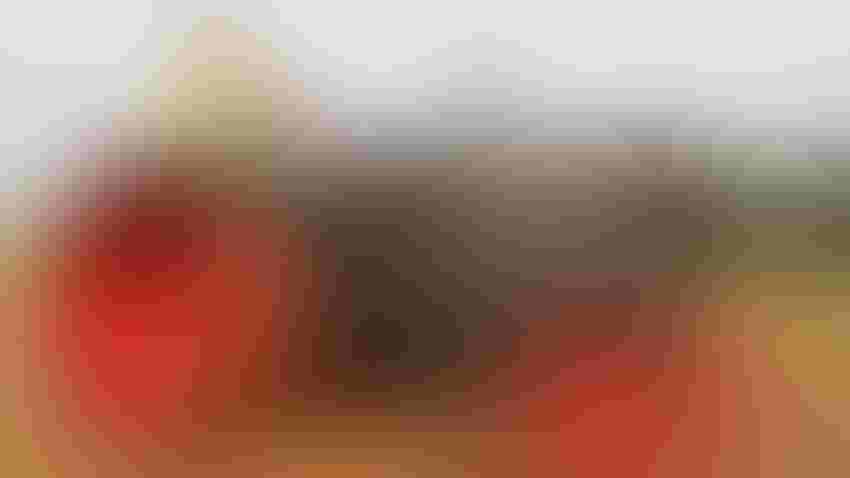 CHERISHED TRACTOR: William Gorell loves displaying his 10-20 McCormick tractor. His grandfather Ed Duffy of Eau Claire, Wis., bought the tractor in 1929.
Harlen Persinger
Since coming off the dealership showroom 95 years ago, a model 10-20 McCormick tractor worked on numerous operations that were farmed by many of his uncles and aunts, notes William Gorell of Eau Claire, Wis. The tractor was originally purchased by a sawmill, but the owner decided he wanted a model 15-30. The 10-20 was neglected and sat outside with water in the radiator, which created enough damage to crack the block.
Eventually, the tractor went back to the dealership, but it was never repaired correctly and remained on the lot. In 1929, Ed Duffy of Eau Claire bought the 10-20 after a horse kicked in the radiator on his model 1918 Fordson. After repairs, the 10-20 was used for threshing, plowing, tilling and filling the silo. As the machine passed through several family members over many years, no one ever had a proof of purchase or a receipt for any payment.
"Eventually my grandfather, Ed, sold the 10-20 to Charlie Bruce, and in 1985 my brother, Ed, and father, Bill, became the owners," Gorell says. He co-owns the tractor today with his brother. "Repairs have involved putting in new valves and a magneto, but it has never been repainted."
This standard-tread tractor was built by International Harvester from 1923 to 1939 in the Chicago tractor works factory. There were 215,551 units made, and in 1928, the 10-20, priced at $785, was given slightly more power by increasing the governed rpm to 1,025. It was preceded by the International 8-16 and super-ceded by the McCormick Deering W-30.
The 10-20 was modern for its day and was an immediate success. However, sales dropped off in later years after the company brought out the newer W-30.
Features include manual steering, open operator station, three-speed synchronized gear transmission, three forward gears and one reverse gear, a weight of 3,700 pounds, 14.5-gallon fuel tank, 20 hp on the belt and 10 hp on the drawbar.
"This is my favorite tractor because of so many pleasant memories with it when I was growing up," Gorell says. "It still starts good but doesn't work many hours due to a tight crank and steering."
Persinger writes from Milwaukee. To have your favorite tractor featured, email or send in a photo of yourself with your tractor, along with a 300-word write-up about the tractor, to: [email protected] or Wisconsin Agriculturist, P.O. Box 236, Brandon, WI 53919.
Subscribe to receive top agriculture news
Be informed daily with these free e-newsletters
You May Also Like
---