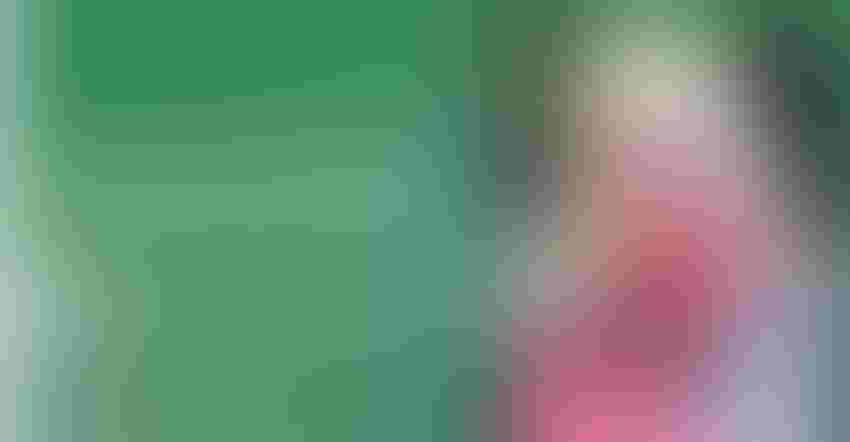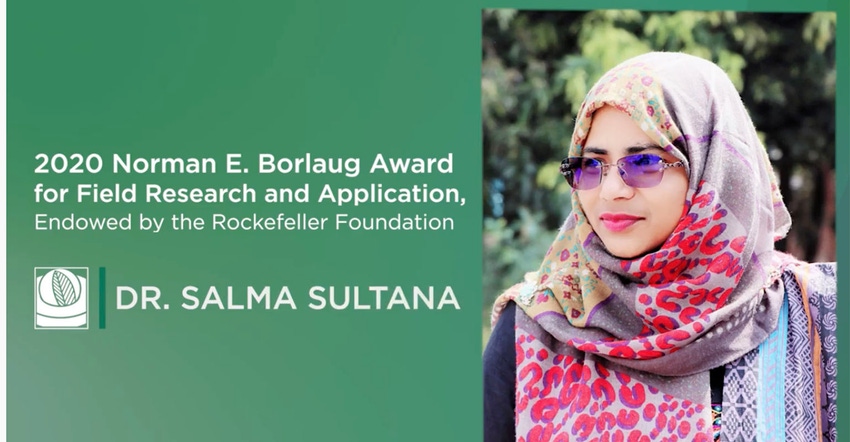 Dr. Salma Sultana, of Bangladesh, is the 2020 recipient of the Norman E. Borlaug Award for Field Research and Application, Endowed by the Rockefeller Foundation. She is recognized for her innovative model providing veterinary outreach, treatment and education to thousands of small-scale farmers in Bangladesh. She founded Bangladesh's first vocational training institute to educate hundreds of livestock service providers and create sustainable employment opportunities, especially for women and young people.
"This year we honor a woman for her innovative model of providing veterinary outreach, treatment and education to thousands of small-scale farmers in Bangladesh," said Barbara Stinson, president of the World Food Prize Foundation. "These achievements have not been easily won. As a woman in a male-dominated field operating in situations with less than adequate resources, Sultana has encountered numerous obstacles, shown great persistence and innovation, and demonstrated exemplary accomplishment in her efforts to overcome the food security challenges in her country."
As Sultana began her professional career, she realized the significant gap between the availability of and demand for livestock treatment in the rural and peri-urban areas of Bangladesh. She observed that farmers, whose livelihoods are heavily dependent on their livestock, often do not have access to trained veterinary practitioners and affordable veterinary treatments. Farmers therefore frequently called on untrained village doctors or treated animals on their own, resulting in unsuccessful treatments, high mortality rates and the improper use of drugs such as antibiotics. The deaths of these animals are a loss of income, savings and investments for farm families. Additionally, over time, improper treatment of animals with medications hastens multi-drug resistance and can lead to life-threatening health complications in people and animals.
To address the struggles faced by small-scale livestock producers across Bangladesh, Sultana founded the Model Livestock Institute in Dhaka in 2014. The first of its kind in the country, the Model Livestock Institute is a vocational livestock training center. Their efforts to date have produced more than 500 youth entrepreneurs and 100 livestock service providers.
"I worked day and night building my dream to reality, hoping not to crumble in the middle and told myself not to give up, not to give up now," said Dr. Sultana. "My great hope is to continue my work to build a hunger and poverty free world. The journey to establish my organization wasn't one without difficulties. In the context of a developing country, I also had to go through a lot of unsmooth and challenging paths, faced lots of obstacles and still facing."
Realizing the need for emergency veterinary services, Sultana founded the Model Livestock Institute Veterinary Hospital. This private hospital was the first non-government, outdoor veterinary hospital in Bangladesh. Since its start in 2015, the Hospital has provided animal health support to more than 5,000 farmers, substantially reducing economic losses for them and their families.
In 2016, Sultana founded the Model Livestock Advancement Foundation. The Foundation's mission is to promote rural development through focusing on women's empowerment, farmer awareness, animal rights, and food and nutrition security. In her pivotal leadership role at the Foundation, Sultana continues her successful efforts to improve rural livelihoods, with training and education of farmers and the public at the forefront.
The wide variety of efforts championed by Sultana, from veterinary care and research to farmer outreach and public education, have improved the lives of thousands of individuals through employment, empowerment and improved nutrition.
"When the Borlaug Field Award was established in 2011, we dreamed of a cohort of individuals who would have the same spirit, passion and drive as Dr. Borlaug. Today, as we announce our 9th Borlaug Field Award recipient, I am truly honored to say that we have accomplished that goal," said Ronnie Coffman, chair, Borlaug Field Award Selection Committee. "Our recipient daily answers Dr. Borlaug's call to 'take it to the farmer,' while working toward a sustainable livestock sector that contributes to a food secure and poverty-free Bangladesh."
Source: World Food Prize, which is solely responsible for the information provided and is wholly owned by the source. Informa Business Media and all its subsidiaries are not responsible for any of the content contained in this information asset. 
Subscribe to receive top agriculture news
Be informed daily with these free e-newsletters
You May Also Like
---