John Canary drove his truck and trailer 110 miles with an Allis-Chalmers D-19 chained down on board just to participate in the second annual Delphi FFA Tractor Drive earlier this summer. He left in the dark at 5:45 a.m. to be there on time. And to finish the drive, he drove his tractor 15 miles in a steady rain. Maybe that doesn't sound like your type of fun. To Canary, it was a blast!
"I love to drive in one every chance I get," he says. "It's fun to see a different part of the country driving at a slow speed on local roads. You get to see what it's like somewhere else in the state.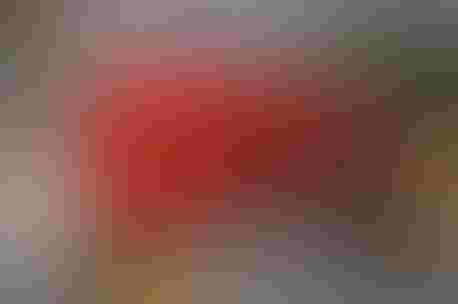 FRUITS OF LABOR: This Massey Harris tractor was rebuilt from the ground up in the Delphi Ag Shop this past school year. It was part of the recent Delphi FFA Tractor Drive.
"I also like to keep the older tractors running and preserve the history. But most of all, I enjoy the fellowship with other people. If you go to a couple of drives, you soon meet people who come back, and it's easy to strike up conversations. Anyone who shows up at a tractor drive is usually easy to talk to."
Canary isn't the only one who enjoys tractor drives. Yours truly went along as well. Only we didn't haul a tractor for me. It was waiting at Delphi. The Delphi FFA and ag mechanics students, under the direction of adviser Doug Walker, restored it for me during the school year. The unveiling was the day of the tractor drive — the first day I saw it, and I was in awe. It looked great, ran great and drove even better.
You'll hear more about the tractor restoration project soon.
Special thrill
The week before the drive, I attended the 100th running of the Indianapolis 500. Maybe it's a strange comparison, but somehow sitting atop my refurbished Massey-Harris, following Walker on the lead tractor, a John Deere 60, it was as thrilling to me as watching cars zip around at more than 200 miles per hour.
There was even strategy involved just like in the race. Walker flipped the route, knowing rain was coming, so we could see the scenic part of the route before the rains came.
By noon, it rained, and rained! We donned rain gear and drove 15 miles back to the starting point. Walker upped the speed going back, and to keep up, I needed to go up another gear. Before I knew it, I was getting passed by an Empire tractor. I pulled off and shifted to road gear. I was back in seventh spot, but when two tractors pulled off to make adjustments, I was back to fifth in line. Who says it isn't like the Indy 500?
Tractor pulls get in some people's blood, showing steers or barrowing others. Tractor drives allow people who appreciate both older and newer tractors to gather, get time alone on past and present workhorses, and swap stories over lunch. It brings back memories of times when farmers talked more about tractors than cash rents, and didn't mind sharing with one another.
So the next time someone invites you to a tractor drive, give it some thought. You just might find a new way to relax and connect with your past roots, both through iron and people.
Subscribe to receive top agriculture news
Be informed daily with these free e-newsletters
You May Also Like
---