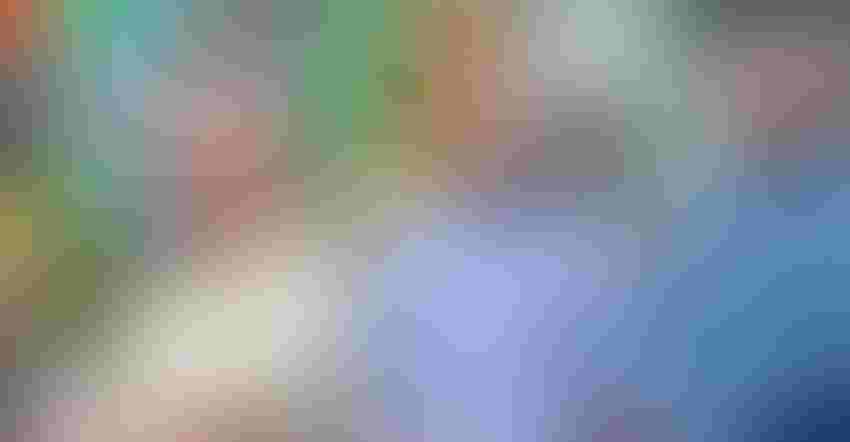 ALL AGRICULTURE: U.S. Secretary of Agriculture Sonny Perdue (left) talks to media and farmers on a picture-perfect day in a down-home setting at the Indiana State Fair. Randy Kron, Indiana Farm Bureau, (center) and Gov. Eric Holcomb look on.
The sun was shining without a cloud in the sky. It was 80 degrees F with low humidity. The colorful down-home decorations in front of the Normandy Barn made a classic backdrop for Gov. Eric Holcomb to welcome Sonny Perdue to the Indiana State Fair. Perdue is the new U.S. secretary of agriculture.
Perdue visited the historic Normandy Barn, home of the Indiana State Department of Agriculture exhibits at the state fair, to attend a listening session about the next farm bill with invited guests. The media was not allowed access to the meeting.
One source who was in the listening session said Perdue spent more time listening than talking. When he did speak, he told others what he agreed with and what he thought might need more evaluation. The former Georgia governor in tennis shoes was a breath of fresh air to many who had not yet met him.
"President Trump realizes that as agriculture goes, so goes the country," Perdue told the crowd outside the barn after the listening session adjourned. "We want a good safety net for farmers. But we also believe it is a safety net for consumers, as well."
Questions from the media followed Perdue's brief remarks, and gave him the opportunity to comment on various challenges facing agriculture and America today. Here is a sampling of what he had to say on various topics.
• On trade since the Trump administration walked away from the Trans-Pacific Partnership agreement earlier this year. "We believe we can reach better deals working with these countries bilaterally," Perdue said. "Our goal is to put together trade deals that are better than we could have had under TPP, and I believe we can do that.
"I intend to borrow ISDA Director Ted McKinney from Indiana for a while, and send him all around the globe helping sell agricultural products.
"NAFTA, which involves trade with Mexico and Canada, has been pretty good for agriculture, but it needs tweaking. We want to make it better."
• On agriculture's importance as negotiators reach trade deals around the world. "We have stressed to everyone in the administration that when it comes to agricultural trade, the goal is to 'do no harm' while putting together other trade deals," Perdue said. "Sometimes the temptation is for agriculture to be the tip of the spear in negotiations. We've made it clear that no one should use agriculture as a sacrificial lamb in trade negotiations."
• On funding for the Supplemental Nutrition Assistance Program and other USDA assistance programs. "SNAP was fully funded in the '18 budget," Perdue pointed out. "Yes, it's projected that there will be less money used, but that's because more people are finding jobs, and there will be less need for public assistance. That is how these programs are supposed to work. They are supposed to help people in need make it through until they can take care of themselves again. They are not supposed to be permanent assistance."
• On priorities from the state fair listening session for the 2018 Farm Bill. "Note that USDA doesn't write the farm bill," Perdue said. "People are telling us they want a safety net. Farmers participate in crop insurance, which is a major piece of that safety net. We want crop insurance to continue as the safety net.
"Some commodity programs fared somewhat better in the '14 Farm Bill than others. Cotton and dairy still have some issues. We hope those are addressed in the '18 Farm Bill."
Subscribe to receive top agriculture news
Be informed daily with these free e-newsletters
You May Also Like
---