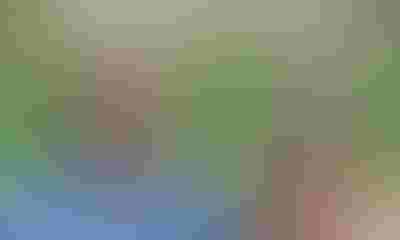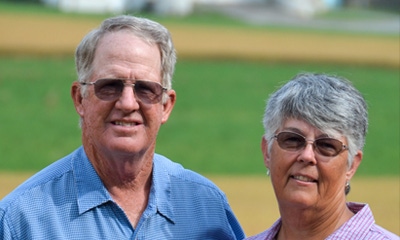 Not many can say they started farming twice. After building a grain farm in the mid-1970s, David Burrier suffered losses in an elevator bankruptcy, sold his Union Bridge, Md., farm and downsized, then became partially paralyzed via back surgery in 1993 and began working for a fertilizer company.
But he retained his positive "I can do it" attitude and was drawn to Linda, a like-minded farm woman. In 2002, the two married. In 2003, they purchased his parents' farm and started farming again. By 2006, they were back to farming full time again. "Together, we make a powerful team and share the same visions, work ethics and goals," he says.
SUSTAINABLE MODEL: The Burriers employ extensive conservation BMPs and precision ag to grow their farm.
Today, the Burriers' Linganore Farm is a 1,160-acre grain and hay business, and a sustainable agriculture model in the rolling hills of Carroll County, Md. Fields are strip-cropped, cover-cropped and rotated. Their "never-till" mentality has paid off in rising yields, organic matter and fertilizer efficiency, plus less labor, machine and fuel costs.
With a large part of the Burriers' income portfolio coming from hay and straw, they can stack 40,000 bales away with a stack wagon and forklift with three people in a shed built for that purpose. Precision ag technology and data from it has already proven the benefits of cover cropping and increased nutrient efficiency on Linganore Farm. The Burriers employ GPS technology on their sprayer booms, corn planter and dry fertilizer spreader. The latter, plus stabilizing nitrogen, saved 15% on fertilizer, paying for that investment in one year. Growing test plots for two seed companies has helped them evaluate new varieties and steadily increase overall yields.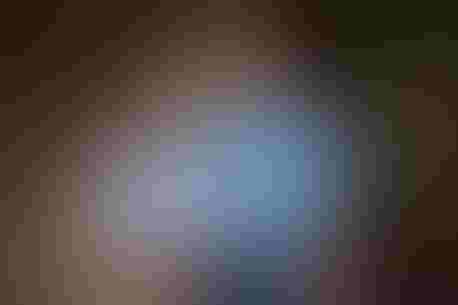 2 GENS: David Burrier credits his father, Joe, for giving him an opportunity to farm.
The Burriers try to keep their on-farm return on investments to two to three years. "That frees up dollars to do other improvements," adds David.
Social ag advocacy
"We have to communicate, advocate and participate in conversations about agriculture at every opportunity," stresses Linda. "It's as important as any duty at home."
That advocacy started years ago on the farm with an early August antique equipment show. It draws close to 500 people. Signs and displays share the message that farmers, too, are Chesapeake Bay environmentalists.
Both have had numerous leadership roles in the United Soybean Board, Maryland Ag Commission, Mid-Atlantic Soybean Association, Farm Bureau, their local Southern States Cooperative boards and more.
For their involvement in greater agriculture, David earned a DuPont's Young Leadership award; Linda received Syngenta's Leadership at its Best award.
Watch for tomorrow's 2016 Master Farmer feature on Francis and Daniel Mains of Newville, Pa. and here for a roundup on all nine 2016 Master Farmers.
About the Author(s) Editor, American Agriculturist
For more than 38 years, John Vogel has been a Farm Progress editor writing for farmers from the Dakota prairies to the Eastern shores. Since 1985, he's been the editor of American Agriculturist – successor of three other Northeast magazines.
Raised on a grain and beef farm, he double-majored in Animal Science and Ag Journalism at Iowa State. His passion for helping farmers and farm management skills led to his family farm's first 209-bushel corn yield average in 1989.
John's personal and professional missions are an integral part of American Agriculturist's mission: To anticipate and explore tomorrow's farming needs and encourage positive change to keep family, profit and pride in farming.
John co-founded Pennsylvania Farm Link, a non-profit dedicated to helping young farmers start farming. It was responsible for creating three innovative state-supported low-interest loan programs and two "Farms for the Future" conferences.
His publications have received countless awards, including the 2000 Folio "Gold Award" for editorial excellence, the 2001 and 2008 National Association of Ag Journalists' Mackiewicz Award, several American Agricultural Editors' "Oscars" plus many ag media awards from the New York State Agricultural Society.
Vogel is a three-time winner of the Northeast Farm Communicators' Farm Communicator of the Year award. He's a National 4-H Foundation Distinguished Alumni and an honorary member of Alpha Zeta, and board member of Christian Farmers Outreach.
Subscribe to receive top agriculture news
Be informed daily with these free e-newsletters
You May Also Like
---