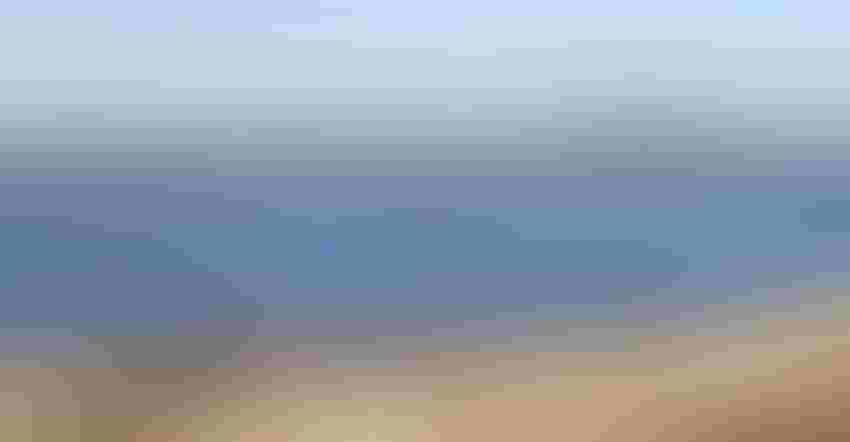 FAILED: The 2017 Iowa Legislature failed to reach agreement on how to provide long-term funding for water quality programs, such as cost-share for farmers. "This year's session was a missed opportunity to act boldly on improving Iowa's water," says Kirk Leeds, Iowa Soybean Association leader.
The Iowa Legislature finished its 2017 session April 22 without coming up with a plan to significantly increase funding for programs to improve the state's water quality. A couple of bills were proposed but they failed to muster enough consensus to reach Gov. Terry Branstad's desk. More discussion is likely in the 2018 legislative session.
Lawmakers this year considered several proposals, including bills to shift existing state funding toward water quality projects and a proposal to increase the state's sales tax while cutting other taxes. The Senate passed a plan to phase in an additional $27 million annually for water quality, but it died in the House. The other proposals failed as well, although the Legislature did authorize some state spending for water quality, as in the past.
Who was for it; who was against
Support for increasing water quality funding depended on which proposal was being considered. Branstad backed a Senate bill that avoided raising state taxes. Democrats opposed Republican plans to shift money to pay for water quality programs, calling it a shell game. They said new tax revenue is needed for water quality, and contend that Republican plans to rely on existing revenue would require cuts in state spending for education and other state programs.
Water quality funding and related issues aren't going away. Iowa's Nutrient Reduction Strategy, adopted in 2013, calls for gradually reducing nitrogen and phosphorus levels in streams and rivers by 45%. "This is going to be a long process. We didn't get here in two years. We aren't going to fix it in two years," says Sen. Tom Shipley, R-Nodaway, who chaired a subcommittee to discuss water quality legislation.
What other leaders are saying
Iowa leaders issued the following statements after the close of the 2017 legislative session:
• Iowa Ag Secretary Bill Northey: "Iowa is recognized as a national leader for its collaborative, research-based efforts to improve water quality. We are proud of all the work being done on our farms and in communities across the state.
"I thank the Iowa Legislature for approving increased annual appropriations for both the Iowa Water Quality Initiative and soil conservation efforts in fiscal year 2018. The Legislature approved over $10.5 million for water quality this session, which will allow us to continue to expand efforts already underway. I also thank Gov. Branstad and Lt. Gov. Reynolds for their continued leadership in identifying and securing ongoing funding to support water quality efforts in Iowa. 
"While I'm disappointed the Legislature wasn't able to reach an agreement on a long-term water quality funding source this year, we will continue the important work of reaching out and working with all Iowans to achieve the water quality goals we share."
• Gov. Terry Branstad: "As a former legislator, former lieutenant governor and as governor, I've worked with the Legislature for 33 years. Looking at the volume and diversity of policy and budget issues that were addressed this year, I'm proud to say this has been one of the most significant and productive legislative sessions in our history. There is a long list of accomplishments that would not have been possible without the hard work of the Iowa Legislature."
"However, I remain disappointed that we and the legislature were unable to reach consensus on a long-term, reliable and dedicated source of funding for water quality infrastructure. In the next 30 days, Lt. Gov. Reynolds and I will thoughtfully and carefully review all the bills passed by the Legislature and sent to my desk for approval, and we will act on those bills according to our principles."
• Lt. Gov. Kim Reynolds: Although both chambers, the Iowa House and Iowa Senate, have now passed water quality funding bills, I'm disappointed we were unable to reach consensus this year and put a bill on the governor's desk. This issue of how to better fund water quality programs and projects in our state remains of utmost importance to Iowans. I hope we are able to address it in the next legislative session."
• Iowa Soybean Association CEO Kirk Leeds: "Republicans in the 2017 Iowa House advanced a water quality bill that we supported, but it fell short of reaching the governor's desk for approval. This year's legislative session was a missed opportunity to act boldly on improving Iowa's water.
"We are disappointed that such legislative action to provide long-term funding for a watershed-based approach to improving soil conservation and water quality will have to wait another year.
"ISA will continue to be a leader in advancing farmer-led efforts throughout Iowa that benefit soil, water and agriculture productivity. Soybean farmers will continue to engage in dialogue with legislators about the benefits of using a collaborative, watershed approach to improve water quality. And ISA will seek continued partnerships with both farmers and cities to make real progress on soil conservation and water quality improvement to the benefit of all Iowans."
Subscribe to receive top agriculture news
Be informed daily with these free e-newsletters
You May Also Like
---