 Self-propelled sprayers are out in full force on Midwest corn and soybean fields. So, we thought it would be a good time to review some basic tips to ensure even and targeted spray coverage. Here are eight of them offered by Bob Wolf, former extension specialist with Kansas State University and manager of Wolf Consulting & Research LLC: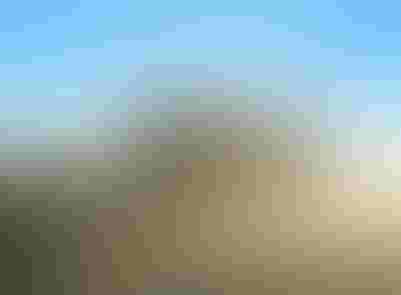 1. Select nozzles that produce droplets that are as large as practical to provide necessary coverage. Larger droplets are less likely to drift. Nozzles designed to reduce drift are commonly available for applying crop protection products.
2. Increase product flow rates. If you use nozzles that put out 10 to 15 gallons of chemical per acre (GPA), increase to nozzles that put out 15 to 20 GPA. Higher flow rates with the proper nozzle design can reduce the chance of drift.
3. Use the lower end of the spray pressure range to provide adequate coverage. Higher pressures generate many more small droplets (less than 100 microns). However, some of the newer nozzle designs will require higher spray pressure to provide adequate coverage, still capable of reducing the drift potential.
4. Lower boom height to 18 to 24 in. above target. Wind speed increases with height. If boom height is a few inches lower, off-target drift is reduced.
5. Avoid high application speeds or rapid speed changes to ensure even coverage.
6. Avoid adverse weather conditions. Spray when wind speeds are less than 10 mph to prevent the chemical from being blown off target of the weed. Do not spray when the air is very calm. Calm air, or a temperature inversion, reduces air mixing, causing spray to move downwind. Inversions are common near streams or ponds and generally occur from late afternoon/early evening to early the following morning and then dissipate after sunrise and when the wind starts to stir. 
7. Leave a "buffer zone" if sensitive plants are downwind. Spray the buffer zone when the wind changes direction. The buffer zone width will be determined by droplet size and wind speed.
8. Consider using new, drift-reducing technologies. Examples include new nozzle designs, drift control additives, spray hoods and shields, and pulse width modulation.
For more information about these or other tips, contact Wolf at http://www.rewolfconsulting.com/ or go to www.farmindustrynews.com and search "sprayers."
Subscribe to receive top agriculture news
Be informed daily with these free e-newsletters
You May Also Like
---