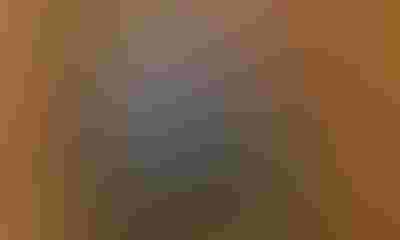 Plant, spray, harvest — some think that is all a conservation farmer, particularly a no-till farmer, does to raise crops. If you talk to successful no-tillers, you quickly learn that's 180 degrees removed from the truth. Good no-tillers are always thinking, always planning, always taking the next step to improve their operation.
STALK SAMPLING: Danny Greene, Franklin, owner of Greene Crop Consulting, prepares to cut an 8-inch sample from a cornstalk before harvest. He cuts out sections from several stalks to form one sample.
Salute Soil Health provides information to help them do this even better. The column is prepared by the Indiana Conservation Partnership, led by a team of Natural Resources Conservation Service personnel, including Don Donovan, Brian Musser and Clint Harrison, district conservationists; Susannah Hinds, grazing specialist; Scot Haley, resource soil scientist; Kris Vance, public affairs specialist; Victor Shelton, state agronomist and grazing specialist; Tony Bailey, state conservation agronomist; and Shannon Zezula, state resource conservationist.
Test stalks
If you want to know how much nitrogen your corn crop took up this past growing season, you can do cornstalk nitrogen testing, Musser says. Cornstalk samples are taken after the black layer stage but before harvest, and then sent to a lab to be analyzed.
Nitrogen that was not used to produce grain is stored in the lower portion of the cornstalk.  Results with high nitrogen numbers suggest more N was applied than needed for grain production. Low cornstalk nitrogen test results suggest not enough N was applied.
Musser says cornstalk nitrogen tests do not provide recommendations for current or future N applications. They help you evaluate how past nitrogen rates worked with the given crop year's weather patterns and other factors.
Participants in the INfield Advantage testing program, operated through the Indiana State Department of Agriculture, typically take or have crop consultants take stalk samples. For more information on cornstalk nitrogen testing, visit the INfield Advantage website.
Harvest and erosion
Fall is also the time to learn what your crop has produced for the season, Harrison says. It's a great time to see how your fields have held up to spring and summer rains in terms of soil erosion.
Is the combine bouncing over gullies or sedimentation bars? If your fields were eroding with an actively growing crop, what will the fall and winter season leave behind for spring planting if the soil is left bare? 
Cover crops can protect the soil by providing the ground cover and roots needed to keep soil in place, Harrison says. Cover crops can also hold on to the nitrogen that may have been left behind until next spring. 
If you select cover crop species that overwinter, they can also curtail next spring's erosion by providing biomass and ground cover prior to planting.
This harvest season, think about how cover crops could work for your operation. It's not too late to seed cover crops, depending upon the species you select. Many farmers report that cereal rye can be seeded even into early November and still produce good results next spring. They just might make for a smoother ride during planting and harvest in 2017!
Subscribe to receive top agriculture news
Be informed daily with these free e-newsletters
You May Also Like
---