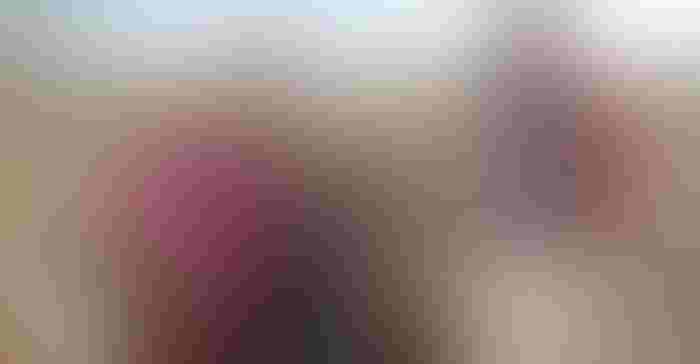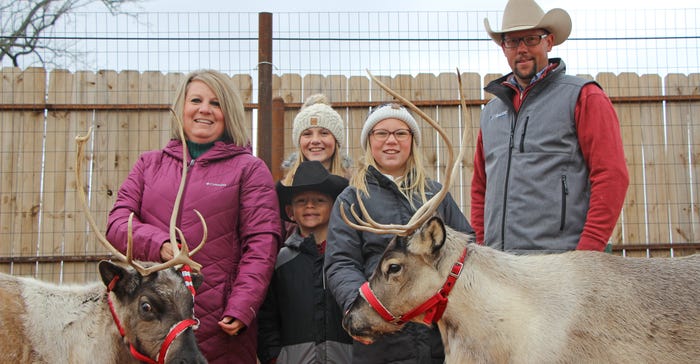 They prance from one end of the pen to the other. With every leap, the tufts of white hair surrounding their hooves make it seem as though they are floating on air.
As antlers bounce up and down, it is hard to imagine that these reindeer are not at the North Pole. Instead, they are at Prescott Family Reindeer Farm in southern Missouri.
Noel, Tinsel, Snowflake, Mistletoe and Winter are quite comfortable at the farm near Vanzant, Mo. This is the second year here for Noel and Tinsel. "They did very well in the winter and the hot summer this year," owner Sara Prescott says. She and her husband, Michael, and their children, Madison, Emma and Carter, care for the reindeer. The family added three more reindeer in early November.
In this region, reindeer are somewhat of a novelty. There are fewer than 500 reindeer in the lower 48 states, Sara says. "We really wanted to bring something to the farm that people would enjoy seeing," she says. "I've just always loved Christmas and reindeer."
But raising reindeer in Missouri was not always part of the family farm plan.
In search of cattle country
The couple lived in northern Illinois, where they raised cattle on rented acres but longed for their own cattle ranch.
Michael and Sara looked in their home state to buy land, but it was hard to find and expensive. So they expanded the search to nearby Missouri.
Finally, in fall 2019, the Prescott family bought property outside the small town of Vanzant in the south-central region of the state.
Michael and Sara own a 100-cow cooperator herd where they breed and raise purebred bulls, show cattle and replacement heifers. In this arrangement, producers ship embryos, which are implanted in the Prescotts' cows. Then the husband-and-wife team care for the cow and calf.
Calves are weaned at 5 months of age and are sent back to the owners in states such as Illinois, Iowa and Kansas. Some are also offered for private sale.
Michael also works for Trace Minerals, a Kansas-based company that serves the livestock nutrition industry, but last year expanded to include supplying micronutrients for crop farmers. Admittedly, he travels a lot for the business.
"Our trade-off was I will help with the cows — calve and feed — while he's gone, but we build a Christmas farm and get reindeer," Sara says. "For better or worse," Michael quips.
You have to hand it to him. He works for an ag company and owns cattle, but is known in town as "the reindeer guy." Still, he takes it in stride.
As the couple interacts with the animals and their kids, it is apparent the entire operation, whether cattle or reindeer, is about family. The Prescott children will be fourth-generation farmers. "Everything we build here, we hope it will pass down to them," Sara says. "We want them to enjoy the farm, but also share it with others."
Expanding ag education
The cattle producers settled in the remote rolling hills, but wanted to do more for ag education in the region. The couple had been active in Illinois agriculture for years, opening their farm for tours. Sara wanted to continue sharing their farm story.
"We are teaching people about where their beef is raised and how it is raised, so they can be comfortable buying it in the supermarket," she explains. "We always have that part of our business front and center in every aspect of our farm. But we found a unique way to advocate about agriculture during Christmas by adding reindeer."
This area of Missouri is well off the beaten path. Most families drive an hour or two to enjoy Christmas on the farm. "We wanted to create something that is local," Sara says.
The Prescott Family Reindeer Farm has more animals than reindeer, but it is not a petting zoo. "I want our visitors to learn about all of our animals, how they grow and what they are used for," Sara explains.
On each pen gate hangs a placard with the name of the species and its information. For instance, individuals learn how alpaca and llama hair is used in clothing. The self-guided tour offers an afternoon of ag education for the entire family.
Still, it is a place to celebrate the season, a Christmas lover's paradise.
More than animals at Christmas
At the Douglas County farm, the Prescotts converted the hay shed into a winter wonderland complete with Christmas trees, sleigh and store. There is even a place to sit and write a letter to Santa, then drop it in the mailbox.
A quick walk over to Santa's Workshop, and kids or adults can tell Santa want they for Christmas. He is in a big, red chair every Friday night, Saturday and Sunday starting Nov. 25. "Families can come and get a free photo," Michael says. "They just have to take it themselves."
Visitors can also warm up at the Cocoa Hut, where a cup of hot chocolate or coffee, cookies or hot dog is served daily.
"We wanted a place where people could come out and enjoy Christmas on the farm," Sara says. "And our reindeer, we think, are a magical part of the holiday season. We just want to share that magic and joy with others."
The Prescott Family Reindeer Farm is open from Nov. 25 until Dec. 23. Their weekend hours are as 5 to 9 p.m. Friday, 10 a.m. to 5 p.m. Saturday and noon to 4 p.m. Sunday. The last day to visit the farm is Dec. 23. For directions, type Prescott Family Reindeer Farm into Google Maps.
For the latest updates, follow them on Facebook at Prescott Family Reindeer Farm, or visit their website at prescottfamilyreindeerfarm.com.
About the Author(s)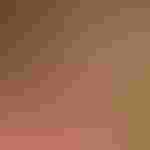 Editor, Missouri Ruralist
Mindy resides on a small farm just outside of Holstein, Mo, about 80 miles southwest of St. Louis.
After graduating from the University of Missouri-Columbia with a bachelor's degree in agricultural journalism, she worked briefly at a public relations firm in Kansas City. Her husband's career led the couple north to Minnesota.
There, she reported on large-scale production of corn, soybeans, sugar beets, and dairy, as well as, biofuels for The Land. After 10 years, the couple returned to Missouri and she began covering agriculture in the Show-Me State.
"In all my 15 years of writing about agriculture, I have found some of the most progressive thinkers are farmers," she says. "They are constantly searching for ways to do more with less, improve their land and leave their legacy to the next generation."
Mindy and her husband, Stacy, together with their daughters, Elisa and Cassidy, operate Showtime Farms in southern Warren County. The family spends a great deal of time caring for and showing Dorset, Oxford and crossbred sheep.
Subscribe to receive top agriculture news
Be informed daily with these free e-newsletters
You May Also Like
---