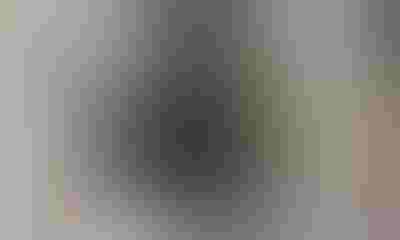 Forty-seven years ago Jeff Clay was 19 years old. His parents wanted him to go to college. He was pretty sure that wasn't his thing. So instead he bought a farm on contract, and he still lives on the farm today. That might not seem that unusual until you hear the 'rest of the story.'
"My parents didn't farm, so I certainly didn't live on a farm," he relates. "During high school I worked for a farmer for a couple years, and they had dairy cows. I liked working with the cows. I decided I wanted to farm. "

LOVES COWS: These aren't Jeff Clay's cows, but he has developed a herd just as top notch as this one. The majority of his 100 cows are registered Holsteins.
Clay, Shelbyville, told his story to more than 50 FFA and 4-H dairy judgers and their coaches when he and his oldest son, Michael, hosted the Area 6 annual dairy judging contest recently. Duane Huge, FFA advisor from Danville, was amazed at the story. "Would you have had the guts to start farming at age 19, in 1970, and buy a farm?' he asked whoever would listen. He didn't get any takers. That's not even half the story.
Really starting fresh
"I had no more idea about how to take care of a cow than you would know how to take care of an elephant," he says. "So we started with 12 dairy cows. I liked the idea of raising dairy cows from my time working for the farmer in high school."
He must have been a quick learner. Today Clay has about 100 head of Holsteins, with the vast majority of them purebred and registered. "I'm not much into showing and judging," he says. "That's not my thing. We're into getting good milk production. We've bred our cows to accomplish that goal."
Indeed, the shapely udders and large frame size of the cows on their farm spoke for themselves. The excellent quality of the alfalfa hay fed to the cows also said something about their skill in knowing how to obtain maximum production.
Maybe 5,000 cow dairies are the trend across the nation. But there's still one Hoosier and his family who think hard work can pay the bills on a much smaller scale. He might be self-taught on caring for cows. If so, Jeff Clay has learned his lesson well.
Subscribe to receive top agriculture news
Be informed daily with these free e-newsletters
You May Also Like
---