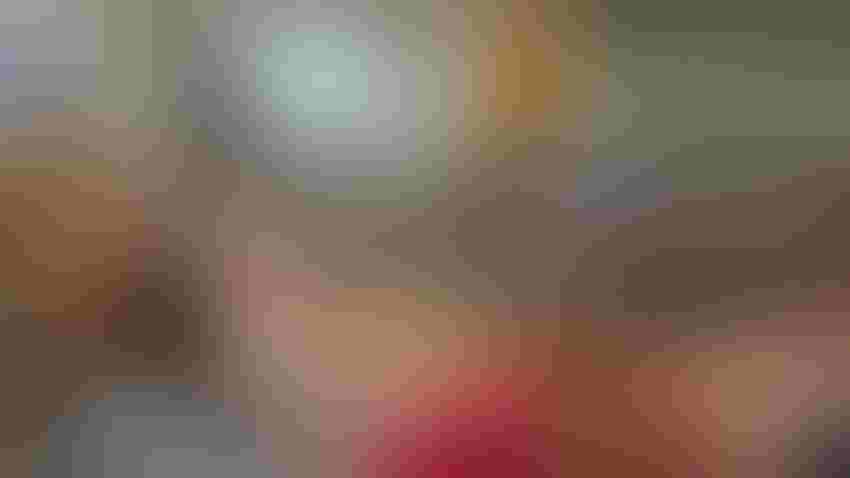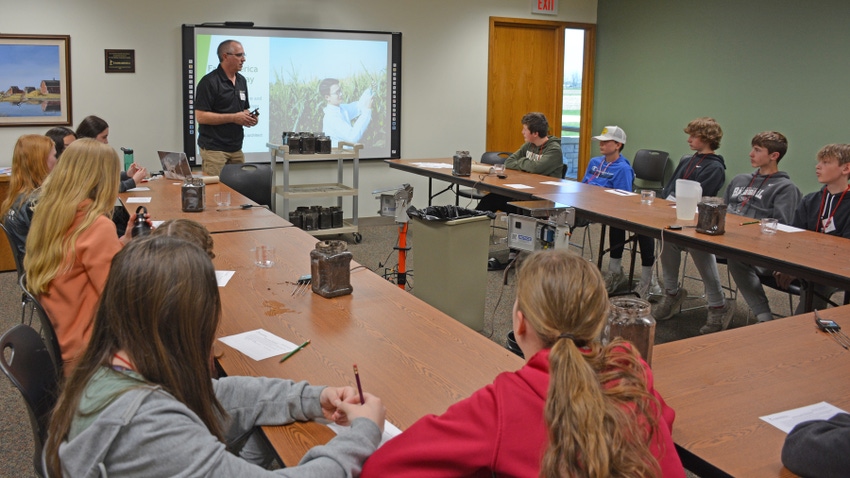 HIGH-TECH AG: Lyle Luppes, Cloud Solutions architect with Microsoft, explains to Blooming Prairie, Minn., eighth graders how technology has become an important component of agricultural production. Students got to see firsthand how sensors can help farmers remotely monitor field conditions, such as soil moisture.
Kevin Schulz
The growth in agricultural job opportunities has been mirrored in the growth of the Ag Career Exploration Days offered by Farmamerica.
"A few years back, we discovered that there were age groups that maybe should learn about career opportunities in agriculture before they disregard it as a dirty job or just a farmer in the field, and not for them," says Jessica Rollins, Farmamerica executive director.
Farmamerica is Minnesota's agricultural interpretive center west of Waseca, Minn., established by the state legislature in 1978 to connect Minnesotans to the evolving story of agriculture through hands-on educational experiences, partnerships, and community engagement.
With the mission of Farmamerica in mind, Rollins and her staff set out to further open the world of agriculture to seventh and eighth graders after talking with members of the Minnesota Agricultural Education Leadership Council and GreenSeam.
Rollins says Farmamerica partnered with Junior Achievement in 2017 "to utilize their career readiness curriculum for junior high students, but then we added in the agricultural twist."
Volunteers from ag business were enlisted to share their personal story and passion for agriculture, and a hands-on activity connected to agriculture was added to what would become Ag Career Exploration Day. That strawberry DNA extraction curriculum from Minnesota Ag in the Classroom was well-received, but the attending students wanted more.
Soon that one hands-on activity became two. Then the "COVID years" messed with the program. Now, six hands-on activities are offered to students coming from within a 70-mile radius for the Ag Career Exploration Days that take place in late April and early May.
Create ag attraction
Jenny Delnay, Farmamerica program director, says these events are "not designed for the kids who already love agriculture. … It's really designed for the kids who aren't interested in agriculture to show them 'Hey, there's agriculture in all these other ways.'"
Rollins hopes students will start to see there may be a place for them in agriculture as they work through the hands-on activities during these exploration days.
Delnay stresses the program's use of the Minnesota Career Wheel, a diagram of six different career fields, "and agriculture fits in every section of the wheel. It is not a coincidence that there are six hands-on activities during the Ag Career Exploration Days, as each activity ties into one of the sections of the wheel."
Watch this video as Jenny Delnay explains how Farmamerica's Ag Career Exploration Day centers on the Minnesota Career Wheel, and how agriculture is involved in all areas.
The career wheel fields are agriculture, food and natural resources; arts, communications and information systems; engineering, manufacturing and technology; health science technology; human services; and business, management and administration.
Throughout these days, students visit each of the six stations. At this year's stations, students learned about plant DNA, and during this session they extract DNA from strawberries. Other stops on the career exploration journey are learning the importance of safe food handling, from farm to fork; soil nutrient testing; package design and marketing; exploration of information technology and use of sensors in agriculture; and the Big Ideas Mobile Learning Lab, where students explore various trades through virtual reality technology.
Hands-on opens eyes
Aubrey Klocke, an eighth grader from Blooming Prairie, Minn., knows she wants to do something agriculture-related, probably something centering on animals, but the Ag Career Exploration Day opens her eyes to other possibilities.
Though it may not be a career choice, she did enjoy the virtual reality in the Big Ideas Mobile Learning lab that highlights some of the trade careers in agriculture. "I got to do an oil change on virtual reality — that was pretty cool," she says. "I never thought I would like that."
The mission of Big Ideas Inc., based in New Ulm, Minn., is to provide opportunities for people to discover, explore and learn both technical and soft skills needed to succeed in skilled trades. These opportunities are provided through augmented and virtual reality hands-on technologies to engage curious learners, as well as in-shop minicourses to continue the exploration.
Farmamerica offers many other events throughout the year helping all ages connect with the past, present and future of agriculture.
Subscribe to receive top agriculture news
Be informed daily with these free e-newsletters
You May Also Like
---