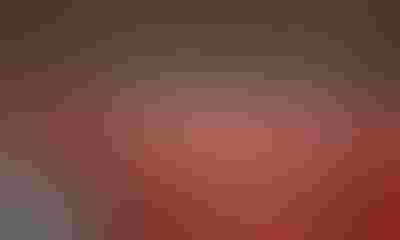 The Massey-Harris 30 in the older, wooden shed on Randy Overman's farm near Peru doesn't actually belong to him. It really belongs to his dad, Earl, now 87. Randy and his son, Aaron, farm together. Earl still helps out when he can.
The Massey-Harris 30 will likely stay around as long as the farm is there, Randy says. His family has roots in the farm machinery business and a connection with selling Massey-Harris equipment in days gone by. Randy also has a 1962 Massey Ferguson Super 90 in another shed. It's powered by a 68-hp diesel engine, and is still one of Randy's favorite tractors to drive.
The Massey 30

PRIDE OF THIS FARM: It's not the prettiest tractor Randy Overman, and his son, Aaron, have on their farm, but it is still special to them.
Even if you are a Massey Ferguson person today, you may not know where the Model 30 row-crop tractor fits in the evolution of the Massey-Harris company. According to tractordata.com, it first appeared in 1946. Even though Massey-Harris was based in Canada, this tractor was built in Racine, Wis.
More than 32,000 Massey-Harris Model 30 tractors were reportedly built. Production ended in 1952. You could have bought a brand-new Massey-Harris 30 in 1952 for a list price of around $2,050.
This model bridged the gap between the Massey-Harris 101 Junior it replaced and the Massey-Harris Model 33 that followed it. There was often a difference between claimed horsepower in company literature and tested horsepower in those days. Horsepower was also reported for the drawbar, the PTO and the belt. Many farm implements were still belt-driven in the late 1940s and early 1950s.
Claimed drawbar horsepower was 21. It rated as a two-to-three-bottom plow tractor. Actual tested drawbar horsepower was just over 26. The PTO horsepower claimed was 33. Test reports indicated a belt horsepower of just over 34.
The Massey-Harris Model 30 was powered by a 2.7-liter Continental, four-cylinder engine. It was considered a solid engine for its day. Continental engines found a home in several Massey-Harris tractors.
Subscribe to receive top agriculture news
Be informed daily with these free e-newsletters
You May Also Like
---