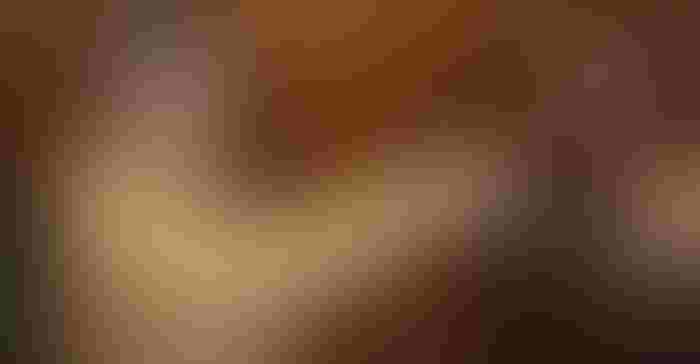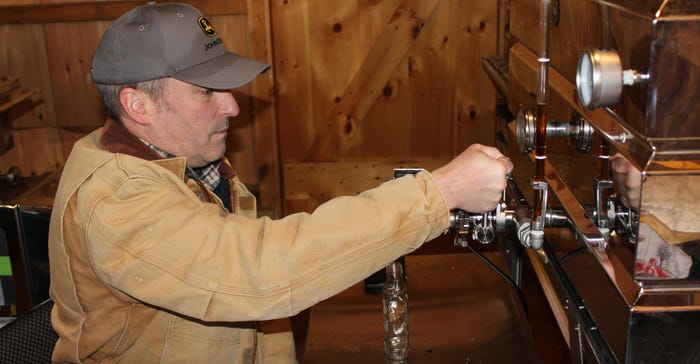 If maple syrup makes you think "pancakes," Andrew Chisholm would like a chat with you.
A sugar-maker from Hampstead, N.H., Chisholm is on a mission to change maple syrup's image as he thinks it's long past time people think of maple syrup beyond just breakfast.
"One of the hurdles we face is the consumer association with maple syrup as strictly a breakfast condiment," he says.
Chisholm is owner of Chisholm Farm and president of the New Hampshire Maple Producers Association. In addition to plain maple syrup, he makes syrup infused with unexpected flavors such as cinnamon, cardamom, vanilla and coffee. They're often inspired by new and interesting tastes he discovers in his day-job travels as an airline pilot.
Chisholm also ages maple syrup in distillery barrels.
"It's a little bit different," he says. "I like the complexity of the flavor; it doesn't overcome the maple taste. I don't want to lose the flavor of the syrup, but I want the flavor of the barrel."
He says the infused and barrel-aged syrups enhance salmon, pork, squash and even ice cream.
What Chisholm really likes, though, is involving other New Hampshire producers in his endeavor. For example, the oak barrels come from Flag Hill Distillery and Winery in Lee, which uses them to age apple brandy for six years. Then, Chisholm fills them with maple syrup.
After the syrup ages for six months, the barrels move on to 603 Brewery in Londonderry, which uses the barrels to age its Imperial Stout.
"So it's truly recycling both the barrels and the flavors," Chisholm says. "And it's all in New Hampshire."
Building the operation
Chisholm began sugaring at 8, trading his labor on a neighboring Massachusetts farm for sugaring equipment to make his own syrup. When he moved to Hampstead seven years ago, his maple ambitions were modest — maybe a 1,500-tap operation. But then he began looking for a sugarbush.
"New Hampshire has succumbed to suburban development, and it was difficult," he says, adding that he ended up tapping trees on town-owned land in Raymond and Chester.
His plans for a small sugarhouse were underway when COVID-19 stepped in. When Chisholm's airline dropped 90% of its flights in the summer of 2020, he had a lot of time on his hands. So, he told his lumber provider, "I'm going real big now."
Construction on the sugarhouse began in July 2020, and the final piece — a custom-built 2.5-by-8-foot evaporator — was delivered in February 2021. "We made it just under the wire," he says.
He initially planned for a wood-fired evaporator. "But with the economics, you can't beat oil; there are a whole slew of advantages to it," Chisholm says. He also didn't plan on a reverse osmosis system, either, but with his maple operation scaled up, he went for it. "The RO takes a lot of the pain out of high oil prices," he says.
He also added unique features to the building, such as an insulated roof that keeps the second floor warm enough to bottle and store honey.
This coming season will be the fourth sugaring season in his 28-by-24-foot sugarhouse.
Dark red goodness
The sap from southern New Hampshire's predominantly red maple has a lower sugar content than sugar maple and makes a bit less syrup per gallon. The syrup is also darker.
"But today's consumer wants darker grades," Chisholm says. "When I was young, a true maple producer was someone who could make light syrup. But 40 years later, the consumer wants a dark, full-flavored syrup."
Chisholm, who goes to every New Hampshire fair, says he gave out 12,000 samples at the Deerfield Fair last year, and dark was, by far, the favorite.
Today, he has about 8,800 taps. Limited by land and capacity, he buys bulk sap from other New Hampshire producers to add to his own sap supply. He's happy to work with other sugar-makers, though.
"I want to produce a high-quality syrup exclusively from New Hampshire," Chisholm says. "I've enjoyed the opportunity to collaborate with other producers."
He sells his Chisholm Farm syrup under the Tree + Tap label. He's also a honey producer; that product is called Blossom + Bee. Honey is produced almost exactly like maple syrup, he points out. The sap and nectar are both dehydrated until they reach the right sugar content and consistency.
Beekeeping was a hobby he began in 2018 with only three hives. He now has 26. The hives are also used to pollinate 14 acres of strawberries for J&F Farms in Derry.
"When you start looking at bees and how a colony works, it becomes really fascinating," Chisholm says. "The other interesting thing is that all of my neighbors say their gardens and fruit trees have never done so well since I got my bees."
Harlow writes from New Hampshire.
About the Author(s)
Subscribe to receive top agriculture news
Be informed daily with these free e-newsletters
You May Also Like
---