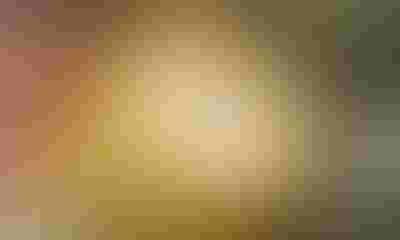 The entire country can expect warmer-than-normal temperatures as the dominant trend through October. That would mean the first half of fall would continue the warmer-than-normal conditions most of the country has experienced since late spring. Ken Scheeringa, associate state climatologist, says that's based on the National Oceanic and Atmospheric  Administration Climate Prediction Center's forecast in very late summer.

WARM WEATHER HELPS MATURITY: Corn should have no trouble reaching maturity before frost if the warm forecast proves true. The milk line in this corn in late August was already halfway to the cob.
Most of the Midwest is locked in a pattern of somewhat above-normal average temperatures through October, according to the long-range forecast. Only a few areas of the country are likely to be significantly above normal during the same period.  They include a good portion of the Northeast, the lower portions of the Southeast and Gulf Coast, and a relatively small area of the Southwest.
All of Indiana falls in the area that should be somewhat warmer than normal once temperature averages for October are calculated. Refer to the table below to see what normal daily maximum and minimum temperatures are in your part of the state.
Fuzzy moisture forecast
The same trend that has held all summer in terms of long-range forecasting for precipitation also holds again for October, according to the NOAA Climate Prediction Center. Across much of the country, there is no clear indication if precipitation will be above or below normal for the month.
The same is true in Indiana. The NOAA maps indicate there are equal chances for normal, above-normal or below-normal precipitation during October.
This is the same forecast NOAA has issued all summer in long-range forecasts. It may help to explain that while most of Indiana has seen above-normal rainfall so far during this growing season, there are areas that have received normal or even below-normal rainfall.
For example, one farmer in Morgan County reported he dumped out over 15 inches of rain from July 1 through Aug. 25. Meanwhile, a farmer in north-central Indiana only recorded 3 inches during the same time period. Most summer thunderstorms split and went around many of his fields.
Scheeringa adds that for October, NOAA predicts that the very southern edge of the state is on the border of the region with a 33% chance of being below normal for precipitation.
Subscribe to receive top agriculture news
Be informed daily with these free e-newsletters
You May Also Like
---