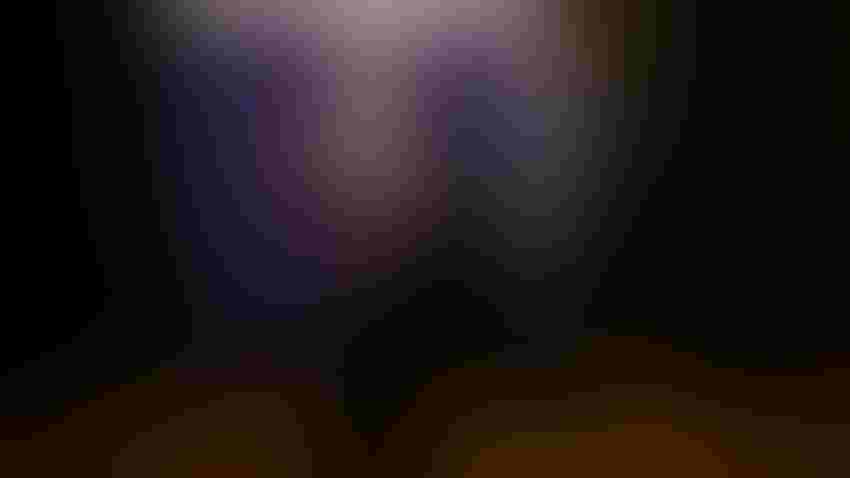 RETURN TO ROOTS: Kansas State University President Richard Linton (left) talks to reporters following the rollout of the university's Next-Gen Strategic Plan, Sept. 8, in Manhattan. Linton, who's undergoing cancer treatment, made a brief appearance on stage to a standing ovation from K-State stakeholders. He was joined by his chief of staff, First Vice President Marshall Stewart.
Jennifer M. Latzke
It was a revolutionary idea for its time.
When President Abraham Lincoln signed the Morrill Act into law in 1862, a university education was only for the privileged classes. But with one flourish of his pen, every state and territory was granted 30,000 acres per member of Congress to establish a land-grant university, with a focus on teaching, research, and service to the citizens of the nation.
As the nation's first operational land-grant institution created under the act, Kansas State University has led the way in research that has directly shaped our nation's prosperity. Whether that was research into agricultural tools and methods to boost productivity, teaching the next generation of employees for our businesses, or sharing knowledge through Extension education, K-State researchers and educators have left their mark on our nation.
But times have changed. We have different needs than the Kansans of 1862. We have ever-evolving technology that brings the classroom to the students where they are and when they can participate. Our businesses may not need employees with four-year degrees, but rather a certification or a shorter-term education to meet their changing staffing needs. And in this global environment, our partners around the world are looking to the knowledge of our land-grant researchers to help solve grand global challenges.
And that is why K-State rolled out its long-awaited Next-Gen K-State Strategic Plan Sept. 8, at the campus in Manhattan.
A new strategy
When K-State President Richard Linton came to Kansas, he kicked off the process of creating a strategic plan that would meet the needs not only of Kansans, but our neighbors across the nation and around the world. The university says that the plan will redefine what a land-grant university's responsibilities to the people will be in the modern age.
"Being a next-generation land-grant university requires us to renew our commitment to the land-grant mission, which is all about access and opportunity," said Richard Linton, K-State president. "But access and opportunity today means something different than it did in 1863 — we must evolve to meet the needs of today's learners who are seeking different kinds of training and education, and we must embrace our responsibility to serve the state, nation and world through research and engagement in new and exciting ways." It has three key priorities for K-State to guide the university through the year 2030 with an interdisciplinary focus.
Redefining the student population
While bringing students to a campus for their education will never go away, the reality is that today's industry and workforce needs don't always fit a traditional degree program profile, Linton explained. The Next-Gen Plan will include more certificate-seeking students, microcredential-seeking students and others who may access K-State instructors through virtual opportunities and other methods.
While on a listening tour to western Kansas, Linton explained, he and his staff heard from a number of community colleges that were struggling to keep instructors, particularly in agricultural fields.
"By partnering with us, we could provide that instruction, whether on their campus with our staff, or through our local Research and Extension staff, or through virtual learning," Linton said. "Thus, letting those students stay local and get that two-year degree, or potentially a four-year degree."
The plan's goal is to expand the makeup of K-State's student body to 30,000 "learners" by 2030. "That doesn't mean 30,000 students on the Manhattan campus, or across our physical campuses," Linton said. "Nor is it 30,000 degree-seeking students. It's 30,000 citizens of the world accessing the opportunity to learn how they want, when they want, for whatever reason they need."
Growing research
The plan's bold goal for research has the university growing its research expenditures to $300 million by 2030. To get there, the university is putting a large emphasis on interdisciplinary cooperation between university colleges and faculty.
As Linton's Chief of Staff Marshall Stewart explained, the listening tours across the state last year showed several common issues among Kansans — but chief among these were agricultural productivity and community vitality.
Take community vitality, for example, he said. Under that umbrella, you see a need for updated housing, better health care and child care.
"Our plan is to go into our institution and figure out where our capacities are," Stewart said. "We have faculty with great expertise in child care. Our College of Architecture has experts in sustainable housing with zero-carbon footprint, and in an affordable way. So, we inventory the university: Where do we line up with the needs of the people, see the sweet spots, and ultimately retool Extension to be a connector and a content provider?"
This "Opportunity Agenda" under the Next-Gen Plan has already identified four interdisciplinary areas of focus: community health and wellbeing, sustainability, global food security and biosecurity, and enabling technologies.
Reimagining Extension
Through the K-State Cooperative Research and Extension Service, the university has a presence in all 105 counties. This Next-Gen Plan aims to leverage that presence and the expertise of its agents, researchers, and other resources, to not only report research findings from K-State projects, but also to now connect the people of Kansas with knowledge and expertise, no matter the institution's school colors.
So, for example, take the issue of improving community health in the state, Linton said. The University of Kansas has a medical school and experts in health care. K-State has the outreach and the local presence to share that information and make the connections with Kansans who need it to improve their lives.
The Next-Gen Plan can be found online at k-state.edu/strategic-planning.
Subscribe to receive top agriculture news
Be informed daily with these free e-newsletters
You May Also Like
---